Pori (puffed rice) is a very common ingredient in Tamil cuisine.It is often eaten as snacks,mixed in bhel,or with peanuts.Sometimes spicy chaat is also prepared with puffed rice,onion and tomatoes.Here I am posting a very simple to make but very tasty and filling upma made pf puffed rice.It is made in similar lines of aval (beaten rice),but has an entirely different flavor n texture.It makes a very hearty n healthy breakfast.Try out and let me know.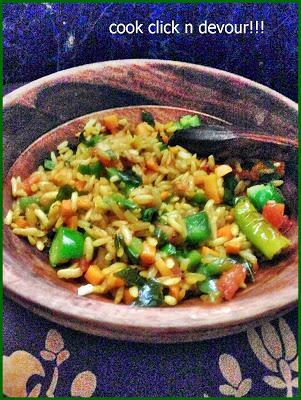 Arisi pori upma(Puffed rice upma)
Star ingredient: Arisi pori (puffed rice)
Time:10 minutes
Serves:3
Ingredients:
1 1/2 cups puffed rice
1 small carrot chopped
1/2 capsicum chopped
2 green chillies
10-12 curry leaves
1/4 teaspoon asafoetida
1/2 teaspoon turmeric powder
1/2 teaspoon mustard seeds
1/2 teaspoon urad dal
Salt
Oil to temper
Method:
Puffed rice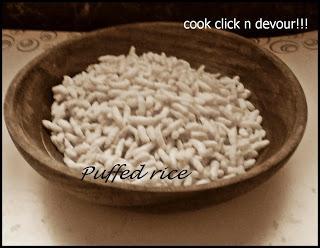 1.Take puffed rice in a wide vessel and wash thoroughly twice.Squeeze all the water and let it rest for 2 miutes.This makes the puffed rice soft.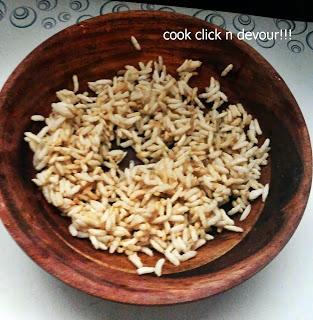 2.In a kadai,add some oil and temper all the ingredients except carrots and capsicum.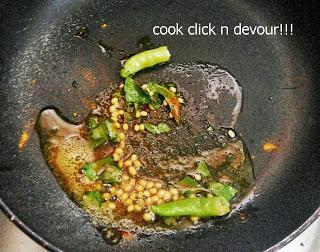 3.Add the chopped carrot and capsicum and saute for 5-7 minutes.Add salt and mix well.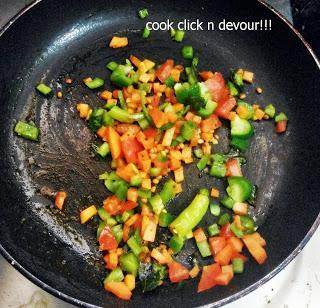 4.Add the washed puffed rice,mix well,remove from flame.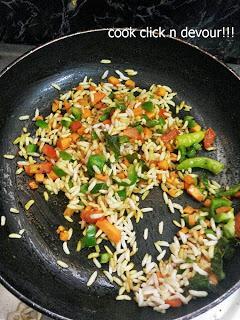 5.Garnish with cilantro and serve hot.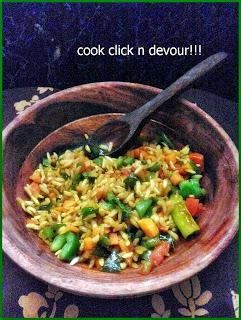 Notes:
1.Do not soak the puffed rice in water as it turns mushy
2.You can skip vegetables and increase chilli if you need
3.Replace asafoetida with finely chopped onions in tempering if needed
 The second picture (balck n white) is off to Black & while Wednesday#99 started by Susan and now run by Cindy,this week at Priya's