Oh, yeah. I went there.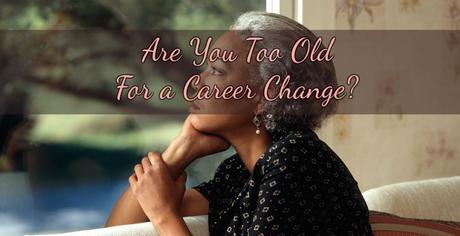 Are You Too Old For a Career Change?
We talk a lot about careers and even working from home. Bren even mentioned feeling stuck in a career rut.
But let me ask you, do you ever feel like you're too old to change careers? Be honest here.
My husband works outside of the home. And he hates his job. But even in his mid-30s, he wonders if it's too late to change things up.
And it's not just him. There are many fears, myths that go around about changing careers, basically any time after college age.
I'm too old to learn new skills
I'll be starting at the bottom
Managers would rather hire someone young
I call bullshit. It's not about these reasons; it's actually more about being too scared to try something unfamiliar.
The truth is, it's never too late to change careers, and you're never too old.
So if you're going to go for it and change careers, whether from work in the office to self-employed or from one field to another, here are some tips.
Be realistic
If you've been dreaming of ditching your current job, you may have this vision that a new career will solve all your problems. While it will likely be an improvement, don't expect miracles. Research your new position, and pay rate, and determine how it will affect your time, finances and life.
Know your skills
You got it, so flaunt it.  You have a history of professionalism and work, even if it's in a different industry. Think of what you love doing and what you're and proud of, and play up the skills you have. More tips:
Show your tech know-how. You found us on the web, through searching, social media or maybe someone emailed you a link. Either way, you know your way around a computer and the Internet. Probably more than you think you do. Think of all you do, even for fun. You upload images? Format posts or docs?
Play up what you know. Let's put the focus on your skills and what you can do, not how long you've been doing it. Set up your resume to showcase what you excel at and not the years.
Include your photo
An employer may ask for a link to your LinkedIn profile, so don't be afraid to fill yours out completely. This means including your photo. Don't be afraid to include it … employers would rather see a profile with one than without one.
Address your age first
If you feel age might be an issue, go ahead and bring it up first. Something like, "I am excited to be considered for this opportunity, but I noticed that I clearly have more work experience than other employees. Do you feel that would be a problem?" This brings up the elephant in the room, but also shows you're not afraid to confront and tackle things head on.
Give yourself time to adjust
If you do make the switch, give it some time. It's a new environment, new income, new coworkers.  It may take time to adjust, no matter how eager you were for this change.
Can it be too late to change careers? I say no! While it may not be the easiest transition, it can be done. Go into it realistically and give yourself time, and you can make the transition from one career to another.
Are You Too Old for a #Career Change?
Click To Tweet

Corinne Kerston
Freelance Writer & Blogger
at
Corinne Kerston
Corinne Kerston is a writer and blogger who helps others find their way online. She is also a wifey and mommy, and one of the girlies! She enjoys writing about life, working from home and blogging. When she's not taking care of the family or spending time online, she enjoys walking and yoga.

Latest posts by Corinne Kerston
(see all)
Are You Too Old For a Career Change?

- April 13, 2016

5 Amazing Apps to Help You Manage Your Life

- February 29, 2016

The Real Truth About Working at Home

- February 10, 2016
Tweet
4
Share
18
+1
4
Pin
3
Share
3
Stumble
Total Shares

32