All is Fair in Love and War
Right? When we take our vows of marriage, does it mean we must agree on everything? Do we need to like the same foods, dress the same way, like the same sports, and for that matter, the same sports teams?
I have to admit, I enjoy a good battle or two in my home. I think it keeps the house alive! So, in my home, Absolutely, We Are Competitive!
Are You and Your Spouse Competitive?
I'd like to talk about my most recent date with my hubs. We've been married now for almost 13 years and know how to push each other's buttons. We are both sports fans. We like:
Nascar
Dirt track racing
NFL
MLB
Thoroughbred racing
and so much more
However, in my many years of dating (prior to marriage), I've taken great joy in the art of going against the grain. Meaning, I find it more enjoyable to not like the same teams, horses, drivers as my hubs.
Case and Point
The National Football League (NFL) has finally come back into our household. This is one of the many highlights that I love about Fall and Winter.
Yesterday, my hubs and I drove to Maryland to watch an NFL game. He – the diehard Dallas Cowboy fan and I – the crazy Washington Redskins fan. Yes, it was GAME ON!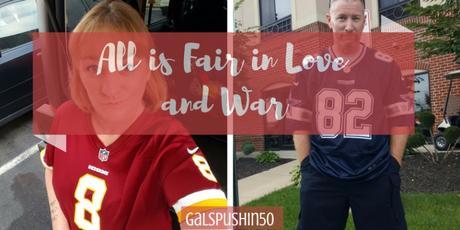 The excitement of being at a game where both of our teams are playing, plus the fact these teams are rivals, made for a very interesting day.
Not only was it an awesome game of back and forth scoring, but with back and forth banter! We had our happy and beat down moments, and despite the grueling heat and smell of sweating fans, it was a helluva time!
Know When To Not Gloat
Being my hubs, a Dallas fan at Fed Ex Field (Washington's stadium), I had to feel a bit of compassion. There were many Dallas fans walking around, yelling, and sporting their team attire. This provoked my hubs into joining in.
This is a good thing.
However, when the teams are battling back and forth and tensions are rising, sometimes it may be wise to just "let it go" and don't "fuel the fire". Ya see, when it comes to sports, some don't see it as just a game. They see it as "cut-throat". Its do or die in their eyes.
Although I love the competition and can control my emotions, for the most part, some cannot. This is when I suggestion trying to add a bit of laughter into the mix. There were a few times when I saw my hubs get a bit too wound up and I decided to just let it go.
Friendly Competition Can be Healthy
If the competition in a relationship is so serious that it actually instigates turmoil, then you may have a problem. Learning to keep it light and lively can do you both some good, although some relationship experts may disagree.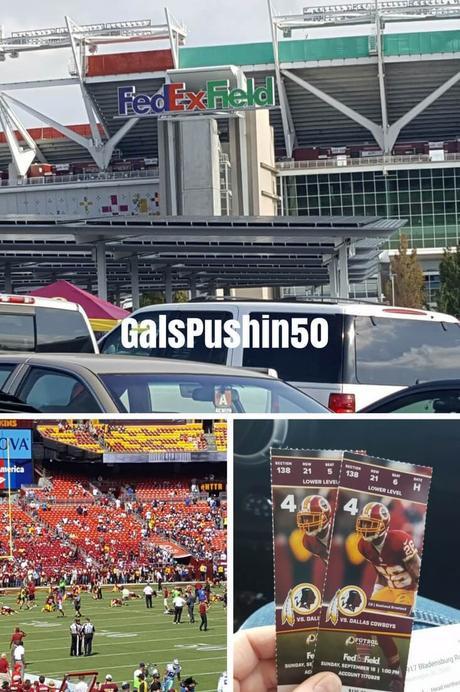 Competition in relationships can become unhealthy when:
You are squabbling more than being loving
Competition over "the favorite parent"
Who earns the most money
Who has the most friends
These are just a few examples of how competition can become unhealthy and potentially lead to separation or divorce.
Keep it Fun
If your spouse doesn't have a sense of humor, I would shy away from competition. This is a serious person who could potentially become volatile if pushed the wrong way.
Thankfully, my hubs and I have always had a "back-and-forth" type of relationship where we love to joke with one another and enjoy a bit of competition.
At the end of yesterday's game and all the pregame banter I dished out, I had to hang my head down a bit and allow my hubs to glow in his victory and gloating. But this morning was a different story. One can only gloat for so long before it because annoying. Thankfully, I'm off from work today and am secretly contemplating where I should dip his toothbrush and which dog I should allow to drool on his pillow.🙂
Over to You
Whether your married or in a relationship, do you enjoy a bit of competition? If so, what is "game" day like in your household?