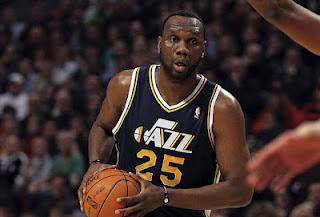 Photo: Getty Images - Jonathan Daniel
- Troy Ballard 
The Jazz are a team lacking a true superstar, but instead of leaning on the back of just one player, Utah has bought into the full team-basketball theory -- and it's working.
Without Deron Williams and long-time head coach Jerry Sloan, prominent reporters scoffed at the idea of Utah being a contender. The team was too young, too inexperienced, and lacked the talent to stay on pace in a rigid Western Conference.
The issues were only going to be compounded by the shortened NBA season, and Utah was looking down the barrel of being a lottery pick in 2012. And at first -- that's how things started out for the Jazz.
But it didn't take long for Utah to bounce-back.
Right now, the Jazz are 26-22, and hold the seventh playoff selection. Utah has been battling game in and game out in the West, posting a 17-17 record in conference. The most impressive number -- when the Jazz are playing in Salt Lake City, the team is 19-6.
Combine that with a current six-game winning streak, and the Jazz are playing at full volume, (pun totally intended).
The most interesting thing about the team -- there's not one player that stands out as a true defined game changer. The closest thing to it would be Al Jefferson, who is simply a consistent 15-10 guy, and an all-around solid player.
Other than Jefferson, the Jazz have a group of role players.
The likes of Devin Harris, Paul Millsap, Gordon Hayward, Jefferson, and a very solid young bench have Utah clicking on all cylinders. This season, the Jazz are in the top 10 in the NBA in both total offense and defense (sixth on offense and tenth on defense). There are only four players on the team averaging over 10 points a game, and there isn't anyone breaking the 20 point barrier.
It's a solid fundamental team.
By no means is Enes Canter, Alec Burks, or Derrick Favors, the Jazz's trio of young talent, blowing any one's mind. Thus far, the three have been right around average, but have been great in their respective roles off the bench. It's a perfect infusion of youth into the line-up, and it keeps Utah fresh for four quarters.
Possibly the bigger question for Utah heading into this season had nothing to do with the players, but revolved around head coach Tyrone Corbin. Replacing the sudden departure of a legendary coach like Sloan is nothing short a Herculean task, but Corbin is doing his best to fill in.
Corbin, who was a longtime assistant under Sloan, picked up more than a thing or two from the Jazz's old coach, and there are frequent flashes of a similar coaching style in almost every game. The players are dedicated, and the entire squad is buying what Corbin is selling.
Again -- it's a solid team.
The bottom line is that the Jazz are a well coached group with the backing of a very proud and prominent organization. It's rare that a team can succeed without a true superstar, but Utah is doing it. True team basketball on display every single night the Jazz take the court, and it's a revelation in the NBA that only few coaches and players can master.
What are the chances of a deep playoff run?
Really, not too likely. The reality is that the Jazz are in a very tough conference with the Oklahoma City Thunder, San Antonio Spurs and Los Angeles Lakers, all teams that are equally well coached and are boasting impressive rosters. The competition is tough to begin with, but in a playoff setting, the Jazz's youth will catch up to them, and a veteran team will prevail.
Maybe not this season, but as the Jazz continue to grow and develop, Utah is going to be a team to watch.
Be sure to follow Beard and Stache on Twitter @BeardAndStache, and also Troy @TroyBallards, Like our Facebook page HERE!