Anyone who read my blog on Monday will know how majestically I arrived into Howth! As we glided across Howth Harbour on the St Bridget I looked up at Aqua Restaurant and my belly grumbled loudly!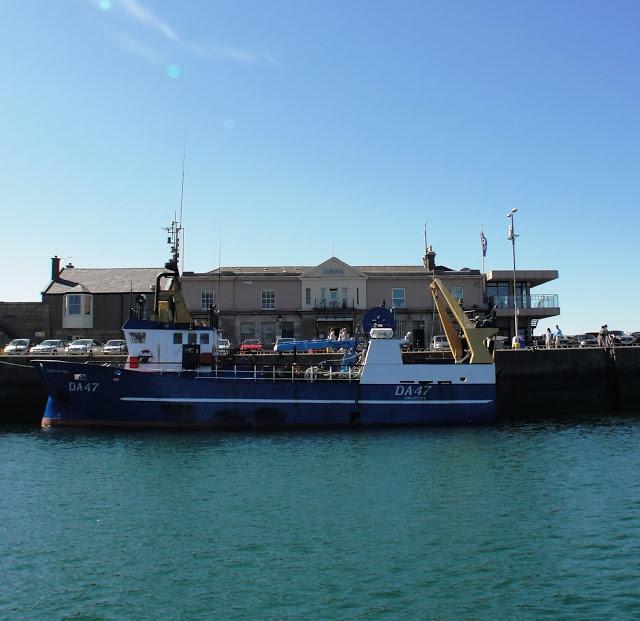 Coming into Howth Harbour on our Dublin Bay Cruise we passed Aqua!
I imagine arriving in Aqua's dining room must be what it's like to arrive in Heaven, you enter off the pier into a dark hall, ascend up the dark stairs and then SHAZAM! arrive into the sun soaked dining room. It's so bright that Aqua have a supply of sunglasses for people to borrow at the reception desk in case you've forgotten your own! Of course you only get this affect if you're lucky enough to be there on a day similarly glorious to the one on which I visited! Fear not though, if you visit on a gray day, you can always cosy up in the lovely little bar area across the hall from the dining room.

I'd love to have taken a picture of the beautiful interior of the restaurant but it was full of diners and I didn't want to freak anyone out! These fishies grabbed my attention though!
We availed of the early bird special offer, which is available after 5.30pm, of three courses each, a bottle of wine and tea and coffee for €75. There's nothing curious about what's on offer, each of the dishes are proven favourites. You wont find any experimental cooking with this menu just good wholesome food.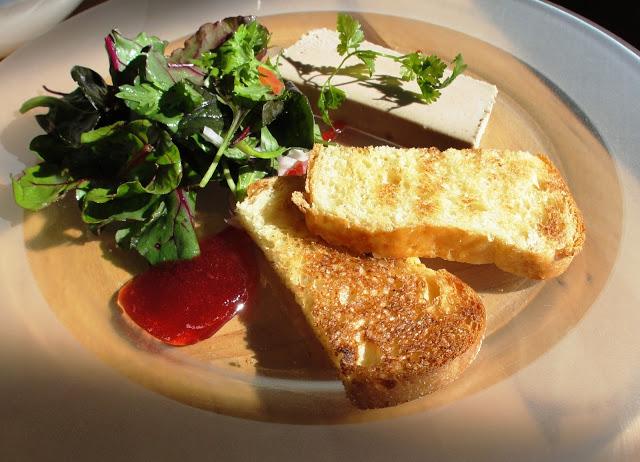 My starter of chicken liver pate with brioche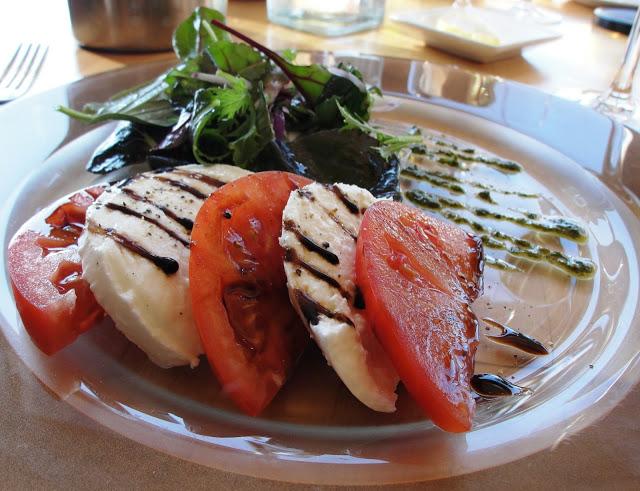 His Caprese salad
To start he opted for the Caprese salad while I had the chicken liver pate. A well balance ratio of tomato to mozzerella was achieved with the salad, the tomatoes were lovely, red and beefy, the kind you love to see in a salad but rarely do in this country. My pate was dusted with a sprinkling of coarse salt and served with some brioche. I'm not convinced brioche is the best option for pate, both being on the sweet side, but it's a combination I've seen many times so I guess the experts must agree on it! Thankfully Aqua supplied us with some of their fantastic bread and the pate went really well with the crusty white baguette.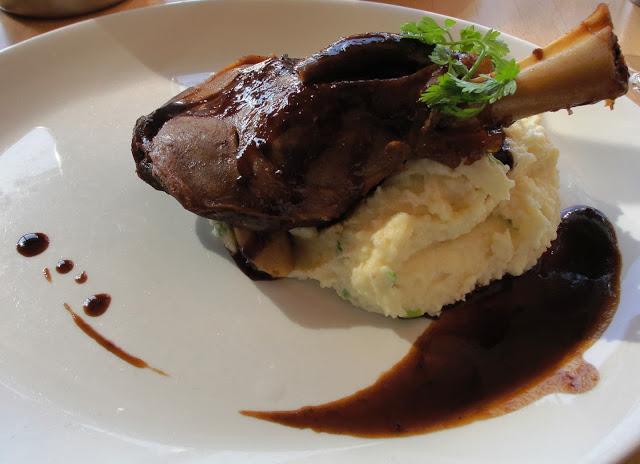 M's wonderfully tender lamb shank and scallion mash.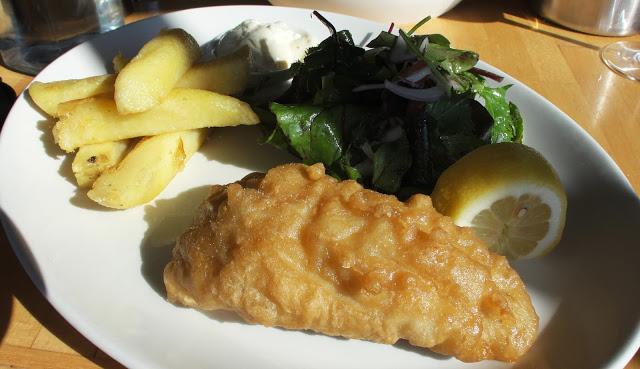 My yummy fish and chips. 
For mains he had the lamb shank with scallion mash and I went for the fish and chips. The lamb was fall apart tender, he barely had to make any effort to take it off the bone. I suffered a bit of food envy with the mash which was slightly better than my chips! The fish was done in beer batter and it retained all of it's moistness. It had a really muted flavor which was helped along by a slight tanginess in the batter. I've had a lot of fish and chips and these were really good. The only disappointment was the tarter sauce, while creamy, it was totally devoid of capers and I do love capers!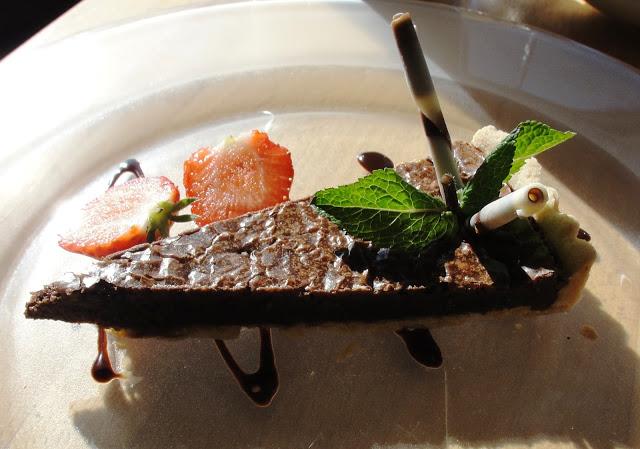 His chocolate tart. He wouldn't have said no to a dollop of fresh cream! 
My beautiful mango cheesecake. 
At this point we were questioning the sensibility of opting for the three course deal! We were both very full but figured we could at least have a taste of something sweet. He ordered the chocolate tart while I went for the mango cheesecake. I think I won with this course, the cheesecake was light and airy and surprisingly refreshing. The tart was every so slightly on the dry side. We both finished with coffees. While it's not customary to comment hugely on coffee I feel it's worth mentioning. These coffees were very good. I wish more places paid attention to their coffee, it's often the last experience a diner has in a restaurant, why not make it a good one? Don't have your diners leave with a bad taste in their mouth. This has happened to me so many times in establishments that serve bad, poorly made coffee. Kudos to Aqua.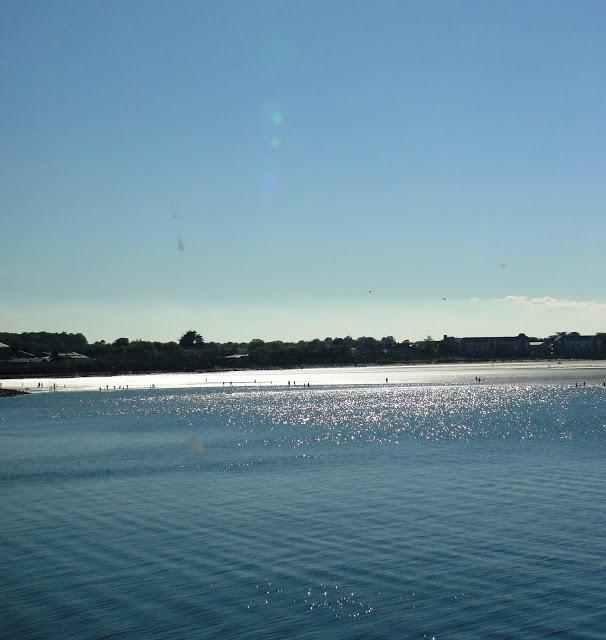 The view towards Sutton. I really could ramble on for ages about how wonderful the views from Aqua are! 
The elephant in the room with this blog is of course the fabulous views from Aqua, I left it until last to mention for fear that they'd take over! They're amazing! You can see all the way along the strand nearly to Sutton and then out to sea to Ireland's Eye and beyond. While we didn't see any wildlife (Dubliners swimming don't count, do they?) it's been mentioned that there are often seals who hang out below the restaurant and entertain the diners!
Finally, the staff in Aqua are amazing, attentive and intuitive. The only thing I can't figure out is how they manage to get any work done at all with that amazing view!
Aqua Restaurant
1 West Pier
Howth
Co Dublin
01 832 0690
http://www.aqua.ie/