Do you know what today is? It's opening day for the Chicago Cubs!  I'm telling you, this is the year.*  Wish I could be at Wrigley, but alas, I have to earn a living. Don't even get me started on how much I envy other's spring breaks.
*I really don't believe this but it is fun to say each year.
April is my favorite month.  It (usually) contains Easter and (always) contains my birthday! This means many things: Snicker's eggs, coloring eggs, Cadbury eggs, birthday cake, Reese's eggs, birthday presents, egg hunts, and Whopper eggs.  Most of that list was candy and I am not ashamed.  Easter has good candy!  It also means spending time with the family and I enjoy that too.
I guess I have some real goals to share with you outside of eat 10 pounds of candy and find the golden prize egg at the Farmer's family egg hunt.  Compared to those goals though, these ones are slightly boring.
Goal 1. Complete half marathon and PR.
The half marathon is April 28 and a PR is definitely achievable.  Training runs have gone much more smoothly.  For my first half marathon I was under-trained and not prepared for the warm weather and so I am much more confident in my running abilities this time around.  But do really do well in this race, I need to complete ALL of my remaining training runs.  That means no skipping out on shorter runs during the week or  cutting speedwork short.  My training only includes 3 days of running each week so this is not an outrageous goal but it needs to be done!
Goal 2.  Take a new class at the gym


I am already becoming a sort-of regular at Monday and Wednesday evening spin classes, but I've yet to try any others.  My gym offers cardio classes, strength classes, Barre classes, and pilates and yoga.  My body may be in desperate need for some stretchy yoga.  All this pavement pounding and strength training feels great but I can certainly tell my muscles need some lovin'.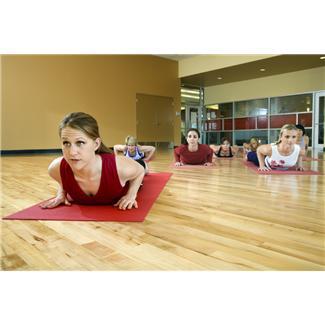 Goal 3.  April Photo a day
It's here again.  Photo a day.  It can't possibly be that difficult, can it?  My pictures have been fun so far and this will continue.    I've written down the list of cues for each day on a slip of paper and carry it with me.  No excuses this time!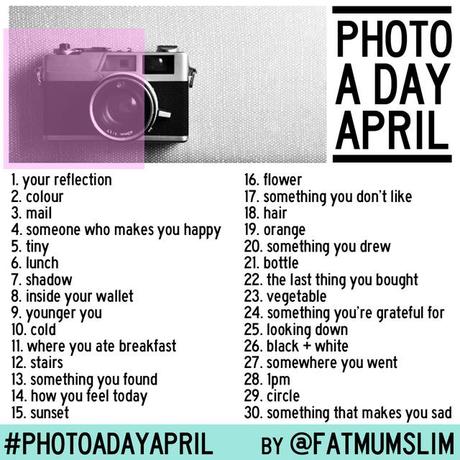 Goal 4. Take better care of skin.  
I have a problem.  We will call it adult acne.  Yup.  It's gross.  I really should not be complaining because for most of my life my skin was fairly easy to take care of and clear.  This topic really deserves a whole post of its own and maybe I'll give you one after I get this whole situation figured out.  In short, I thought once I was out of school and became a grown-up most of my skin problems would completely disappear.  But nope, the opposite happened.  It got worse.  And these pesky little red bumps are not contained to my face.  I feel like a teenage boy.
I am going to try to do something about this.  Washing my face every night and not ever going to bed with make-up/sweat on, using moisturizer, cleaning my make-up brushes (I've never done this!!), and not sitting around in sweaty clothes. Hopefully I make some progress because this is an embarrassing problem.
Goal 5.  Spring cleaning.  


It's springtime and it's time for a fresh start.  I will be cleaning out my closets and tossing/donating clothes that don't fit or I do not wear any longer.  The apartment could also use a good scrub down especially those neglected areas - hello crumbs accumulating in the silverware drawer and random spills on the refrigerator shelves.
I am in the habit of going through my things and getting rid of things because I always tried to downsize before I moved.  Since I've moved each year for approximately the last 5 years, this has become a common occurrence.  But this year I am staying put, but my old stuff is not. Reduce the clutter!  It always makes me feel better.