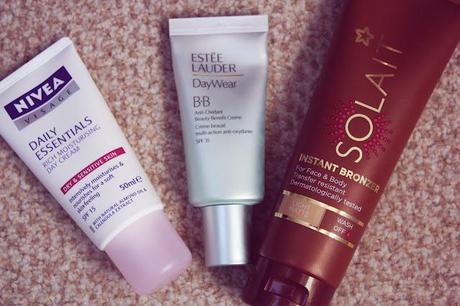 001. Nivea Visage Daily Essentials Rich Moisturising Day Cream
002. Estee Lauder BB Cream
003. Solait Instant Bronzer Fake Tan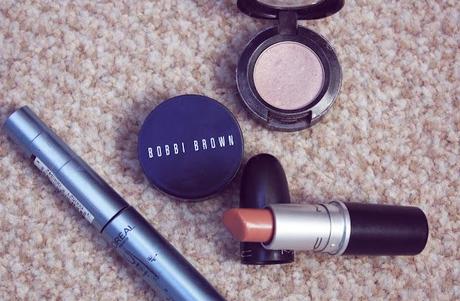 004. Loreal Telescoping Mascara (Waterproof)
005. Bobbi Brown Creamy Concealer (Ivory)
006. MAC Lipstick (Freckletone in Lustre Finish)
007. MAC Eyeshadow (Naked Lunch)
I've been using all of these products through the last month.. Some of these you may have seen, others not so much. I've been using the Nivea Moisturiser under my Makeup and I find this prolongs my Foundation during the day and helps it glide on in the morning. I've been using the BB Cream underneath my Makeup on other days and like to use this if my facial redness is having a "bad day"..
I've recently been going out a lot and like to look super bronzed but still natural-looking and the Solait Bronzer really works! It's a bit like Marmite (but doesn't smell like it - in fact it smells pretty great, not like the usual fake tan smell) but I find the color is more desirable than the application it gives.
On to Makeup! This is second repurchase of the Loreal Telescoping Mascara and I can't get enough! I no longer have to worry about falling out eyelashes because the formula seems to have improved. The Bobbi Brown Concealer is a real investment and I find it really blends well with my Double Wear Foundation.
I've been in love with the Topshop's Desert Lipstick but recently finished it so found MAC Freckletone a more expensive alternative (seeing as Topshop had stopped producing 'Desert')..
I've then been using MAC Naked Lunch as an everyday color. It's beautiful and enhances eyes amazingly.. I use it in the corner of my eyes and under my waterline.