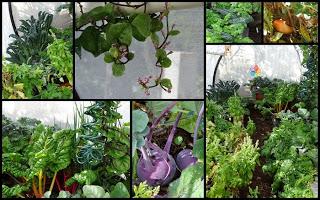 A warm start to April...I was able to get outside and plant up some of the seedlings and cuttings that I have been watering lately. Still lots growing in the shade tunnel.
Notes from my garden diary...the first week of April.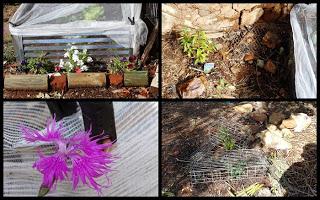 Wednesday 1st April
Temperature Min 10.2C Max 28.2C
Planted Petunia and Fringed Pink Dianthus at base of a bed which had a dripper line running around it. Planted a Lemon Verbena and Lavender next to this bed.
Planted Emperor Mandarin tree with Lucerne, Seaside Daisy, Lavender and Pyrethrum Daisy for companions.
Thursday 2nd Apr
Temperature Min 11.7C Max 20.4C
Potted on Mini Cabbages,
Planted out Curly Sorrel seedlings, Comfrey root cuttings and Shallots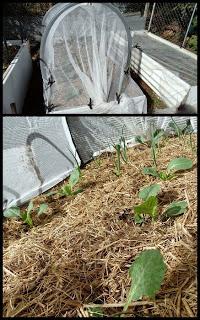 Friday 3rd Apr
Temperature Min 10C Max 21.6C
Topped up a bed with soaked coir in which some old Cow manure was added and soaked too. Then planted up the bed with Red Cabbage, Mini Cabbage and Leeks. The bed was later covered with vege netting.
Sunday 5th Apr
Temperature Min 10.1C Max 23.1C
Planted Corn Salad Seedlings.

The second week saw milder day temperatures but the nights are getting chilly...I began preparing the new Greenhouse for winter. I am collecting seeds and pruning old growth off perennials, as I prune I take the chance to get some material for cuttings.
Notes from my garden diary..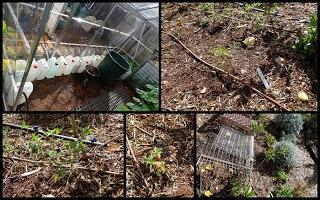 Wednesday 8th April
Temperature Min 5.6C Max 18C
Planted Lucerne, Rosemary, Native Lemongrass and Rock Rose near the 3 Cherry Bush Plants.
Moved water containers to new Greenhouse from the old one.
Thursday 9th Apr
Temperature Min 4.2C Max 20C
Harvested seeds off a Catnip bush and pruned it back
Friday 10th Apr
Temperature Min 6.5C Max 20.9C
Built 2 wicking beds on the outside (Northern sunny side) of the Shade Tunnel. They have been filled with a mixture of Cow Manure, sandy loam from the garden, mushroom compost, bagged garden compost, soaked coir and potting mix. The two plastic cloches that I have fit into the beds so I will plant winter greens.That will save me trying to find a home for those cloches!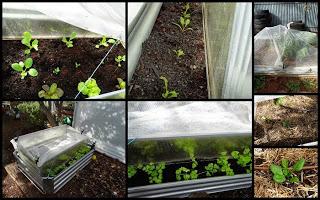 Saturday 11th Apr
Temperature Min 4.5C Max 24C
Prepared bed for Green Manure...sowing BioMustard seed (from Diggers) and Broad Beans to dig into the soil before Spring. Added Pelleted chook manure and sowed Bio Mustard seeds...later I'll plant out the biggest of the Broad Beans seedlings once the mustard has germinated.
Attached netting over that bed to stop the birds scratching the seeds up.
Planted seedlings of Pak Choi, Yukina Savoy (Large Leaved Tatsoi), Lettuce, Mini Cauliflowers and Coriander into the cloches in the new beds and Chinese soup celery and Heirloom mixed and Cylindra Beetroot outside the cloches. These were covered with netting.
Planted Spinach seedlings next to the Silverbeet and re-fitted the netting in the bed under the Mulberry Tree.
Took cuttings of Pink Rock Rose.
Monday 13th Apr
Temperature Min 13.2C Max 24C
Covered new wicking beds with shade cloth as temperature is on the rise tomorrow! It peaked at 29.7C.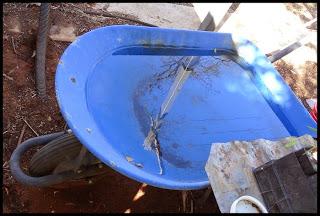 During the third week we had a massive downpour that brought 88mm of rain!!! (a barrel load of rain!) We also had the lowest minimum temperature of 1.5C (officially a frost!)
Notes from my garden diary...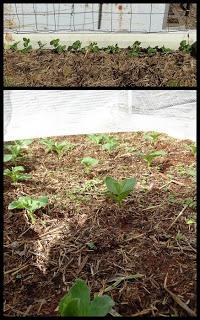 Wednesday 15th April
Temperature Min 10.4C Max 27.3C
Planted Broad Bean seedlings in with mustard in green manure bed and
Climbing Sugar Snap Pea seedlings in fridge bed
Friday 17th Apr
Temperature Min 11.5C Max 17C 88mm Rain o/n
Emptied all water from the seedlings trays
Greenpatch order arrived, unpacked and sorted
Seeds: Capsicum - Golden Californian Wonder, Cucumber - Lebanese, Lettuce - Brown Romaine, Pumpkin - Baby Blue, Pumpkin - Jarrahdale, Squash - Table Gem Bush these were free with membership
Potato Onion - Golden Brown
Mint - Greek Pennyroyal
Eschallot - Red
Geranium Scented - Apple
Geranium Scented - Cinnamon
Vege Net - Vegetable Netting I needed extra as I'm having to cover each bed as I plant or the Blackbirds dig all the seedlings up!!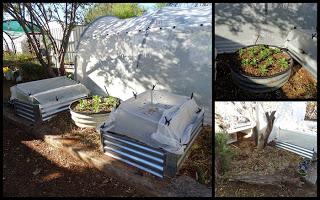 Saturday 18th Apr
Temperature Min 11C Max C
Topped up bed between wicking beds on the outside of the shade tunnel. Put cut down tank for new bed filled it with good (and damp!!!) soil, attached dripper line and planted Broad Bean seedlings. Also put some sliced hose around the top to cover the sharp edges it's attached with cable ties through holes drilled in the side.
Added soil to rest of area and planted out, Sorrel (French, Garden and Curly), Native Violet, Snow in Summer, Heuchera, Pizza Thyme, Winter Savory, Creeping Rosemary, Chamomile, Bacopa (pink, mauve and white)
Raked out mulch (damp as well!) from the chook pens to mulch all these beds.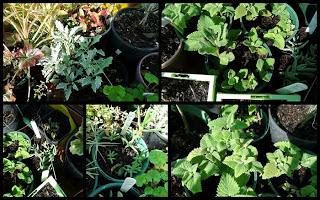 Took cuttings Native Violet, Pink Bacopa, Greek Pennyroyal and Apple Scented Geranium as I planted out and also as I potted up the plants from my order.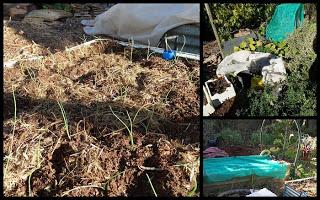 Sunday 19th Apr
Temperature Min 11C Max 17.2C
Cleared the Tomato bed and the Beans out of the Zucchini bed. Planted Red Onions and 2 types of White Onions (Gladalan and Barletta). Potted a few into punnets for later planting. Covered the bed to keep the birds off.
Forecast says chance of frost tonight so I covered the Pumpkins and Zucchinis that are still growing with pieces of shadecloth.
Monday 20th Apr
Temperature Min 1.5C Max 13.4C
Sowed seeds into punnets of Lettuce Red Iceberg (from Diggers), Brown Romaine (from Greenpatch), Endive (from Mr Fothergills), Red Vein Sorrel and Plantain (both from Green Harvest).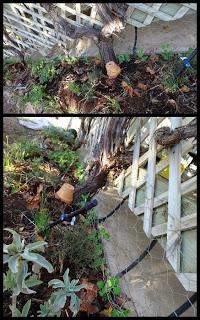 Tuesday 21st Apr
Temperature Min 4.5C Max 15C
Cleaned out worm bin used castings when planting out Climbing Sugar Snap Pea seedlings under the Grapevines on the edge of the pergola the idea is that they will grow up the trellis as the Grapevines die back in winter.
The end of April and the temperature is looking more like winter! Still getting jobs done but much slower than earlier this year! But on the last day of April Doc said goodbye to his crutches and began learning to walk with that big cam boot on...at least he can carry things now and get back out and play in his workshop!!!
Notes from my garden diary...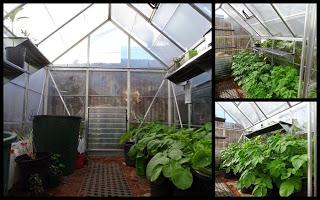 Wednesday 22nd April
Temperature Min 4.9C Max 19.5C
Turned compost and added Comfrey, Valerian, Lucerne from behind the Greenhouse and a bag of straw and cow manure. Trimmed back the tops of the Potatoes and added them to the compost too.
Thursday 23rd Apr
Temperature Min 5.1C Max 18C
Added fresh straw in both Chook Runs.
Saturday 25th Apr
Temperature Min 4.7C Max 15C Rain13mm
Sunday 26th Apr
Temperature Min 5.2C Max 14C
Emptied wicking bed in orchard area and moved the frame. It will be re-built next to the Greenhouse (south, shade side) and the Loganberry will be grown in it. This should keep the loganberry from spreading too far. Like all brambles they like to send out suckers everywhere!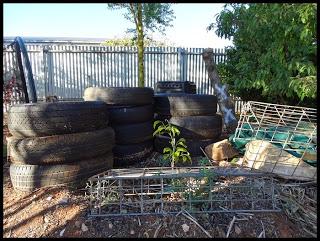 Tuesday 28th Apr
Temperature Min 2.9C Max 13C
Attached shade cloth to greenhouse side of the trellis
Continued clearing area for loganberry wicking bed.
Transplanted an euryops daisy. Moved tyres to form a sun bank around the Mandarin tree
Wednesday 29th Apr
Temperature Min 1.6C Max 13.8C
More clearing and digging preparing for the new wicking bed.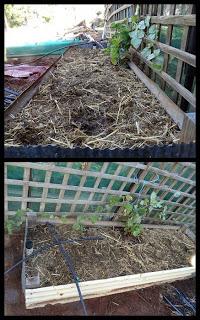 Thursday 30th Apr
Temperature Min 2.5C Max 18C
Doc spent his first day without his crutches...slowly getting used to walking with a big cam boot on!!
Changed the shelving around in the greenhouse and brought more plants in for overwintering...French Tarragon, Catnip and Rock Rose cuttings
Completed the new wicking bed.
Planted the Loganberry I had saved when it's old bed was dismantled. Also planted 1 Rhubarb at the eastern end of the bed.
Topped off the bed with half a bag of cow manure keeping this away from the plants as it seems a bit fresh still.
Cleaned out one of the chook houses and added the straw to the compost heap.
This Month I have been harvesting...
Beans
Chives Onion and Garlic
Kale
Kohl Rabi
Lettuce, Capsicums and Mizuna (from community garden bed)
Malabar Spinach
Parcel
Parsley
Silverbeet  (Chard)
Spring Onions
Tomatoes
Tromboncino
Zucchini
Apples
Blackberries
Pears
Strawberries
Strawberry Guava