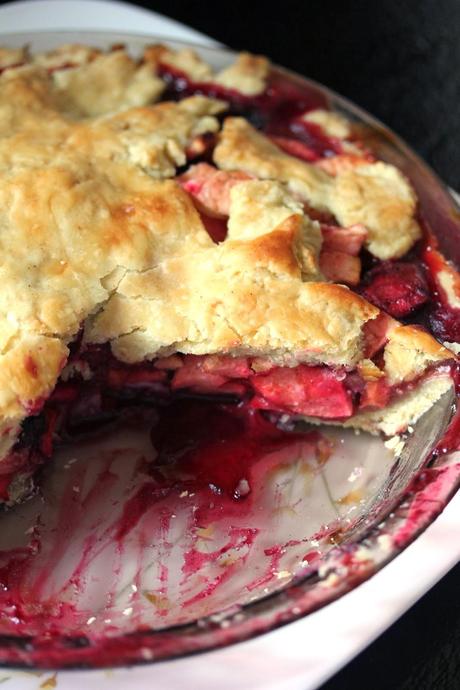 PIE! Had we known it was this good and easy to make we would have been making pies a really long time ago! Well, we recently got Vegan Pie in the Sky and we are super excited to make our way through that. We now have quite a substantial collection of Isa Chandra Moskowitz and Terry Hope Romero cookbooks.
It's not that we've never had pie before it's just something we never thought of baking ourselves because at the end of the day when we want something luscious between our teeth we always think brownies, cookies, or cupcakes. How silly were we??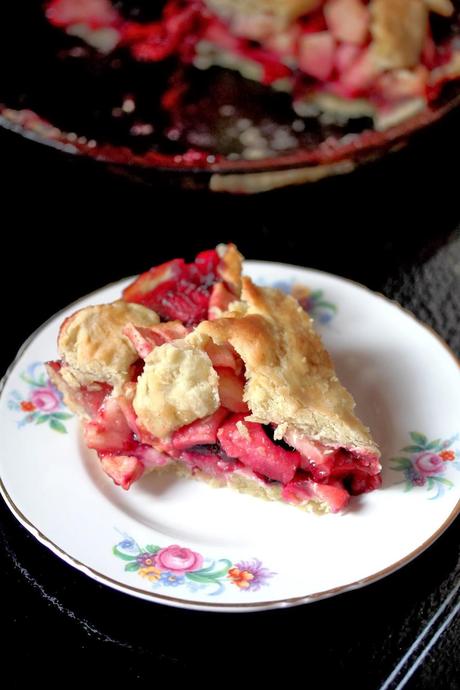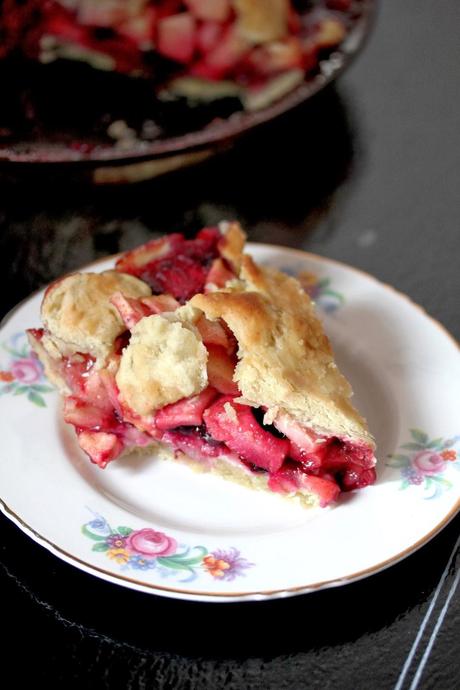 This pie uses an olive oil crust and it yields the same results as vegan butter! The crust is flaky and golden and crisp and delicious!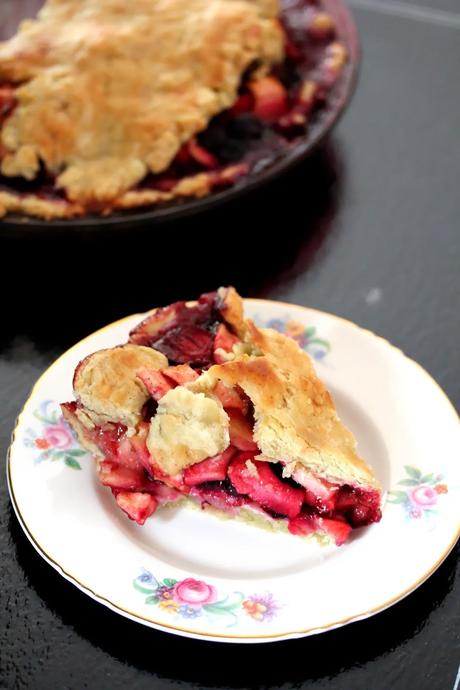 And the interior has wonderful flavour! The juice is so sweet (but not too sweet) and flavourful. Appleberry made me think of Apple Bottom jeans (LOL) and so alternately you can call this an Appleberry Jeans pie if you so desire. 
I feel like this song sums up our feelings on pie, haha.

Dum Dum Girls - Always Looking
Appleberry Pie
from Vegan Pie in the Sky
Pie Crust Ingredients
2 1/2 cups AP flour
3/4 tsp salt
2/3 cup olive oil, partially frozen
4-8 tbsp ice water
1 tbsp apple cider vinegar
Directions for Pie Crust
An hour before you make the pie place olive oil in the freezer. Freeze until opaque and solid but slightly soft.
in large bowl, sift together flour and salt. Add olive oil tbsp at a time cut into flour with fingers until flour appears pebbly. In a cup, mix half the water with ACV. Add two tbsps of the mixture to the flour and stir. Add the rest of the water 1 tbsp at a time until dough can more or less form a ball.
Divide dough in two. Form two disks inch thick and place between two pieces of parchment paper. Roll until 1/4 inch thick. Do this for both pieces.

Ingredients for Pie Filling
2 cups of berries, any kind, one type or mix, fresh or frozen
4 cups peeled and cored Granny Smith apples, sliced 1/4 inch thick
2 tbsp lemon juice
2/3 cup sugar
3/4 tsp cinnamon
1/4 tsp nutmeg
4 tbsp cornstarch
Directions for the whole shebang 
Preheat oven to 425F. Toss all the ingredients together in a large bowl. Roll out your dough and fit the bottom into the pie plate. Add the filling and cover with remaining dough. Press the edges together using a fork or your fingers. Cut slits in the top crust. Bake for 20 mins. Reduce heat to 350F and bake for 35-40 mins. When it's done place the pie on a cooling rack and let sit for 30 mins.