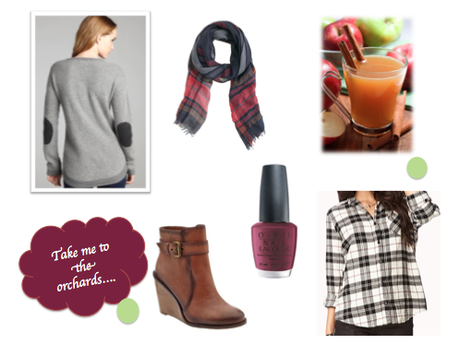 Sweater// This sweater is perfect to throw on for a chilly afternoon. The elbow patches add an extra "prep-school" touch, but still says casual. 
Scarf// Plaid screams fall. Drape this around your neck with a boyfriend cardigan and cognac riding boots to complete the look.
Doesn't that hot cider make you want to sit by the fire and indulge in piece of pumpkin pie?? :)
Ankle boots// Short boots are all the hype this fall. Paired with your live-in skinny jeans, you can't go wrong.
Polish// Mrs. O'Leary's BBQ by OPI is a popular burgundy shade perfect for autumn. This shade reflects fall activities AND colors. 
Flannel// While you might feel a touch lumberjack-like, this plaid will get you through the fall and winter both. Accessorize with a bold necklace to make the ensemble a bit more girly.