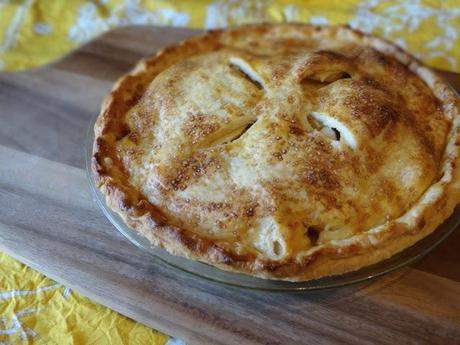 It took a while, but it's finally starting to feel like fall here in Sydney. The trees are turning red and fading brown; there's the sharp crunch of dried leaves under your feet as you walk down the street. In the supermarket, piles of apples tower above everything else.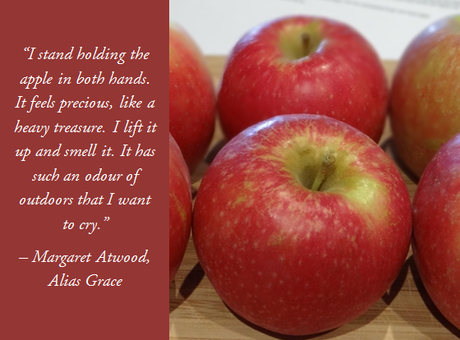 There is was a pile of apples in my home too. Last week when I went strawberry picking, I also got the chance to visit an orchard and grab some apples. I lugged home two kilos of it and ended up sitting at the table staring at them, wondering what was the best way to use them all up.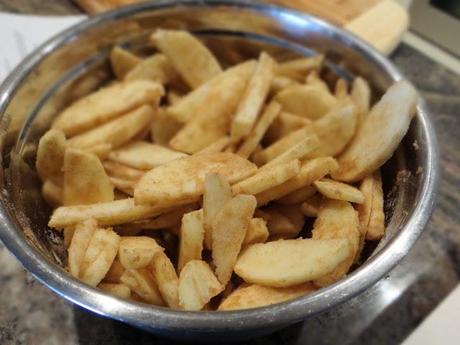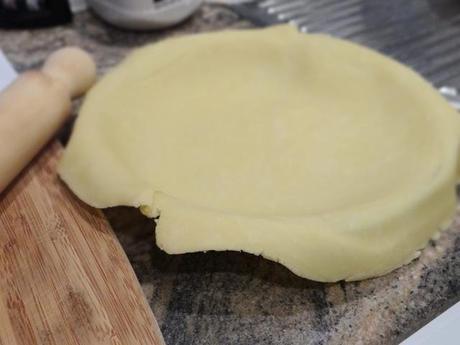 I really just sat there for five minutes. Apple pie is obvious, isn't it? But then obvious will result in some of the very best of home baking: a homemade all-butter pie crust filled with handpicked apples that injects your house with the warm smells of cinnamon, spice and everything nice.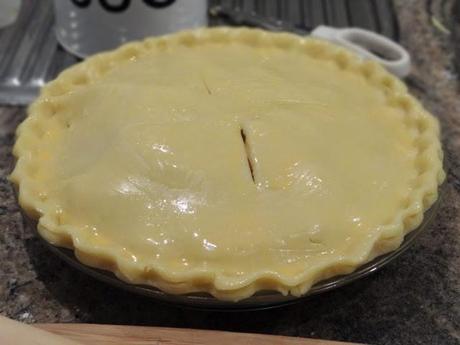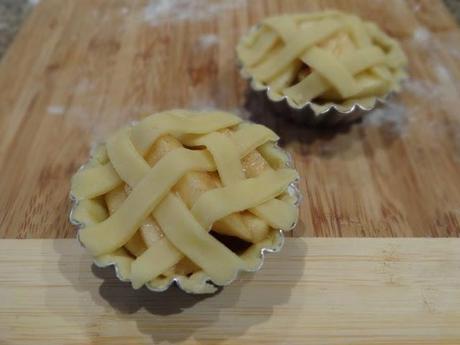 I've made apple pie a few times before, but this is definitely the most successful. This might be because I've finally found a foolproof flaky pie crust. This is now my go-to pie dough and it works for pretty much anything, including these pie pops I made last Christmas. The filling of this pie is adapted from Paula Deen, so you know it's going to be good.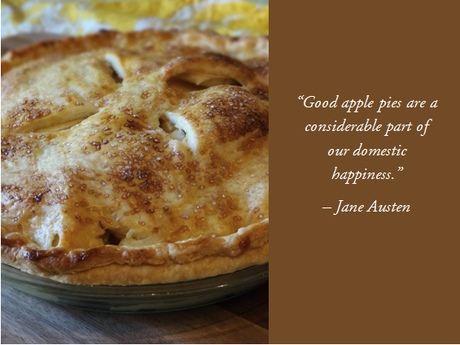 This pie ended up being a gift for a family friend as my mother was searching for something to bring over for a social visit. She clocked the pie, wrapped it up and disappeared out the door. Luckily I'd made some mini apple tarts out of the leftover pie dough and didn't miss out on tasting it - I might have cried if I had. This pie is everything good about apple pie; it's got the flaky crust, the warm and rich apple-packed filling, and it's scented with cinnamon. If you eat it with a scoop of vanilla ice cream, that would be the height of pie heaven.


And in keeping with last week, I thought I'd throw in some quotes by some of my favorite authors. Reading amazing descriptions of food in literature has always inspired me to write and bake even more. This blog is called words and cake, after all - so here are some words, and pie, for you.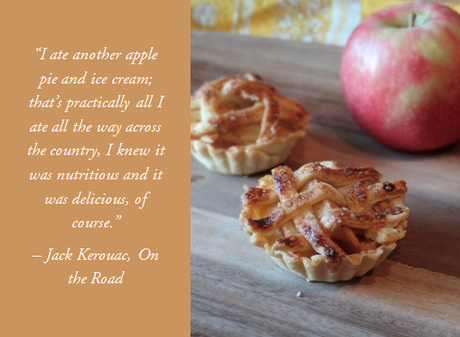 Apple Pie Makes 1 9-inch double crusted pie, plus a couple extra tartlettes
1 recipe pie dough, below 1 recipe apple pie filling, below 1 egg, beaten with a tablespoon of milk Some raw sugar for sprinkling
Preheat the oven to 220C/450F.
Take the discs of dough out of the fridge twenty minutes before using to let it come to room temperature (if you're taking it from the freezer, then transfer it to the fridge the night before using). Dust a surface with flour and roll the dough out two inches larger than the size of the pie tin. Pick up one end of the dough and drape it over your rolling pin, then transfer it over to the tin and gently unroll it. Carefully mold the dough to the shape of the tin. Trim off any excess, but leave about an inch of overhang. Fold this underneath itself so that the edge of the pie is a bit thicker and sturdier.
Fill the pie shell with the apple pie filling.  Roll out the second disc of pie dough like before and cover the apples, pressing down on the edges to seal and trimming off any excess.* Crimp the edges with your thumb and forefinger if you like. Cut some slits at the top of the pie to let out steam, then brush with the eggwash and sprinkle with sugar on top. (Don't forget this step, otherwise your crust won't bake up golden and brown!)
Bake the pie for 40-45 minutes. Check it halfway; if the crust looks like it's browning too fast then cover the pie with a sheet of tinfoil, removing it five minutes before it finishes baking. The pie is done when the crust is brown, the filling is bubbling and the apples are soft. Take it out and let cool for twenty minutes before slicing.
*If you have enough, use excess dough to make some mini tartlettes, or use it to cut out some decoration for the top of your pie.

Foolproof Pie Dough Adapted from Chez Pim
Note: Chez Pim calls this the 'one pie dough to rule them all', and I'm going to have to agree. The easiest way to learn how to make this is to visit the original post for step-by-step pictures.
225g cold salted butter (you can use unsalted, just thrown in a pinch of salt into the flour beforehand) 250g plain flour 1/4 cup cold water
Dump the flour onto a work surface. Slice or cube your butter and throw it on top of the flour, then using the heel of your palm begin to press the butter into the flour mixture. With a pastry scraper in the other hand, gather flour and pile it back on top and continue working the butter into the flour until it looks flaky and crumbly. Make a well in the center and pour in the water, then work the mixture quickly into a ball. Shape it into a rectangle, wrap in cling film and refrigerate for half an hour, or until cold.
Once the dough feels cool to the touch, take it out put it on a surface that's been liberally dusted with flour. Roll the rectangle out so that it's elongated. Brush off any excess flour. Then take one end of the dough and fold it 2/3 of the way in, followed by the other end; like folding a letter. Continue to brush off any excess flour in the process. Turn the dough around 90 degrees and repeat the process. Repeat about 3-4 times, until the dough feels pliable and easy to work with. Then divide the dough in half and shape each into a circle and wrap in cling film.
The dough is now ready to use. You can refrigerate it for a couple of days, or keep it in the freezer for months.
Apple Pie Filling Adapted from Paula Deen
Note: This recipe can be completely used to fill a 9" pie, no problem. I had a bit of extra pie dough leftover so I reserved about a 1/4-1/2 cup of the filling. Otherwise, just put it all into the one pie. I upped the cinnamon because my family likes it that way, and skipped the lemon because I realized when I got to that step that I'd run out. So it works either way.
2/3 cup brown sugar, packed 1/4 cup plain flour 1 tsp cinnamon 1/4 tsp nutmeg 6 apples, peeled, cored and sliced 1 lemon, juiced
Whisk together brown sugar, flour, cinnamon and nutmeg in a small bowl. Set aside.
Put the sliced apples in a large bowl and squeeze the juice of a lemon over it and toss. Add the sugar mixture and toss to evenly coat. The filling is now ready to be used.