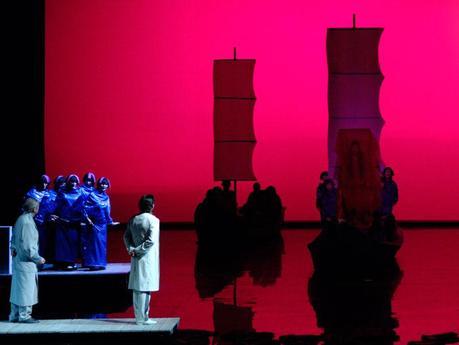 Israeli Opera's new production of 'Madame Butterfly'
Want to catch a Butterfly? It's in season — everywhere around the world.
Who all mounted productions of Butterfly in 2011-12? Israeli Opera, Minnesota Opera, Nevada Opera, Seattle Opera, Intermountain Bozeman Opera, and English National Opera, just to name a few companies. (See specific production dates and casts below.)
Madame Butterfly, Madama Butterfly. No matter what you call it, the Puccini opera has been a perennial favorite in the U.S. and across the pond.
However, some opera lovers contend its popularity is greater than it has ever been.
There is some data to support this assertion. According to Backtrack founder David Karlin, there's a slight increase in the number of performances worldwide of Butterfly per Bachtrack.com: 124 listings in 2011 versus 112 in 2010. (Here are all the listings for Butterfly on Bachtrack for the next five months.)
Karlin adds, "It's been a top ten opera for as long as I can remember."
The reasons for its popularity are obvious. Karlin credits "a fabulous score combined with an opportunity to go completely over the top on Asian or faux-Asian settings that must be irresistible to set and costume designers."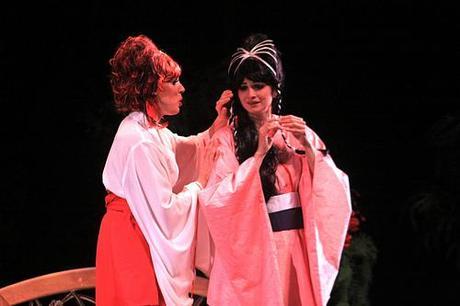 Nevada Opera's Butterfly
And let's not forget an authentic storyline that is genuinely moving. At a time when world events, even the pace of life, is soul-crushing or mind-numbing, because of the soaring music and evocative story, pieces like Butterfly are capable of restoring our humanity.
"Un bel di vedremo" startles us out of our life-inducing stupor and demands that we pay attention not only to Puccini's work but also to the things that truly matter in life.
Any other reasons why everyone seems to be presenting Butterfly?
While its subject matter directly concerns the United States–which makes it unusual for a European opera, the portrait it paints of America and by association Americans is hardly a flattering one.
If we are viewed as imperialistic bullies by those entering the opera house, Butterfly will hardly convince them otherwise by the end of Act III.
To its credit, however, U.S. citizens in 2012 are not only willing  to be seen as Ugly Americans but also accepting of the moniker.
If you'll permit me, compare America's self-acceptance and self-loathing to another G-7 nation, Japan, the setting for Butterfly, who in 2012 won't even permit the sale of one of my friend's books, THE PEARL DIVER by Jeff Talarigo, because it offers an unflinchingly honest but unflattering portrait of  the island nation though the book takes place more than 40 years ago, not the Japan of the postmodern age.
Clearly, some Americans are actually willing to look critically at themselves for several hours parsed into three acts, along with the rest of the world. That doesn't mean Americans shouldn't continue to do some intense soul-searching. U.S. women believed that we were a protected class in the United States, that we were accorded certain protections by virtue of our gender that are seemingly under attack. "The War on Women" it's being called, as legislators–men and women (shockingly)–propose laws to erode our rights and human dignity. A piece like Madame Butterfly is a powerful reminder of  why women need and deserve protection in the first place.
But what about continuing Puccini's popularity as a composer. What might account for that?
A recent NPR article reported that Puccini said his success came from putting "great sorrows in little souls." Is there any cultural evidence the United States–the world–is intrigued by little souls?
I think so.
While we certainly go for our kingly/queenly/deity stories occasionally, currently America is having an affair with the little man and the regular guy. With Joe Sixpack and Joe the Plumber. With Everyman. Look how many reality shows have infiltrated public consciousness and cable TV in the States and perhaps around the world. The mundane, the everyday is now primo as well as primetime entertainment.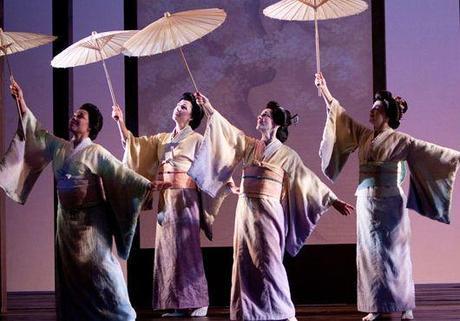 WNO's 'Butterfly in 2010-11
Not that Puccini is mundane–not in the least. But the fact that he writes about people who are neither glamorous nor glamorized dovetails with the contemporary reality show craze.
And why is it Madame Butterfly used more frequently than Madama Butterfly these days? It could be a subconscious or a conscious attempt to make opera sound more accessible, more everyman, less the art form of an elite class? That's the best rationale I can conceive.
I love Butterfly. (You can read my review of WNO's 2011 Butterfly here.) Madama or Madame — it matters not. If using Madame as opposed to Madama in the marketing collateral brings in more patrons, then I'm all for it.
Here then are some of those 2011-12 productions of Butterfly mentioned earlier in this piece:
Israeli Opera  | April 11 – 27, 2012, with mimes. April 19 simulcast. Director Mariusz Trelinkski, conducted by Luciano di Martino. Starring Ira Bertman/Wioletta Chodowicz, Zoran Todorovich/Sergey Semishkur, Vladimir Braun/    Noah Briger, Monika-Evelin Liiv/Ayala Zimbler, Yosef Aridan, Alexi Kanunikoff, and Noah Briger/Reich Oded.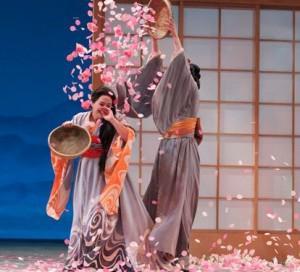 Seattle Opera's 'Butterfly' | © Elise Bakketun
Minnesota Opera | April 14-22 – traditional concept, 'nationally acclaimed production, called "magnificent" by Star Tribune and "a rare, beautiful 'Butterfly'" by Pioneer Press'. Directed by E. Reed Fisher, conducted by Michael Christie, cast Kelly Kaduce (previously sang the title roles in Minnesota Opera's Madame Butterfly under Colin Graham's direction in 2004 and Rusalka in 2009) Soprano Yunah Lee (Turandot, and 108th performance of Butterfly's title role). Tenors Arturo Chacón-Cruz (debut) and Brian Jagde (debut) alternate in the role of Pinkerton. The American Consul Sharpless is sung by baritones Levi Hernandez (debut) and Andrew Wilkowske (Silent Night). Mezzo-soprano Mika Shigematsu (The Barber of Seville) alternates the role of Suzuki with Minnesota Opera Resident Artist Victoria Vargas(Lucia di Lammermoor). In both casts, Angela Mortellaro is Kate Pinkerton, John Robert Lindsey is the marriage broker Goro, Gabriel Preisser is Butterfly's Japanese suitor Yamadori and the Imperial Commissioner, Joseph Beutel is the Bonze and A. J. Glueckert is the Official Registrar.
Nevada Opera | May 4 & 6 – anime-style concept. Directed & conceived by Monica Harte, conductor not credited, starring Veronica Mitina [Opera Theater North - Mimì/La Bohème, Intimate Opera Chicago - Violetta/La Traviata], Patrick Miller [Lyric Opera of Chicago - Arturo/Lucia di Lammermoor], Chris Trakas [Metropolitan Opera - Harlekin/Ariade auf Naxos], Sarah Heltzel [Seattle Opera - Siegrune and Flosshilde/Der Ring des Nibelungen, and Edwin Vega Appearance [English National Opera - Molqi/John Adams' Death of Klinghoffer].
Seattle Opera | May 5-22 – opening night was company's first-ever simulcast.  Directed by Peter Kazaras, Artistic Director of Seattle Opera's Young Artists Program, conducted by Julian Kovatchev (debut). Starring soprano Patricia Racette in Seattle Opera debut, alternates performances with Lithuanian soprano Ausrine Stundyte. Both casts feature Canadian baritone Brett Polegato as Sharpless, and 2011/12 Young Artist Sarah Larsen as Cio-Cio-San's servant, Suzuki. Tenor Doug Jones (Goro), baritone and 2011/12 Young Artist David Krohn (Yamadori), and bass Michael Devlin (the Bonze).
Intermountain Opera Bozeman | May 16-20. Directed by Steven Daigle, conducted by Ari Pelto, Starring Cynthia Clayton (New York City Opera credits include the roles of both "Mimi" and "Musetta" in La Boheme, the Countess in Le nozze di Figaro, and the title role in Madama Butterfly), Brian Jagde (Minnesota Opera, 2012 Santa Fe debut in Arabella) as Pinkerton and Levi Hernandez as Sharpless (Houston Grand Opera debut as Sharpless next to Ana Maria Martinez and Joseph Calleja, SF Opera debut in Il Trittico), Layna Chianakas as Suzuki (Santuzza in Cavalleria Rusticana with Opera Santa Barbara), Tyler Oliphant (Bonze), David Cody (Goro), Margaret Kohler (Kate Pinkerton), and BJ Otey (Yamadori).
English National Opera | May 8-June 2. Anthony Minghella's Olivier Award-winning production, once hailed by the Sunday Telegraph as 'the most beautiful show of the year in operatic London.' Directed by Sarah Tipple, conducted by Oleg Caetani. Starring Mary Plazas, Gwyn Hughes Jones, John Fanning, Pamela Helen Stephen, Michael Colvin, Mark Richardson, and Jonathan McGovern.