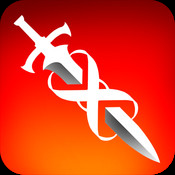 This is my super on-time review of the revolutionary app, Infinity Blade!
I first saw this game about two and a half years ago and my thoughts were like
wow! what a beautiful-looking fun game!
Back then, the famous apps were along the lines of Plants vs. Zombies and Fruit Ninja, all looked kinda lame to me. Then comes a long a game like this, which is smooth, has great action and superb graphics. The RPG element is very much appreciated, too.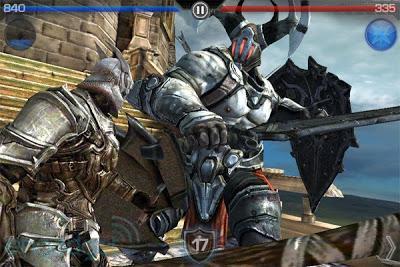 Image from here.
It basically plays like Fruit Ninja but instead of just slicing up fruit, you have to defend, evade, and slice up your foes as efficiently as possible. All battles are one-on-one duels, so it's still a bit over-simplistic for my tastes. I say it was revolutionary because it spawned a whole new line of apps with similar gameplay, which is great, but it's a shame that none come close to the quality of this game. I've tried others, but I find them to be very amateur and immediately lose interest.
The only problem this game has, is that it is just too repetitive. The actual content is small, apart from the wide array of equipment you can buy and equip. The story is very short and very much repeated. I really enjoyed it at the start, but it eventually wore me out and I quit long before being able to perfect the game, let alone acquire the famed Infinity Blade.
Verdict: 3/5
- While it is far from a perfect game, all I see from this is potential. If this is where mobile gaming is headed, then perhaps it won't stay too lame for long. I have yet to decide if I will attempt playing the sequel, Infinity Blade II.
Love Infinity Blade? Hate it? Let me know by commenting below, or just
tweet
me!

INFINITY BLADE
App Store: https://itunes.apple.com/ph/app/infinity-blade/id387428400?mt=8
Here's the trailer!