Are you thinking of free up space in your Ios mobile? Do you want to move your camera roll photos to Your Computer? Have you been exhausted to search for the software which monitors all your Ios devices with the Ios contents and Ios cloud?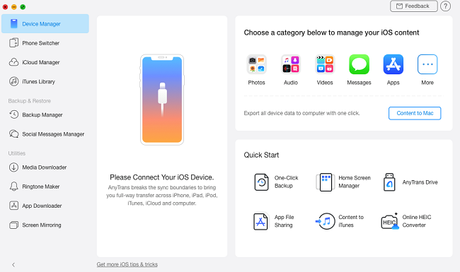 We opt to take pictures in our leisure times; we post our pictures to AnyTrans for iOS is a professional iPhone manager. Anytrans specializes in helping iPhone users transfer, manage, and back up all their iPhone content from one convenient place. You can have a complete outlook of this transfer service by clicking the product description of social media platforms. It has become a part of our lifestyle. We forget about pictures and indulge in our daily works as these photos occupy the huge memory space.
This can result in slow processing of the phone, and even it could not allow you to take the new photos. So you need a phone manager to move out of the old photos to either iCloud or your Computer. The 'Anytrans ' comes with the best solution for all such problems.
Anytrans helps you manage your iOS contents between iOS devices, iOS device & Computer, iOS Devices & iTunes, iOS devices, &iCloud. It aids with the data present in the iTunes iCloud backups, moves Android device data to iTunes, iCloud, and iOS devices. You can customize your home screen, choose your favorite ringtones, and search & download apps for your iOS devices.
Anytrans.
Manage your Photos with Anytrans
The camera captures the photos and records a lot of precious moments in your life. It is necessary to have keen organizing over them. So it is better to move up your photos to your Computer or iCloud.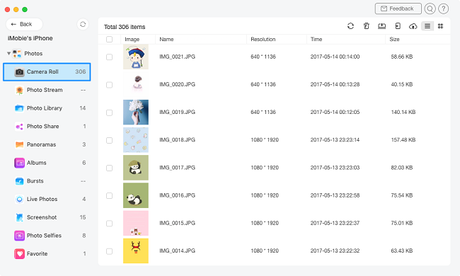 Anytrans is such an excellent software that helps you connect your iPhone with other iOS devices, to the iCloud or your Computer.
Here is a brief description of how to move your photos to your Computer to free up your memory space and also make your phone run smoother.

Environment Setup
Download the Anytrans software by clicking the link provided here. Once you install this iOS software on your laptop, then follow the steps as mentioned below.
Open the Anytrans software, which is preinstalled before. Connect your iOS device to the Computer via the USB cable. AnyTrans will detect your iOS device automatically. Once your device is recognized successfully, Anytrans prompts out to choose your category for managing the content dialog box.

Choose your Photos
This dialog box consists of varied options for one-click backup, apps, home screen manager, online HEIC converter.
Select the more option by clicking the *** button present on the first right of the screen. Then select the Camera Roll under Photos category.
Choose the photos which you want to export to the Computer. After the loading process is completed, it will display the number of photos on the upper right of the Camera Roll icon.
This Camera Roll icon displays the number of photos left in the device after selection. If it is zero, it indicates there are no photos left for the selection and no photos in the device. Also Read: 12 Best Tools to Unblur Photos Online

Transfer the Photos
Select the files you need to transfer. Then Click the transfer button (To Computer). Choose the export path on your Computer. Once the transferring process is completed, you will prompt to the Transfer Completed Page. On redirecting to this page, it confirms that your transfer is successful, and all the selected photos are stored in the device memory. You can view these photos by selecting the button. This gives you the path of the transferred photos. If you still feel confused about this process, you can refer to the
link. It redirects you to a better page describing the lucid camera roll management.

Features of Anytrans
1. Best Phone Switcher
AnyTrans breaks device barriers and builds data highways between all of your devices. You can even transfer your files from an iOS device to the android device using Anytrans.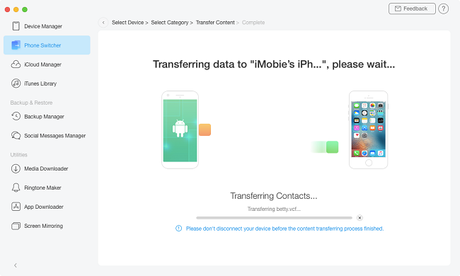 You can also transfer your files across mobile phones, tablets, and PCs. Whether it's iOS, Android, or Windows, AnyTrans bridges the gap. It builds the future of platform-independent device communications.

2. Backup Master
With iTunes and iCloud, you cannot back up every detail of your chats, photos, messages, contacts, apps, videos, and audio files. Anytrans provides you with the backing up all the files securely to the drive.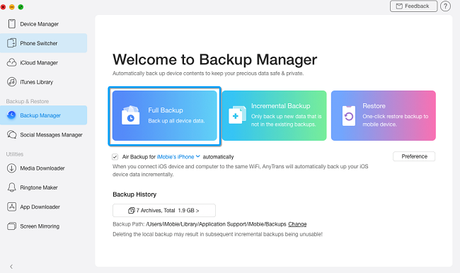 With AnyTrans, all your photos, messages, app data, and files will be backed up automatically, wirelessly, and securely on your Computer. Backups will be created daily, weekly, or monthly. So, there is no need to worry about loosing your important data again.

3. Unlimited Media Downloader
AnyTrans supports YouTube, DailyMotion, Vimeo, Facebook, Instagram, and other 900+ sites and lets you download any video you want while automatically converting it into a device compatible format for you.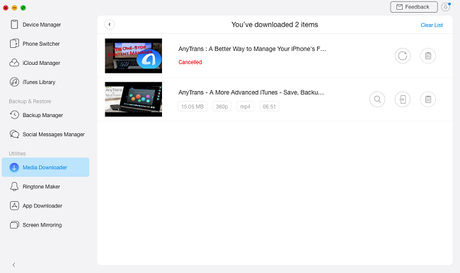 You can choose your preferred format, quality, and size for each video music you download, and download them to a computer or directly to your Android phone/tablet as you want.

4. Automatic HEIC Converter
HEIC is a file format used for storing both individual images and sequences of images. It became significant as the default photo storage format on Apple iPhone devices from iOS 11.HEIC files are generally 50% the size of JPEG files, but with higher visual quality.
AnyTrans comes with a perfect and hassle-free conversion solution for HEIC to JPG. Anytrans makes these pictures widely compatible by converting them to the JPG format. AnyTrans automatically converts HEIC images to JPGs when exporting them to the Computer.

5. Advanced Management Experience
Anytrans feels you delighted with its superb management. Data load in seconds. Transfer goes gleaming fast. Above all, a single tap can get all the work done. No more rigmaroles or endless waiting.

Final Words
With all these fantastic futures, Anytrans created boundaryless sharing across different platforms. Give it a try to make your work easy, peasy!