Hollaaaa!
Third posts today! But this time I'm going to post about my current most favorite apps on my ipad, it's "SING!"
This is how it looks. You can download it on Apps Store, i don't whether it's also available on Google PLAY or not.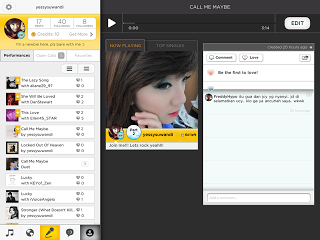 And here are some of my precious singles sang with this app, ENJOY!
"Lucky" origin song by Jason and Colbie
http://www.smule.com/p/78586336_8761104
"Lasy Song" origin song by my baby Bruno
http://www.smule.com/p/86688347_8842481


"Call Me Maybe" origin song by me *get slapped* Okay, okayy... Carly Rae.... lol
http://www.smule.com/p/88009093_8753309




"She Will Be Loved" origin song by Maroon 5

http://www.smule.com/p/86587911_8840452


Heyyyy, i'm not that bad with singing girlssss, don't laugh that loudd!!! lololol.Seriously, you should download this app, i almost spend my spare time (and also my stress one) by singing on this app, it really sounds good! Trust me. No, no,nooooo i'm not being paid or sponsoredddd, i just wanna share my funtime with you all.Go, go download it! Don't forget  to follow me ^^
Lotta Love,Yessy