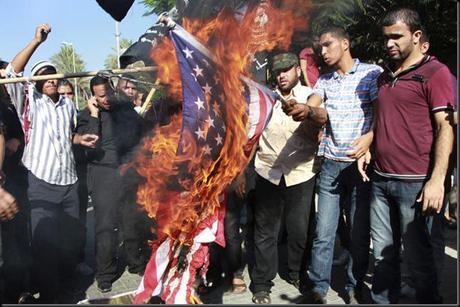 Oh dear. I've been seeing the signs of these protests for the past few days in the planet star conjunctions. From Cairo to Khartoum and Sana'a anti-American and latterly anti–Western sentiment is rising, caused it seems by a YouTube video posted online in the US which insults Muslims and Islam. Of course we do have the matter of the Uranus Pluto square exact on the 19th September which is in the background revving up initial anger into full scale rioting.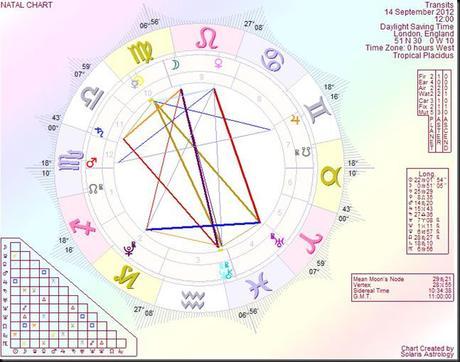 Ok what have we got at the moment? There are passions rising high with a Uranus Venus trine bring social opposition and rebellion. This is a fire trine and the fire here is burning very ferociously with social implications. Saturn trine to Neptune is very conservative minded about religious issues and normally you see a hard line taken by believers when these two planets connect up. Notice the pointer on the chart in gold. We have two quindeciles focusing on a Sun Mercury conjunction, one from Uranus and one from Chiron conjunct to Neptune. Chiron shows the potential for a wound to open up and the conjunction to Neptune where that wound is coming from, a religious film (Neptune), one which is lit up by the Sun's energy. On the other side of this pointer is Uranus in Aries which is closing in on an exact 165 degree quindecile aspect. This is rebellious energy starting to spiral out of control, egged on of course by the Pluto square which reaps destruction and underground action.
The focus planets of this pointer, Mercury and the Sun have been subject to some fixed star connections over the past couple of days. On my Solaris Astrology Facebook page I wrote the following :-
11th Sept - Mercury conjunct Denebola - Taking an alternative stance.
Tomorrow (12th Sept), Mercury makes a conjunction with fixed star Denebola which sits in the tail of the Lion in the constellation of Leo. Here we have people or groups voicing an alternative or opposite opinion to that of the rest of society. We already have the South Node conjunct Alcyone right now which Brady says shows "a voice of disagreement", so look for unions or opposition groups around the world to take the bull by the horns and to cause trouble.
13th Sept - Sun conjunct Denebola - Doing things your own way.
At the moment we have Mercury and the Sun running close together, the messenger just running ahead for now so any fixed stars that Mercury is hitting, the Sun makes a return hit a couple of days later. In my post a couple of days ago I mentioned that Mercury conjunct Denebola was all about voicing one's own opinion. Now as the Sun hits the same star, events in the light of those opinions turn into action over these themes. Taking a stance for or against those opinions either you agree or disagree with and then acting on it; in short defending the way you live your life.
The protests across the Arab world against an anti-Islam film made in the US and posted onto YouTube seem to be spreading at an increasing rate just as these conjunctions are being made, fueled no doubt as well by the closing Uranus Pluto square exact on 19th September. You can see the opinions shown and the opposition to them. At that time Mercury will be opposite Uranus and square Pluto in the teeth of the gale. What is starting now may well reach a crescendo then. Hold onto your hats...
13th Sept - Mars conjunct Zuben Elgenubi - Fighting for social justice...
Funny how the planets and the stars are complementing each other now. Mars conjunct Zuben Elgenubi is strongly linked with preserving and fighting for social norms and justice. This action is not for personal gain or to grab power, but more for the benefit of a group or a collective. This connection kicks in tomorrow as Mars approaches 15:16 Scorpio where this star currently sits and will be active for a couple of days. Mars in the zodiac sign of Scorpio sees things in very black and white terms, and I am thinking that this hit could lead to quite an aggressive and militant tone shown by anyone wanting to defend their rights and beliefs...
It is quite amazing how the mood in the Middle East has been whipped up in the past 3-4 days just as these star contacts were made. In the UK and US, talks of industrial action and strikes have not shown any violence as is happening in Northern Africa and the Middle East, but they are still in keeping with what is going on in the heavens above. These are interesting days and the tension I think the tension will keep on rising until Pluto turns late on the 18th/19th Sept to move direct.
Even then, the pressure may be still rising and on the 20th September, Jupiter conjuncts with the fixed star Rigel, a connection that will last until mid October. Rigel is a star in the constellation of Orion which sits at the foot of the warrior. Normally Rigel is seen as an educating star, one where wisdom is found and protection is sought. This is a place where one can move forward and act positively, not for personal gain but for the gain of many. Robson says that there is a faith element to Rigel as well as an international element. The nature of Jupiter to take risks and to be the rogue could encourage those protesters to get bolder and to break laws. In my judgement, as Uranus and Pluto start to edge apart again, the tension will lessen and the temptation to cause widespread damage will also reduce. I hope that as this conjunction comes into effect wisdom and cooler heads will prevail, but I still don't rule out sporadic protest and action against Western targets. These are interesting days indeed…  
Links – Please feel free to go and visit my Facebook page where you will find different stories each day on Astrological topics…  -------->  Solaris Astrology on Facebook