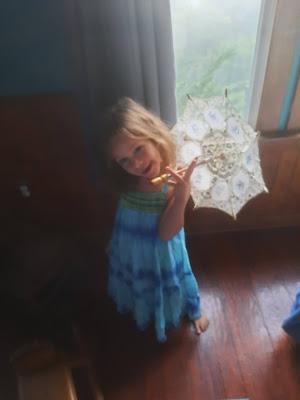 I can dress myself. And I am much faster than Meema. She is still stretching and putting on her socks.  We had a good night's sleep and I am ready for the day, even though there is no playdate because my friend couldn't come over today.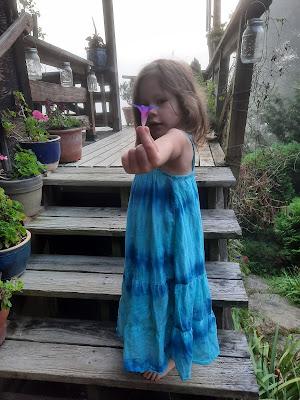 I picked this morning glory while Meema was filling the birdfeeder. I wanted to fill the birdfeeder but I am not tall enough yet. So I put some seed on the ground for the chipmunks and made a trail of seed up the steps.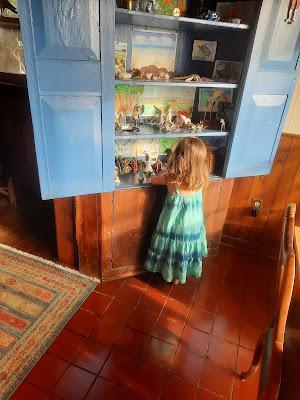 I helped make pancakes and after breakfast while Meema was doing the dishes, I played with the Castle People. We sang songs from Frozen. Meema has never seen Frozen. I don't know why not. But then I sang some songs from O Brother, Where Art Thou and she knows those. We both like O Brother.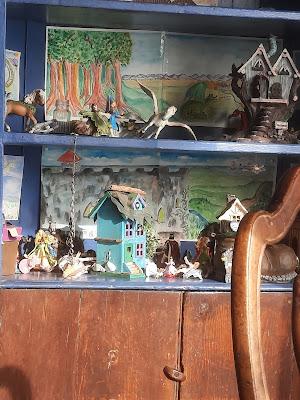 I had a good idea to put the Fairy Houses where the Castle People could play with them too.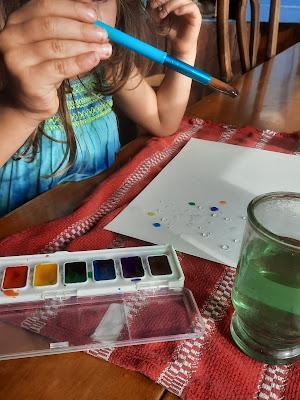 I had another good idea and it was about painting. I started with different colored drops all over my paper. Meema finally gave me a big piece and I made a beautiful picture.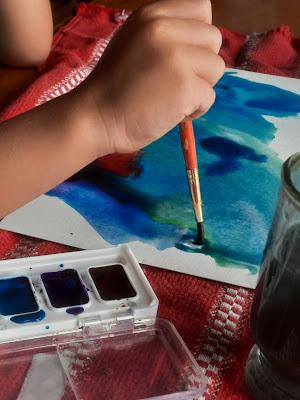 When it was naptime. first I had a restaurant on the bed. I made a mushroom pizza for Meema. I don't like mushrooms so I had a veggie pizza. Then we took a nap. Meema wanted to read on her Kindle but I told her to take off her glasses and close her eyes. (If she doesn't take a nap, she gets cranky.)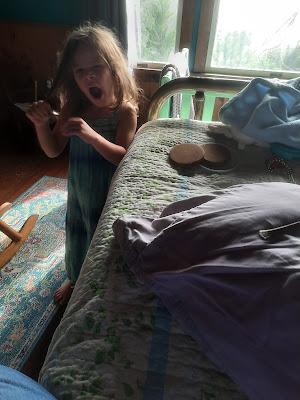 After nap I had to brush my hair with my great-great grandmother's silver hairbrush. Meema said I should not stand on Philly because it makes Sandy and Jayna and Barb nervous but I don't listen. I have been standing on Philly ever since I could walk and I have NEVER fallen down.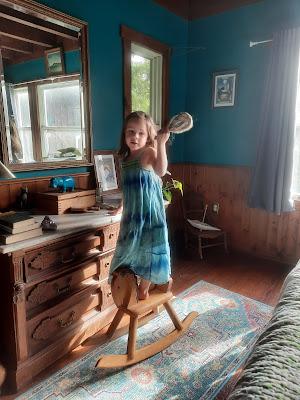 We did lots more stuff--Meema read to me but she is making me read some of the words. She says I need to learn to read to myself but I like to listen to her so I don't try very hard. And when she brings out those cards with words on them, I tell her my eyes hurt and maybe I need an apple.
And then we go outside for playdough. I have to keep her moving. It is good for old ladies to keep moving.