Organizers held the march on 12 June, the day Russia celebrates its sovereignty after the Soviet Union. Critics said that hardly anyone would show but when the day was over, somewhere between six thousand and ten thousand protesters took to the assigned parade route to protest the rule of Vladimir Putin and to demand the release of Putin's political prisoners.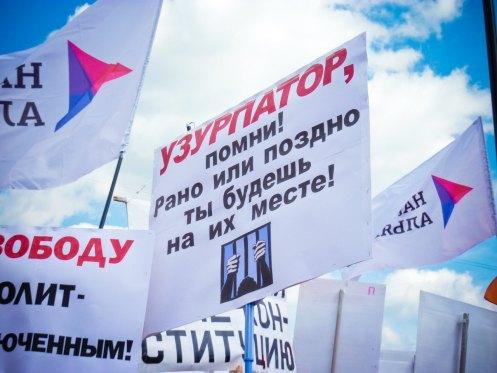 Frankly we're tired of the counting game that goes on with each protest. Police put out one number, which is always far lower than reality while the opposition releases a much higher number than may be realistic. So, it is up to news organizations such as the AP, Reuters and the BBC to offer an accurate count and they do have specialists for such things. For what it is worth, the news organizations place the numbers between eight and ten thousand.
There were no major incidents and anti-corruption blogger Aleksei Navalny and other opposition leaders organized and led the march. Navalny is on trial on embezzlement charges. His defense lawyers say the charges are politically motivated. Navalny recently began a nationwide newspaper called За Навальногo! meaning the "For Navalny Gazette" which has been confiscated in several cities by police authorities.
The government claimed that the march was without incident however closer examination of the video below shows otherwise as police confronted and arrested several leaders of the event.
Marchers held banners and demanded release of 27 persons who were arrested after a protest turned violent on the eve of Putin's inauguration. Sixteen of those defendants remain in jail pending trial. Witnesses say that several of them were pulled out of the crowds at random in a show of force to discourage Russian citizens from joining the opposition.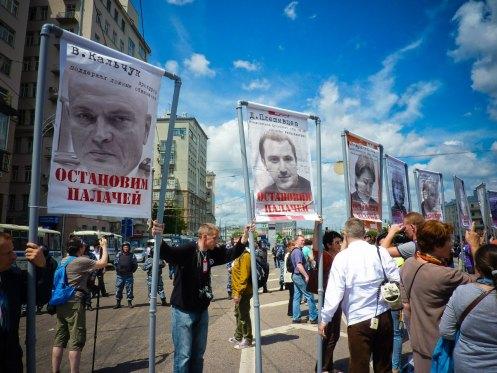 Names of the accused:
Andrey Barabanov
Ilya Guschin
Alexandra Dukhanina
Denis Lutskevich
Stepan Zimin
Maria Baronova
Alexandr Kamensky
Nikolay Kavkazsky
Fyodor Bakhov
Mikhail Kosenko
Rikhard Sobolev
Leonid Kovyazin
Sergei Udaltsov
Oleg Arkhipenkov
Dmitry Rukavishnikov
Alexander Margolin
Oleg Polikhovich
Elena Kokhtareva
Leonid Razvozzhaev
Sergey Krivov
Aleksey Gaskarov
Maxim Luzyanin (has already been convicted and sent to a correctional labor camp for 4.5 years).