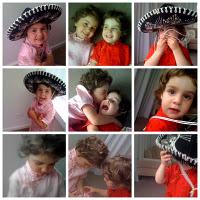 It's no secret that single-parenting is hard work.  "You're amazing" is all I can say to those of you who do it on a regular basis.  Thankfully, Happy-Husband finally made it home after being stranded in Hong Kong due to airline strikes.  His three girls were all thrilled to welcome him back; with hugs and kisses, and then his fair share of saved-up toddler tantrums and tears!
A week ago when he left for overseas, the girls wanted to farewell him dressed in the china girl outfits they were given from his last trip to China.  They accessorised their dresses by taking turns with a black Mexican sombrero and a navy-blue Cowboy hat... go figure!
Dressing up is a favorite pastime at our house; fairy, mermaid, ballerina... they all get a go... sometimes all at the same time.  Dress up games include putting on musical concerts, reenacting bed-time book stories, and playing Mummy-daughter (I have to be Grandma).
I don't care what politically correct people say; watching little girls playing at dolls and dressups is never dated.
My top tips for dress up;
Don't be too precious about themes; we had pirate girls and boys, as well as mermaid-fairies at Mimi's 4th birthday.  Tulle, stripes, parrots, hats, wands, swords, it all works because it's all co-ordinated with wide smiles!
Store your costumes on coat hangers within chidrens' reach if you have room; they're more likely to get used.
When friends come over, or a dress up game is getting under way, put costumes in a laundry basket (or something similar) so that the 'free-for-all' stays grounded.
Add some things of your own; little-people costumes are fun, but an adults hat, scarf, handbag or other accessory will add to their joy.
Join in; become a "rejuvinile" and put your adult responsibilities behind you for a moment, and be young again... let the kids direct the action, and don't be surprised if your best play-acting ways get the thumbs down and you're asked to leave!
Take a photo - even if you have to take a sneaky peak, paparazzi style, try to grab at least one shot of the kids at play.  You don't have to be a photographer, I'm not, the photos will still be a fun keepsake of a fleeting childhood.
 Go on... get dressed up with your kids!