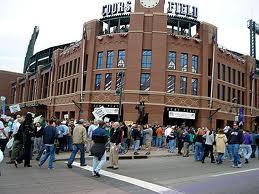 Last year I came across a story in the Atlanta Journal-Constitution about the possibility of replacing the Georgia Dome, a structure that opened in 1994. As a result I wrote about the debate of whether to build open-air or closed stadiums for sporting venues. This idea of stadiums has been on my mind quite a bit. There is now a tag dedicated to the topic of sports facilities.
With the beginning of a new baseball season upon us, there is another new stadium (the recently renamed Miami Marlins) opening. Much like the Washington Nationals three years ago, and the Minnesota Twins in the 2010 season, the Marlins' ballpark is LEED certified, or on track at least. The Marlins and Nationals are both in the National League. In 1993, the Marlins entered the league along with the Colorado Rockies.
I heard a curious comment while on the bus the other day relating to the Colorado Rockies. With the new stadium for the fellow former expansion Marlins, the Rockies now have one of the oldest stadiums in the National League. There are 16 teams and only 2 have older stadiums, the iconic Wrigley Field in Chicago, and "ancient" Chavez Ravine in Los Angeles. 13 new stadiums in one league, in one sport, in one country. Throw in the American League, and there have been 24 stadiums constructed in Major League Baseball since 1989.
Many of the decommissioned stadiums get razed and become parking lots or await future development. Finding a use for them before demolition, or thinking about how they can be transitioned into another life before the construction even begins (i.e. cradle to cradle thinking) will save enormous resources: money, time, and energy. For now, let's hope that the 24 stadiums built in the last generation stick around as long as Fenway Park in Boston, which celebrated its 100th anniversary yesterday, and Wrigley in Chicago. Both stadiums date to the early 1900s.
[Image source]