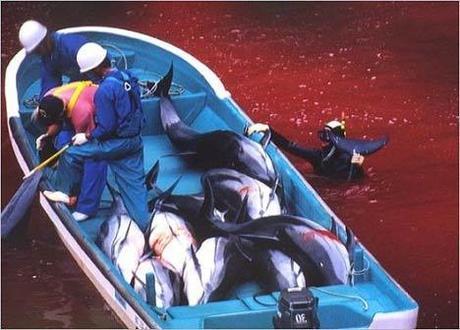 from Bite Back
In late December, Anonymous also targeted the World Association of Zoos and Aquariums (the Japanese Association of Zoos and Aquariums, a WAZA member, is linked to the slaughter of dolphins in Taiji).
Reported anonymously (edited for legal reasons): 
"Greetings Internet & SeaWorld…
We are Anonymous
We continued to warn you…
Anonymous Operation KillingBay doesn't have much patience with Taiji Enablers!
You people at SeaWorld our sick killers at heart.
Perhaps you would like to join the Dolphins of Taiji…In death?
David F. D'Alessandro:
David F. D'Alessandro has been the chairman of the Board of Directors of the Company since 2010. He served as Chairman, President and Chief Executive Officer of John Hancock Financial Services from 2000 to 2004, having served as President and Chief Operating Officer of the same entity from 1996 to 2000, and guided the company through a merger with ManuLife Financial Corporation in 2004. Mr. D'Alessandro served as President and Chief Operating Officer of ManuLife in 2004. He is a former Partner of the Boston Red Sox. A graduate of Syracuse University, he holds honorary doctorates from three colleges and serves as vice chairman of Boston University…
*Credit Card info*
Type: American Express
Number: [...]
Bank Account number: [...]
Private Email: [email protected]
Jim Atchison:
Jim Atchison has been a director, Chief Executive Officer and President of the Company since 2009. He served as President and Chief Operating Officer of Busch Entertainment Corporation from 2007 to 2009, as Executive Vice President and General Manager of SeaWorld Orlando from 2003 to 2007 and as Vice President of Marketing of the same entity from 2002 to 2003. Prior to that, Mr. Atchison was the Vice President of Finance of Busch Gardens Tampa from 1998 to 2002. Mr. Atchison is also a member of the board of directors of the SeaWorld & Busch Gardens Conservation Fund and Hubbs-SeaWorld
Research Institute, and he is also a member of the University of Central Florida Board of Trustees. Mr. Atchison holds a bachelor's degree in marketing from the University of South Florida and a master's degree in business administration from the University of Central Florida…
*Credit Card info*
Type: Master Card
Number: [...]
Bank Account number: [...]
Private Email: [email protected]
Joseph P. Baratta:
Joseph P. Baratta has been a director of the Company since 2009. Mr. Baratta is the Global Head of the Private Equity Group at Blackstone, which he joined in 1998. Before joining Blackstone, Mr. Baratta worked at Tinicum Incorporated, McCown De Leeuw & Company and Morgan Stanley. Mr. Baratta is also a trustee of the Private Equity Foundation. Mr. Baratta holds a bachelor's degree from Georgetown University, where he currently serves on the University's Board of Regents and the Advisory Board of the McDonough School of Business…
*Credit Card info*
Type: American Express
Number: [...]
Bank Account number: [...]
Private Email: [email protected]
Bruce McEvoy:
Bruce McEvoy has been a director of the Company since 2009.Mr. McEvoy is a Managing Director in the Private Equity Group at Blackstone, which he joined in 2006. Before joining Blackstone, Mr. McEvoy worked at General Atlantic and McKinsey & Company. Mr. McEvoy also currently serves on the board of directors of Catalent, GCA Services, Performance Food Group, RGIS Inventory Specialists and Vivint, and he was formerly a director of DJO Orthopedics. Mr. McEvoy graduated from Princeton University and Harvard Business School…
*Credit Card info*
Type: Visa
Number: [...]
Bank Account number: [...]
Private Email: [email protected]
Judith A. McHale:
Judith A. McHale has been a director of the Company since March 2013. Ms. McHale currently serves as the President and Chief Executive Officer of Cane Investments, LLC. From 2009 to 2011, Ms. McHale served as Under Secretary of State for Public Diplomacy and Public Affairs for the U.S. Department of State. From 2006 to 2009, Ms. McHale served as a Managing Partner in the formation of GEF/Africa Growth Fund. Prior to that, Ms. McHale served as the President and Chief Executive Officer of Discovery Communications. Ms. McHale currently serves on the board of directors of Ralph Lauren Corporation and Yellow Media Limited. Ms. McHale graduated from the University of Nottingham in England and Fordham University School of Law…
*Credit Card info*
Type: Visa
Number: [...]
Bank Account number: [...]
Private Email:[email protected]
Peter F. Wallace:
Peter F. Wallace has been a director of the Company since 2009. Mr. Wallace is a Senior Managing Director in Blackstone's Private Equity Group, which he joined in 1997. Mr. Wallace also currently serves on the board of directors of AlliedBarton Security Services, GCA Services, Michaels Stores, Inc., Vivint and the Weather Channel Companies. Mr. Wallace was formerly a director of Crestwood Midstream Partners, New Skies Satellites and Pelmorex Media. Mr. Wallace graduated from Harvard College…
*Credit Card info*
Type: Discover
Number: [...]
Bank Account number: [...]
Private Email: [email protected]
Deborah Thomas:
Deborah Thomas has been a director of the Company since November 2013. Ms. Thomas currently serves as the Chief Financial Officer of Hasbro, Inc. Prior to her appointment in 2009 as Hasbro's Chief Financial Officer, Ms. Thomas served as Senior Vice President and Head of Corporate Finance for Hasbro from 2007 to 2009. Ms. Thomas also served as Hasbro's Corporate Controller and has held positions of increasing responsibility since joining Hasbro's Finance Department in 1998. Prior to joining Hasbro, Ms. Thomas held Assurance positions at KPMG Peat Marwick, LLP from 1986 through 1998, in the United States and in the United Kingdom. Ms. Thomas holds a bachelor's degree from Providence College, where she currently serves on the President's Advisory Council, and is a CPA…
*Credit Card info*
Type: American Express
Number: [...]
Bank Account number: [...]
Private Email : [email protected]
We are all Anonymous…
Expect more…
Data leaked via @YourAnonPriest & @Anon19anon – #OpKillingBay
Note(s): SeaWorld, thank you for your considerable donation to the SeaShepherd & Cove Guardians…
I'm sure they appreciated."