Howdy,
My sweet baby girl was 8 months old on March 9th, and I feel like this past month has been a big one. She's turning into such a tiny person, and I just love getting to know her personality more and more each day. Belle loves to laugh deep deep belly laughs and thinks Daddy's burps are purely for her entertainment. She hasn't started crawling yet, but she rocks so hard, it's only a matter of time before she tumbles forward onto her hands and knees. She just started pulling up on things this past weekend, even though that technically happened after her 8 month birthday, I just had to share! Every day is definitely a new (and sometimes sleepy) adventure with this little one!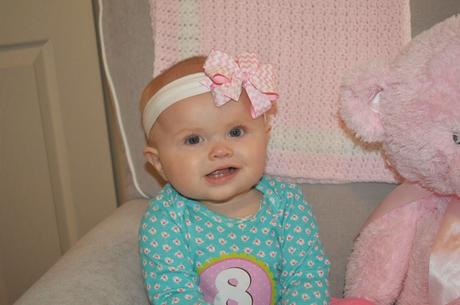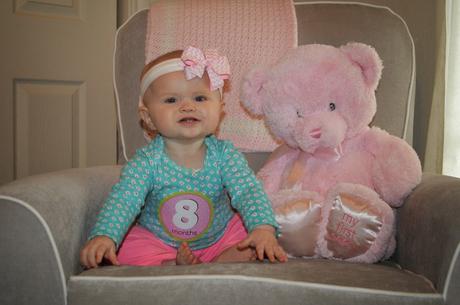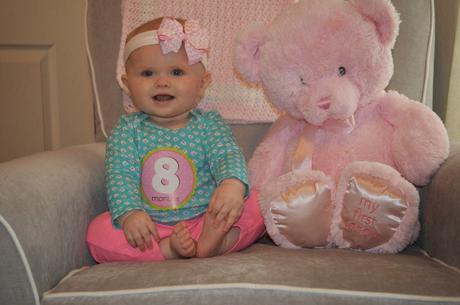 Belle is still a huge fan of basketball, especially if she gets to watch it from her daddy's lap. The lights, all the people, and the interesting noises keep her very entertained. She of course loves the cute outfits she gets to wear as well (even if they are burnt orange)!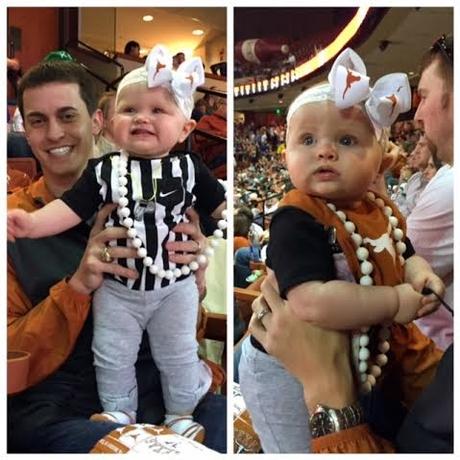 She is also still fascinated by her toes, and never ceases to amaze me with her flexibility! If you need to keep her entertained for a few minutes, simply rip of her socks and she's good to go!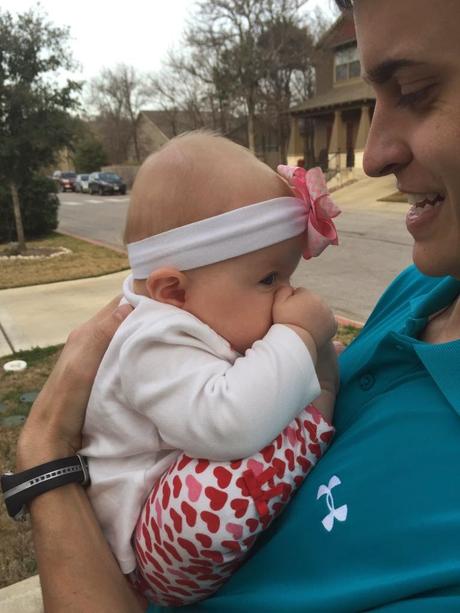 Annabelle would still rather eat books than read them, but we are working on that! I like to think she's still soaking up the knowledge right?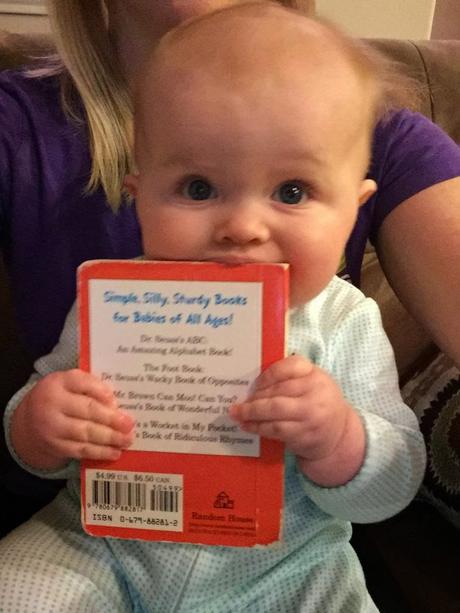 Our new favorite things are zippers and drawstrings on jackets. She could go after those things for hours and she will jump out of your arms to reach one on her neighbor if you're not careful! No jacket zipper is out of this girls reach!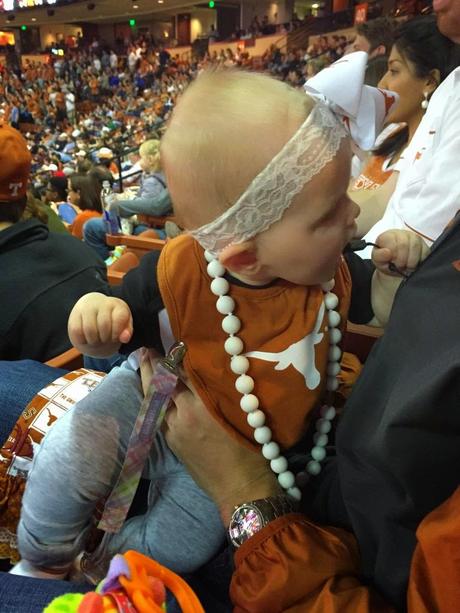 On the other hand, baby girl DOES NOT like green peas. I've tried them a few times, and each time results in some version of this face or gagging. Looks like we are going to have to skip these for awhile! I know I shouldn't laugh, but the faces she makes when she doesn't like a food are just hilarious. She can be quite dramatic.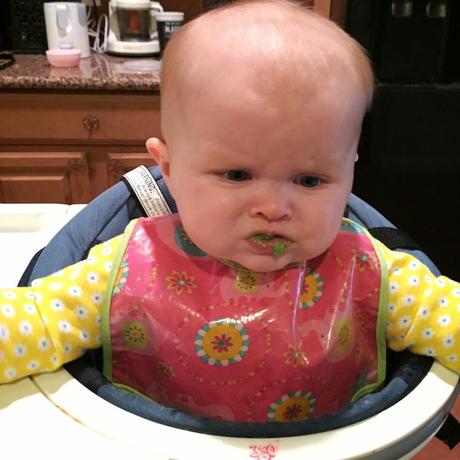 She is also not the biggest fan of sleeping these days. I'm not sure if she's going through a sleep regression or if her top teeth are about to pop through, but the past 4 nights have been pretty rough. Last night, she did a little bit better so hopefully we are on the upswing. Whenever she decides she is not tired, she turns her bumper into a jungle gym and goes to town. We have to pull it out of her crib so it doesn't distract her most days.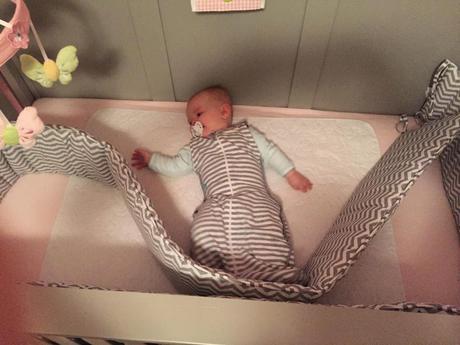 Belle may not like peas or naps, but she LOVES  puffs. It was amazing to watch her master picking up those little guys with her fingers in less than a day! Don't stand between this lady and her puffs or you might get spit up on!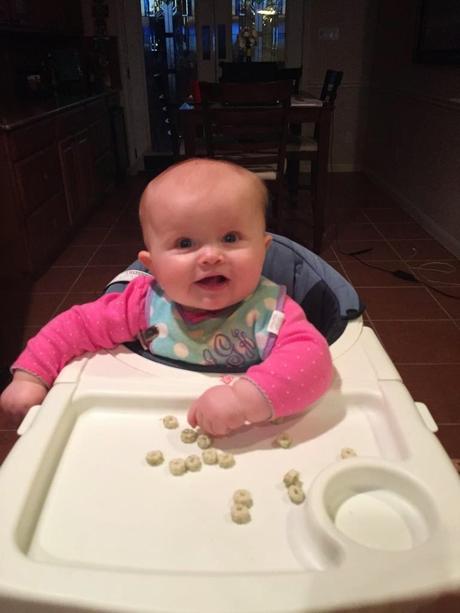 She also still loves giving slobbery kisses. She'll often attack you when you're least expecting it, and I love it! I'll take a slobbery snotty kiss from this tiny human any time!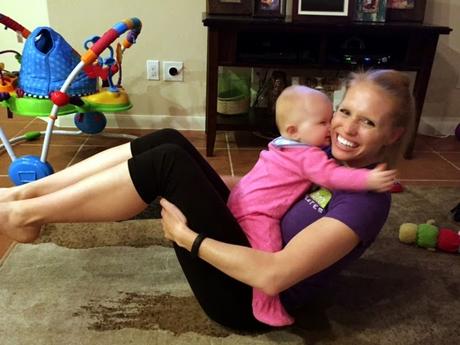 Although you might not guess from the picture on the left, Belle loves going shopping. So many cool things to look at and people to talk to. Plus, mommy usually caves and buys super cut things like pink baby aviators. Who could pass these up, seriously?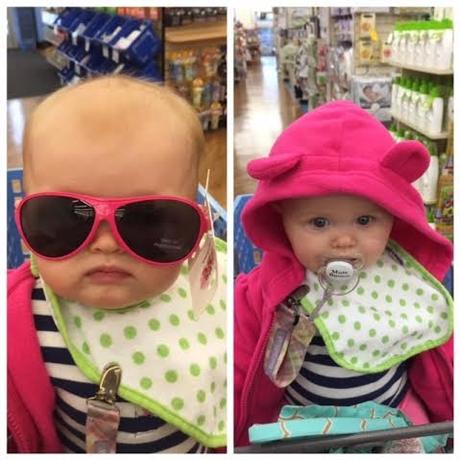 Lately, Annabelle has been a busy girl helping mommy with Pilates MatchMatness. It's hard work modeling for a new picture every day, but Belle handles it like a champ. She loves showing off all of her cute accessories like this beanie!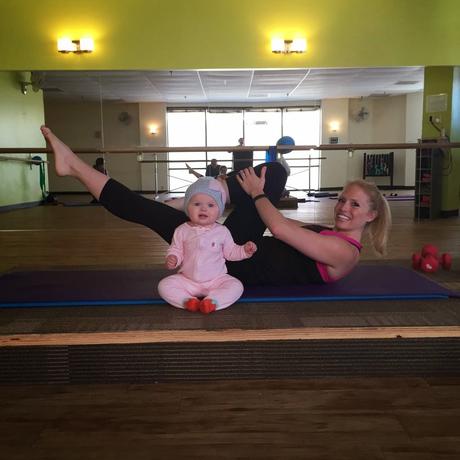 Most days with this one are lots of smiles and giggles, but she definitely has her rough days as well (just keeping it real). I think she's ready to be on the move, but hasn't quite mastered crawling yet so she gets bored and frustrated easily. I also think those top two teeth are going to pop through any day which can't be comfortable. You have to capture the good times and the bad right? Side note, Belle loves to try to eat the button off of this pillow which explains the massive drool mark to the right of her head.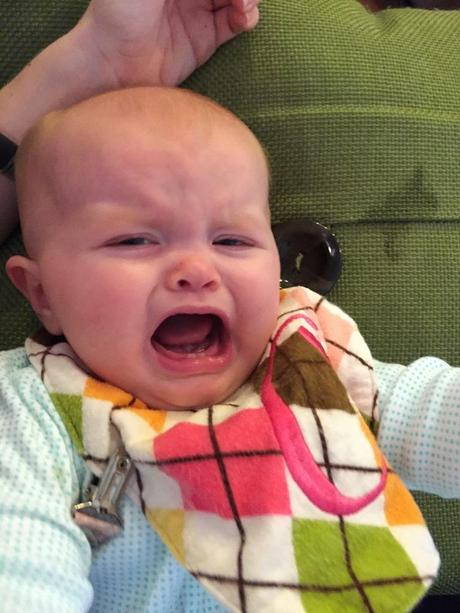 Overall, baby girl has had an exciting month full of learning, new adventures, giggles, and lots of cuddles. She is absolutely the light of my world, and I feel so blessed to get to be her mommy!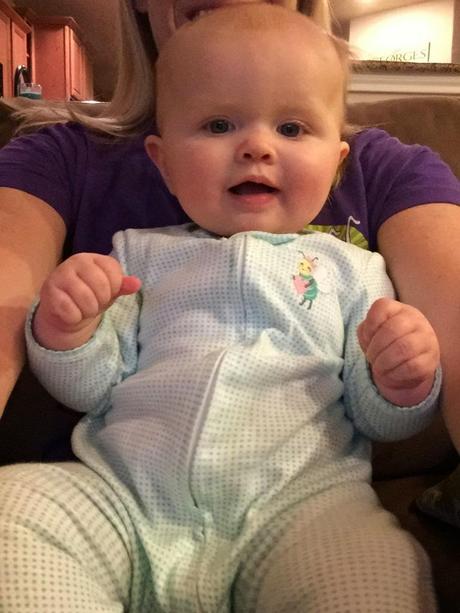 I can't wait to see what the next month has in store for us! I hope you all have a great rest of your Tuesday!
Mommies, did your kiddos go through a sleep regression? If so, how long did it last?
In health,