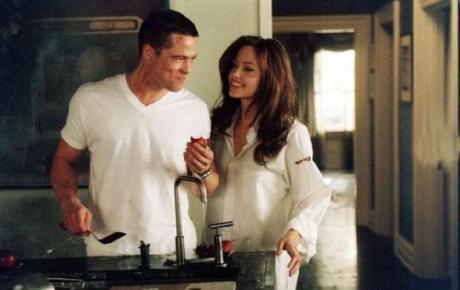 -There are not enough eyerolls in the world to cover this one: Angelina Jolie and Brad Pitt are releasing their first wine next month.
-Meanwhile, he reportedly gave her breath mints for Valentine's Day. "It is sort of a joke — and not." It's sick how much I want this story to be true.
-Also, expect the mommy bloggers to lose it when they notice that Angie lets her sons wear nail polish.
-You know that Harlem Shake meme that's going around? Cute and all, but that ain't the Harlem Shake. This is. You can also see it in these classic music videos.
-Fox is going to attempt to adapt the awesome British comedy Gavin & Stacey. Even the presence of Parenthood's lovely Jason Ritter can't make this seem like a good idea.
-How I Met Your Mother's Alyson Hannigan has been granted a restraining order against an alleged online stalker. Seriously, someone dared to mess with this?
-Sad sitcom news: ABC has dumped Happy Endings on Friday nights, which basically means it's cancelled.
-Lena Dunham looks great on the cover of Rolling Stone.
-Meanwhile, in wake of all the bullshit talk about Lena having a sex scene with the "out of her league" Patrick Wilson in last week's episode, his real-life tweeted about it…and it was awesome.
-Chris Brown and Drake are suing each other. Of course they are.
-Matt Damon was a great sport on "Let's Talk About Something More Interesting."
-These Grammy Mini-Me replicas of Sunday's red carpet looks might be the creepiest thing I've seen all week. And I've been riding the subway A LOT!
-Jennifer Lawrence turned down Inside the Actor's Studio for reasons that are much too rational and humble for any actress to have.
-A paparazzi snapped a photo of the ultrasound pic Evan Rachel Wood was holding while leaving her doctor's office, and now she's justifiably pissed.
-It's Valentine's Day, which means Megan Mullally and Nick Offerman answer your questions on how to "engage in romantic love."
-Meanwhile, Idris Elba's Valentine's message made me swoon. Seriously, I know now what getting the vapors feels like.
-In other V-Day discussions, which is better: You've Got Mail or Sleepless in Seattle? Fight!
-The David Fincher-directed official video for Justin Timberlake's "Suit & Tie" has arrived.
-Kim Kardashian covered up her baby bump with feathers. So many feathers!
-Bryan Adams just welcomed his second daughter.
-Burning Love debuts on E! tonight, but you can stream the first two episodes of Burning Love season two are here. Spoiler: Adam Scott dances in the second one!
-Meanwhile, E! just cancelled Whitney Cummings' talkshow.
-Anne Hathaway says her fans booed her at the BAFTAs. She might want to look up the definition of 'fans.'
-Matthew McConaughey is launching a clothing line, which totally makes sense for a guy famous for being shirtless.
-The Breaking Bad crew keep landing TV gigs. Dean Norris will play the lead villain role on CBS' upcoming adaptation of Stephen King's Under the Dome.
-Hey girl, Ryan Gosling wants to be your Valentine.
-Speaking of Ryan, the "honest" trailer for The Notebook is priceless. "It's basically the Olive Garden of love stories."