Andy Warhol is pop art.
He remains one of Modern Art's most influential and enigmatic artists.
A brand building genius and social networking master.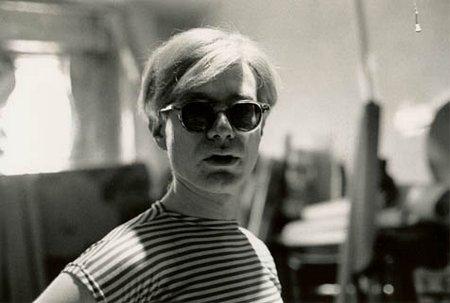 After his successful career as a graphic artist illustrating women's shoes for Vogue magazine, Warhol saw an opportunity and turned to fine art.
Point 1. Warhol knew how to build a brand from a commercial perspective.
He was a large contributor to the postmodern collapse of boundaries, between cultures and also a strong contributor to the proliferation of images in contemporary society.
Warhol plays a large role in the history of modern art. With strong remnants of an advertising background found in his original art which feature many images from popular culture.
Point 2. Andy Warhol was a skilled socialite with a sharp eye for spotting popular cultural & consumer trends in America.
Ahead of his time, and pointing towards the social media movement, Warhol documented his daily activities on a hand held device using 3,400 audiotapes, capturing the intricacies of the New York creative scene during the 1960's.
These personal notes were later transcribed to become 'The Warhol Diaries'.
Warhol was a master at cultivating his own celebrity profile. Which continues to grow in popularity today. He was adept with social media during his time, fascinated by fame and once insightfully said about the future…
"everyone will be world famous for fifteen minutes."  (tweet this quote)

The original art below was inspired by an appreciation for Andy Warhol and the Pop Art movement. It expresses the complexity of modern life and multiple identities in popular culture.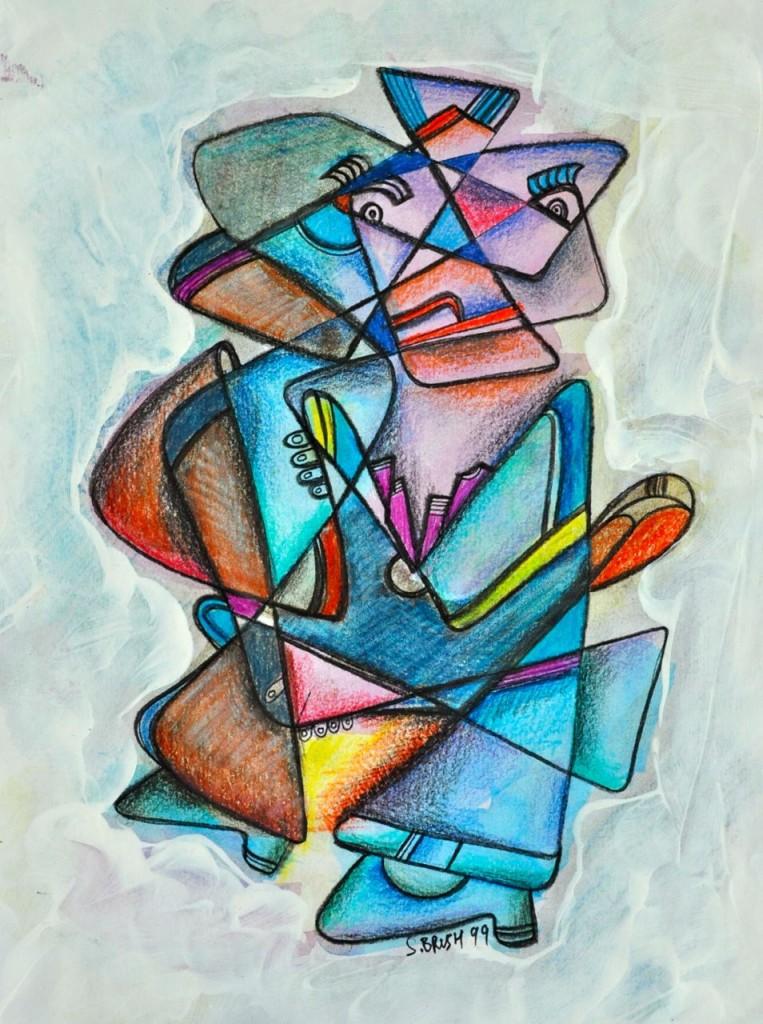 'Popular Culture' by Simon Brushfield (1999) Acrylic and Pencil on paper 21cm x 29cm Unframed $450
Andy Warhol's first big breakthrough happened with Glamour Magazine in 1949.
He also worked for famous brands like Harper's Bazaar, NBC, Tiffany's and Vogue before his Pop art career began to flourish.
Point 3. Andy Warhol's fame began by piggybacking famous celebrities and creating artwork for successful publications in New York.
He became known early in his career for stylish elegant line drawing's however, this developed into illustrations of popular commercial objects such as cocoa cola bottles and screen printing celebrity faces like Marilyn Monroe, Elvis Presley and Liz Taylor.
Strangely, Warhol wanted to be a machine.
Point 4. Andy Warhol didn't like the fragility and vulnerability of human emotions.
Emulating the machine also meant he could become more proficient and produce larger quantities of art using his finely developed screen-printing process.
By 1955 New York was copying much of Warhol's innovative creative style.
Andy was not interested in painting landscapes, but probably his most famous original art piece was about his favourite lunch – a Campbell's soup can.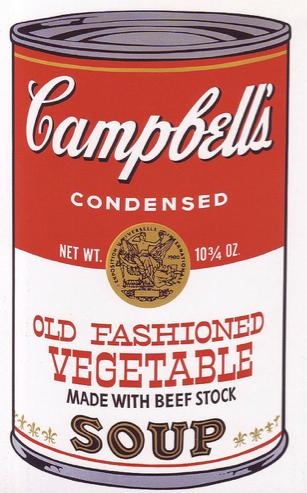 "Andy Warhol, American, 1928-1987, Campbells Soup II: Old Fashioned Vegetable, 1969. Screenprint on paper, 35 x 23 in. The Andy Warhol Museum, Pittsburgh. Foundling Collection, Contribution, The Andy Warhol Foundation for the Visual Arts, Inc."
Like his original art, in public, Warhol presented an aloof enigmatic personality. A calculated element of his successful social brand.
This heightened interest levels and mysterious appeal amongst the media and general public. When asked about his reason to paint a Campbell's soup can Warhol replied,
"I wanted to paint nothing. I was looking for something that
was the essence of nothing, and that was it".
Andy Warhol was the main attraction in the New York art scene during the 1960's and called his studio 'The Factory' in which many highly creative people gathered to feed upon cheap food, drugs and Andy's inspiring celebrity status.
They created original art, played alternative rock music and created a famously thriving art scene birthing 'The Velvet Underground' rock band during 1965. A New York art culture that helped promote Warhol's brand building efforts.
The factory, under Warhol's guidance, made strange art house movies too. Involving people sleeping and fake movie stars pretending to be glamorous.
Warhol lured amateurs into his odd movies by promising fame and fortune like real life Hollywood celebrities Liz Taylor and Marilyn Monroe. Star gazing followers couldn't resist the hollow opportunity.
Some of the lengthy subjects of Warhol's low-grade movies included boredom, repetition, glamour and sex.
Point 5. 'The Factory' was constantly pushing the boundaries of art, crossing all mediums searching for creative innovation and promoting Andy's brand.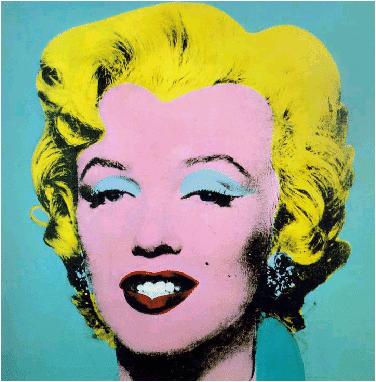 However, things became out of control, when in 1968 a feminist mental patient walked into the factory and shot Andy 3 times in the chest.
Point 6. Warhol was pronounced dead by doctors, but a chest operation quickly brought him back to life.
Following his recovery, Warhol continued to create original art and became the founder of Interview magazine, which is still popular today.
Warhol's global creative brand continues to flourish years after his death.
© Copyright Simon Brushfield – Andy Warhol, Original art
« I confirm the subscription of this blog to the Paperblog service under the username simonbrushfield »