Today I want to introduce you to another artist from Sydney Australia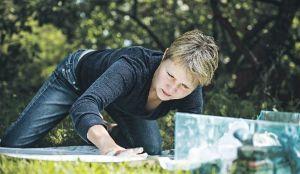 Hela Donela produces beautifully sensitve paintings and she had her first successful art exhibition in Finland receiving good reviews in the media. Her first Aussie exhibition of recent paintings is held in Balmain Sydney. Simon Brushfield caught up with Hela to ask some questions about her creativity…
Question 1. Do you have a story behind when and why you began to paint seriously?
I've always painted and loved painting, but I suppose I had to reach some sort of "maturity" before I was brave enough to listen to my own voice and paint with my own style.
Mem Fox once said that you cannot write until you have lived. I believe that this is the case with most arts. To be able to express you must have something to express.
Then a horrible accident just about stopped everything. I realised I was lucky to be alive. While I was recovering and lying in my bed, I was painting in my dreams. Many of the works in the "BREATHE" exhibition were born during this time – first in my mind.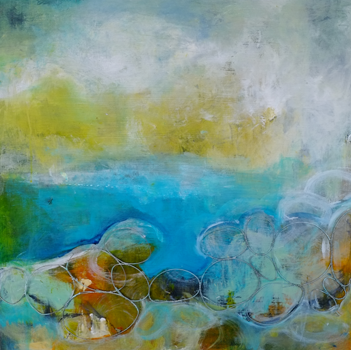 Question 2. What were the fears that you had to overcome to become an artist?
Not having a big CV and fear that people would judge me for being self-taught rather than based on the quality of my work.
In my immediate family arts was not the thing one was to pursue. Fear that my family would judge me concerned me, too.
Fear of rejection. Some people are born with a strong sense of self; others gain it as they live and go through various ups and downs in life. I belong to the latter. I had to "grow up" before I was strong enough to say "like it or walk on" – and not in a bad way, but to realise, that I was not there to please everybody, but to be myself
Question 3. Who are your favorite artists that inspire you most and why?
Ivan Aivasovsky. I was in my early teens, maybe 13, when I was at the Russian Art Museum, St Petersburg, for the first time. That's where I fell in love with Aivasovsky's works. Water has ALWAYS been my element. I was sitting there "forever" just staring and being drawn into his paintings. They really moved me. To me he is the ultimate. Especially his piece: 'The Ninth Wave'
There are many contemporary artist, Australian and overseas, that I admire and inspire me. When I see a painting that moves me I tend to dig up information about the artist also. If their story touches me, if they feel real and their work from the heart, I get inspired. I'm not that impressed by CVs as I am with the journey. That's why I fell in love with your work, Simon, because I instantly felt you were REAL.
Question 4. Your abstract style is beautiful, how do you approach an idea for a painting. Does Hela Donela have a certain process she likes to follow?
I am constantly inspired by things… I see something or feel something that affects me and literally take a deep breath and close my eyes and an idea for a painting has born in my mind. I try to write a word or two or do a few sketchy lines in a journal to remind me of how I felt so that when I actually am able to put it into a painting, I have something to jog my memory and go back to.
Apart from that, I tend not to do a whole lot of planning.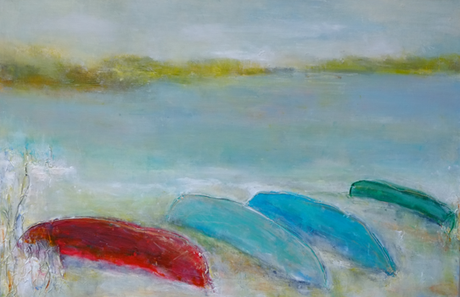 I prepare all my boards and canvas myself, and it is not uncommon for me to spend equal or even more time in preparing the surface than with the actual painting. I love using recycled canvases that result in an uneven, LIVE, surface. While I am doing my preparations I do a lot of staring… I stroke and feel the canvas with my hands and often at this point the major direction of the painting takes place. I hate to work to a recipe or a strict formula. I need to feel the piece taking shape organically. If it's forced, it doesn't seem to work with me.
I paint like I cook. By feeling. If I try to do something exactly the same again and again – disaster.
Question 5. Why is your Balmain exhibition in Sydney called "Breathe" and what can visitors expect at Hela Donela's first ever show in Australia?
Well, my works in this exhibition are part of me. I "inhale a moment" and a painting is born in my mind… then it is just a matter of making others see it too.
We live such busy lives and it seems that everyone is under stress. It is easy to "become blind" to the beautiful and good things that are in our lives, around us. A meditation coach gave me once brilliant and very simple advice. "Stop and take three deep breaths", she said. "BREATHE" is a reminder that every day we should take a small moment, have a few deep breaths … focus and appreciate. I live and breathe through my paintings and if they can be a small visual mediation for the viewer, I'm happy!
Thanks Hela for your time and your interesting thoughts
If you would like to attend her exhibition at the Balmain Watch House in Sydney, then connect with Hela Donela online by visiting her website or her Facebook page or Google Plus
© Copyright Simon Brushfield – Hela Donela: I am not here to please everybody, but to be myself
Join the art lovers mailing list today