My conversation started in a dream
Ken Done appeared on my sub-conscious radar not once, but twice, in consecutive nights
Very Strange
So I took the dreams as a cryptic message from the supernatural and fired off an email to the celebrity artists secretary. Within days, Ken Done had agreed to a meeting at his beautiful art gallery in The Rocks, Sydney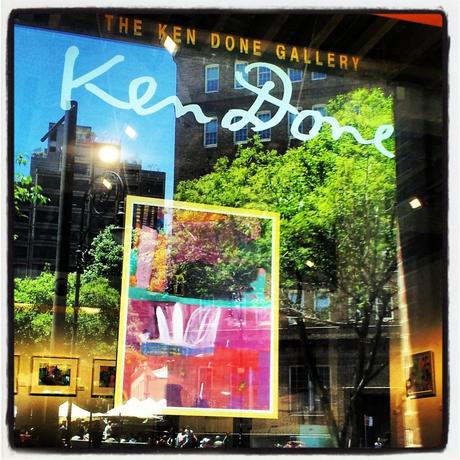 Ken Done's gallery window at The Rocks in Sydney's central business district
Wow
Point 1. My friendship with Ken Done has been entirely supernatural
Totally unexpected
Unplanned
And unexplained
The occasions I've met and chatted with Ken, each time, has been the result of a prior God encounter. Despite my ignorance to the holy spirits ways, I'm usually guided through a series of baffling dreams, visions and voices that I receive in the run up to events. It's kind of exciting. But seriously confusing. As I struggle to comprehend these supernatural movements with a human mind containing inadequate knowledge. If you've read my blog before, you'll understand these mysterious messages come to me often
It's perplexing
And super challenging
Often I ignore the extreme messages just to maintain my sanity. But this time I followed the leading because the Bible says in Job 33:15…
"Indeed God speaks once, or twice, yet no one notices it. In a dream, a vision of the night, when sound sleep falls on men, while they slumber in their beds, then he opens the ears of men, and seals their instruction"
Anyway, back to Earth…
Ken Done was born on the 29th June 1940 in Sydney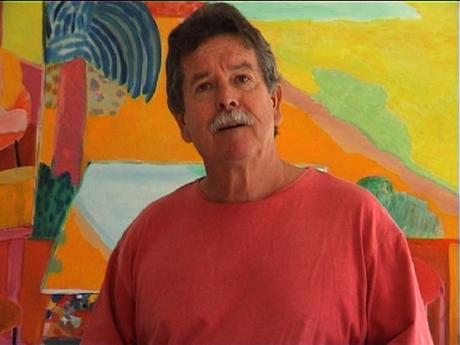 Ken Done in his Balmoral art studio talking with Simon Brushfield (behind the camera) about life and art.
He left school at 14 to follow his creative dreams. Entering the National Art School in Sydney as its youngest ever student, Ken was inspired to follow his passion. He had a successful stint in advertising and received the industry's highest awards for his creative talent. As Ken told me, he then made a clear decision to turn away from advertising and begin to paint. Ken Done has now truly smashed the 'struggling artist' myth
Point 2. Ken Done's career proves artists don't have to struggle if they learn the business behind their art
In his 20's working in advertising, Ken traveled the world and developed great national pride. He saw enormous creative possibilities for Australia. Since then he's been heavily involved in promoting his beloved country worldwide through the Sydney Olympics, Australian Tourism initiatives, World Expo, and the 'Australian Made' brand. In many ways he's been a creative pioneer of Australian business overseas
I've always admired Ken Done for his flamboyant personality. He's got a big smile. A big moustache. And a big heart
Ken Done is Sydney
And Sydney is my home. So I guess destiny has brought us together
With his artwork populating the Australian cultural landscape since the 1970's, I grew up sleeping underneath doona covers designed by Ken, as did many Aussie kids. Although his artwork is popular on the mass commercial market, this is what I've found…
Point 3. Done's colourful depictions of the Sydney harbor bring negative reviews from highbrow art critics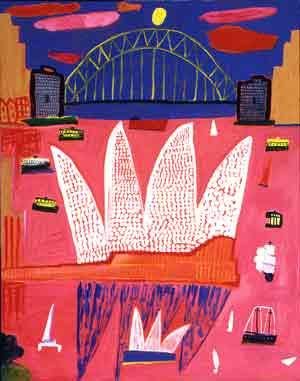 Glenn Barkley, curator of the Museum of Contemporary Art in Sydney, describes Ken Done as a 'mega-success but perennial outsider' to the Australian art establishment. Concerning Kens career he quotes…
"the Sydney Harbour has almost singularly sustained Done's practice, consumed him in a way that makes him unique…For those who say it's lightweight, commercial, hedonistic, can you not reply that this is a fair reflection of the city itself?"
Despite this reality, Ken Done has been a frontrunner in the commercial Australian art scene for a long time. But his colourful contemporary approach challenges industry elites, who in bow ties avoid talking seriously about his paintings. As Ken continues to promote his artwork on calendars, clothing, bed covers, postcards and even BMW racing cars, this has meant the nations art critics perceive Done as a multi-million dollar businessman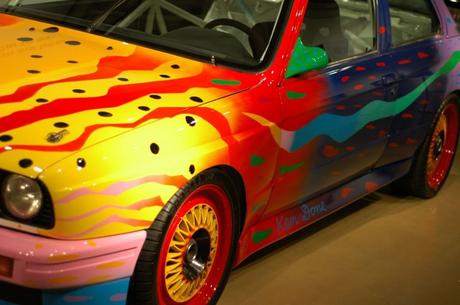 Ken Done's abstract artwork and personal signature on a 1983 BMW racing car
Not professional artist
However, I don't care what others think, Ken Done inspires new possibilities and his bright colourful world gives people hope. After spending time with Ken, I feel nothing is impossible
Despite my opponents trying desperately to convince me I will never make a living from art I've always vehemently, albeit silently, rejected their comments. I'II never succumb to that hopeless mentality. Much to adversaries dismay, my art business is growing
And the future looks bright
With Ken, I've found reliable support from someone who's been there, done that. I feel honoured to be in his company. We appreciate and listen to each other's experiences. And never once have I sensed a hint of arrogance, or felt intimidated despite the incredible wealth of his creative empire
But here's what I love most about Ken Done…
Point 4. He values people
After getting to know him one thing becomes clear
Ken Done is primarily a dreamy artist
And of course, an incredibly sharp businessman too
The signature Ken Done style ignites controversy. His commercial success has been supernatural. And long challenged negative mindsets more comfortable pigeon holing artists into the misery laden 'struggling to survive' category. Although Ken experiences many private struggles, money has never been one of them. The artist lives and works in the most famously wealthy suburbs of Sydney
So we strolled around his Rocks gallery together, Ken giving me a private one-on-one viewing and explanation of his artwork. During our conversation, the colourful celebrity plainly acknowledged his detractors noting their hurtful comments. In an attempt to bring the tall poppie down, a common practice in Australia, his opponents hate the simplistic superficial nature of his work stating, "A child could do that". But the accomplished businessman takes it all in his stride
Here's what his critics miss…
Point 5. A child doesn't have a multi-million dollar vision like Ken Done
Neither does a child have the life experience, or long lived understanding of Sydney that Ken Done exemplifies. Nor his intuitive sense of colour, which nations admire and individuals pay tens of thousands of dollars to own a Ken Done original painting
Especially the Japanese
And English
He does quite well in Australia too
The famous artist James Whistler once said, 'An artist is not paid for his labour, but for his vision'. And Ken Done's artistic vision is enormous. For decades the Australian tourist industry has largely benefited from his creative vision
Here's my early prediction…
INSIDER TIP: If you're an art collector, buy an original Ken Done painting today whilst the artist is still alive, a high return on investment is guaranteed
Walking through Ken Done's elegant gallery our conversation trailed into his large design studio, where he proudly showed me a catalog created by the Mosman Art Gallery published for his 2011 solo exhibition
In which Ken was commissioned to paint a historical WWII series on the 3 Japanese submarines that entered Sydney Harbour in 1942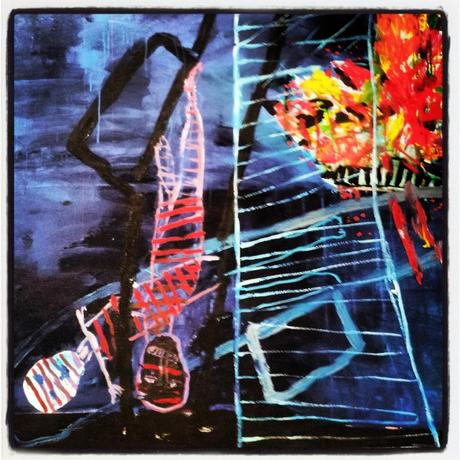 Photograph taken from the catalog of a small section of Ken Done's painting "Caught in the net" 2011
Direct from the warehouse, I was shown Kens latest designer clothing line, which features the 2011 submarine series. He said "the exhibition was a major turning point for me because the art establishment finally began to take my paintings seriously". This is probably due to the importance of the subject matter because his paintings depict a perilous time in Australia's history when its' most beautiful capital city was under direct threat from the enemy
Due to his strong business acumen and clever ability to generate publicity for the business Ken Done's face and creative brand is familiar to most Australians. Yet he continues to defy critics, and confidently marches forward doing his own thing, running a high profile art business with his wife and two children
Through creativity Ken Done adds true meaning and joy to millions of people's lives internationally
When I started out in my late teens at art school in Geelong, Ken was my role model from a distance. However, after painting him in the 2007 Archibald prize, and living in Sydney, Ken is now a friend and mentor
Point 6. He's a straightforward 'what you see is what you get' kind of guy
I feel privileged spending time with him talking about life and art. Gaining little gems of wisdom sprinkled throughout our conversations. For example, whilst surveying his Sydney gallery he said to me with wry confidence…
"Yeah, I'm not afraid of business"
Huh
That's for sure
Like most Aussies, Ken also has a great sense of humor. And at 75 his strong body, and sharp mind, is accompanied by an obviously generous heart. I find his humility inspiring. However, I sense the secret behind his success is that Ken always remains well grounded. He's totally focussed upon his wife and family, without becoming consumed by greed for money
In my case, Ken has always been generous with advice, regarding my artwork he said…
'Well you can do everything, but for people to take you seriously, you need to start narrowing down your work'
He further commented…
Final Point. 'You need to focus upon paintings nobody else can do'
The conversation continued, and the advice flowed…
As Ken Done looked through my website suddenly his eye was captured by the painting below. He rushed to a recent catalog and compared his painting with mine, then joked that his was of course, much better. We laughed together. Then his eyes quickly returned to the computer screen, eager to continue his insightful analysis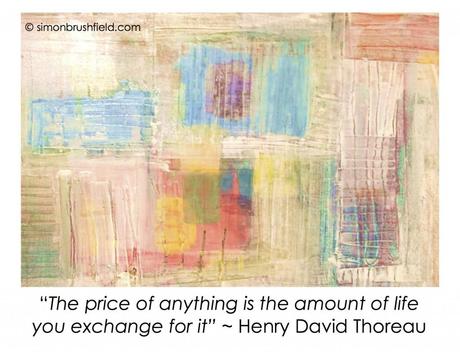 Ken expressed an appreciation of my Eucalypt series (see below) because of their unique Australian-ness and market viability, because the paintings include native pieces of bark, sticks, leaves and gumnuts. Always the businessman, he instantly saw the commercial side to my abstract style, and in his own words, the painting above displayed 'a sophisticated approach to colour'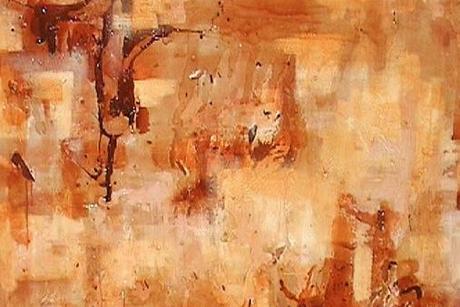 'Eucalypt' (2001) by Simon Brushfield Oil & Acrylic on Canvas 1.8m x 1.4m (Sold: Private Acquisition)
As we strolled towards the exit of the gallery, on the bench of his design studio were some beautiful limited edition prints in typical Done style; blue sky, bridge and the Sydney Opera house in full glory. They were ready to be framed, packed and shipped. Pointing to the artwork in passing he said,
"These prints help pay staff salaries"
Finally, standing at the door, and as we shook hands, Ken made one last comment raising his voice as we departed company…
'Use big brushes and paint fast,' he said.
I happily turned back to see the famous Ken Done smile, beneath a gray bushy moustache, and a protective fatherly gaze complementing his demeanour
Another supernatural meeting with Ken Done was enough for me to contemplate for a while. Leaving the building totally inspired, and walking down George St alone, I looked up and prayed "God you're amazing. Thank-you."
And was reminded of this scripture…
"With God all things are possible"
© Copyright Simon Brushfield – Ken Done: Famous Australian Artist reveals major turning point
Join the art lovers mailing list today