Many UK riders have seen in the past few years British Mountain Bike Orienteer Ifor Powell riding around with a small box on this handlebars, a home made cycle computer. (he is a electronic engineer and programmer) This development has culminated with an android phone based bike computer which in my opinion ticks every box. I have been using it for a while and recommend trying it if you have an android phone. ( I use a sony Xpeira Ray though the Active model would be perfect)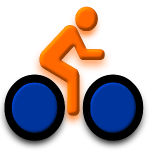 IpBike is an Android bike computer app. It does everything you would expect of high end bike computer plus a bit more with the extra capabilities of a phone. There are a good number of Android bike computer apps but most of them just use the GPS. IpBike also gets data from ANT+ based sensors, e.g. bike speed and cadence sensors as well as heart rate and also ANT+ power meters. For this to work you either need a phone with built in ANT support, like various members of the Sony range or with a modern phone you can plug in a USB ANT stick to add ANT support as detailed here. This of course allows you to use it to log your turbo trainer sessions as well as outdoor rides.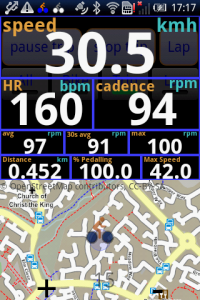 As well as supporting ANT+ sensors if your phone has a pressure sensor IpBike uses it to give you high quality altitude information and thus those interesting incline and rate of climb numbers. The display is optimised for use on the bike, with b
IpBike is free to download from Google Play but there is a 1,000,000 wheel revolution limit to let you try it out after which you you need to buy IpBikeKey to unlock the limit.ig clear text you can read at a glance for the main sensor data. There is mapping data from Open Street Map sources that can either be directly downloaded or pre loaded on the phone as described here. You can upload a .gpx route files to follow, the map will show the route with your position on it and automatically rotate the map to keep it aligned as you go. Post ride there are all the stats you want from the ride as well as a map of the route and a plot you can pan and zoom over to take a closer look at the climbs with. The feature it has you don't get with a stand alone bike computer is direct upload to various websites like Strava, RunKeeper, TrainingPeaks and Attackpoint so no need to have your PC around. Once you have a good bit of data recorded you can query it to say find out how many race miles you did in the year or your total stats for the month.
http://www.iforpowell.com/cms/
https://play.google.com/store/apps/details?id=com.iforpowell.android.ipbike