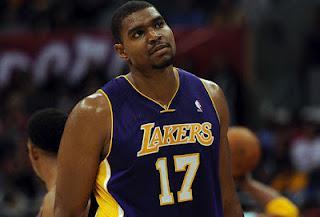 Photo: Getty Images - Harry How
- Troy Ballard 
At least Andrew Bynum didn't body-check another player this time.
The revolving door of media attention on the Los Angeles Lakers this season continues -- as head coach Mike Brown benched Bynum in LA's last game.
It wasn't for body-checking JJ Barea, as I already highlighted, but it was instead for taking a three-point shot.
Have to re-read that? I understand. Take all the time you need to soak it in. The Lakers center -- Andrew Bynum -- took a deep three-point shot in a non-buzzer beater situation.
It happened.
And Los Angeles head coach Mike Brown didn't think it was funny, charming, or amusing. He didn't even crack a small grin -- Brown
just benched the Lakers only other All-Star player
aside from Kobe Bryant.
For whatever reason, Bynum felt the need to pull up from the top of the key, and let loose a three-point shot in a 56-50 game. After his shot, Brown called a timeout and subbed in Josh McRoberts for the remainder of the third quarter.
Bynum did make one other appearance in the game at the beginning of the fourth, but after missing three-straight shots (none of which were three-point attempts, shocked?), he was put back on the bench. The Lakers went onto lose the game to the Memphis Grizzlies 102-96.
This incident is just one of many on Bynum's quickly growing rap-sheet of questionable maturity.
Since being drafted as the Lakers future star at center, Bynum has been hot-and-cold with his play, and also his decision making. It really wasn't ever a massive waving red-flag for me until he threw that elbow at Barea last year in the playoffs,
and then proceeded to take off his jersey
.
Things after that seem to have only escalated, and Bynum is having a hard time keeping in good favors with the Lakers. His potential is obviously through the roof, and he has shown in the past that he can simply take over a game -- and that's why LA has been as patient as they have.
But who knows how many more of these mess-ups he can have before the Lakers and Brown just can't handle it anymore. There were rumors that he would be traded last off-season, and I would expect more of the same in the future.
Dwight wouldn't do this stuff.
Too early, LA?
Be sure to follow Beard and Stache on Twitter @BeardAndStache, and also Troy @TroyBallards, Like our Facebook page HERE!