Wow, thanks so much for all your replies on my blogger quiz - that was the most popular post in a while!
If you enjoyed that post, I wonder if I could ask you again to vote for me? Thanks to your nominations, Faith Hope and Charity Shopping has actually made the short-list for a BritMums 'BiB' Award [Brilliance in Blogging - their words not mine] - in the 'LAUGH' category - and well, it would be pretty cool to be in the finals. I don't have a gazillion twitter followers and very few people in my day to day life know about the blog, so if you could take the time to vote I'd really appreciate it. It's very quick and you don't need to enter any personal details - just tick the box and submit. You'll need to scroll down to the 'LAUGH' category, it's the 11th award. Thanks!
It's been another busy week with Boy2's birthday and party this time. When I gave up alcohol for Lent I had somehow failed to consider the fact that it encompasses both children's birthdays. Won't be making that mistake again! I won't inflict more of my cake making efforts on you here, but if you do want to see what my attempt at a pirate treasure chest looked like then there are pictures on my Facebook page. And for those of you who follow my page there - have you seen the competition I've got running at the moment? You can win a copy of  Junk for Joy by Sian Berry - with all kinds of makeover and upcycling ideas, perfect for Spring.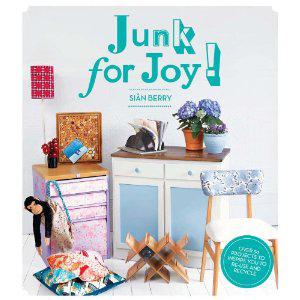 Hope you're all enjoying the sunshine.Thanks in advance for any votes - I won't be boring about it, honest.
Lakota x