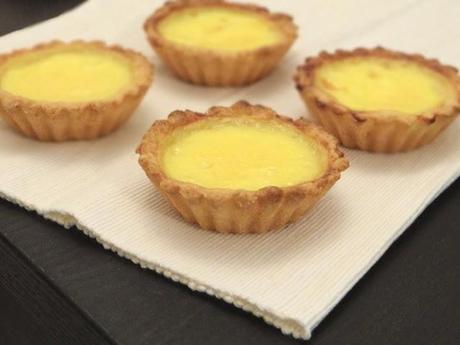 Anyone remember their wisdom teeth extractions?  I had a rather fun start to the week pulling one of mine, which had decided it would prefer to grow horizontally rather than vertically.  So now one side of my face is swollen to the point where it looks square.  The best bit?  I get to do this all over again at some point later in my life to remove the others.
Not that I'm ungrateful to my dentist, who politely refrained from laughing when he saw my face after the surgery.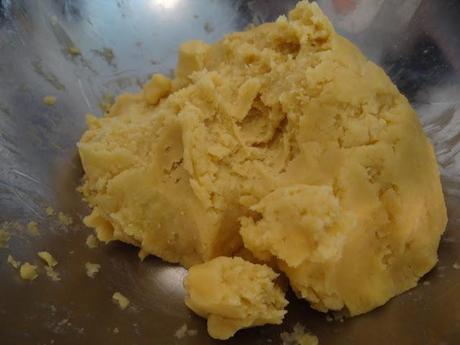 But what it means is that I'm off solid foods for a few days, so I won't be baking much for my last week in HK. However the good news is, I did plan in advance and baked enthusiastically before going to the dentist.   These egg tarts, in two flavors, are part of the fruits of that labor.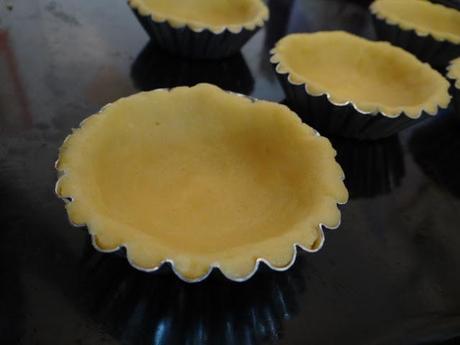 As part of my ongoing experiment in baking with more Asian desserts, this one hits closest to home so far and is even more tinged with nostalgia than the milk pudding I blogged about before. I remember the days when my mom would meet me after school with an egg tart in a plastic bag, which I'd gobble up in the car, dropping crumbs everywhere before wiping buttery fingers on my school uniform.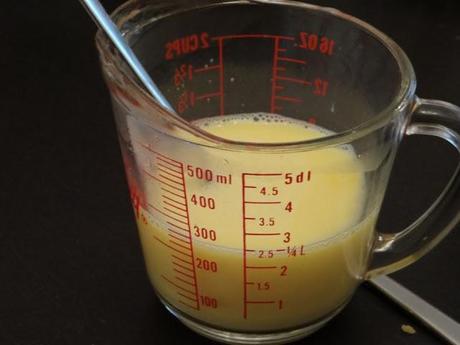 Ask anyone who lives in Hong Kong to give you a list of classic HK foods, and I'll bet you egg tarts will be on most of them. Walk into any bakery in HK and you'll be treated to rows of buttery flaky pastry and yellow custard fillings. It's a sight for sore eyes.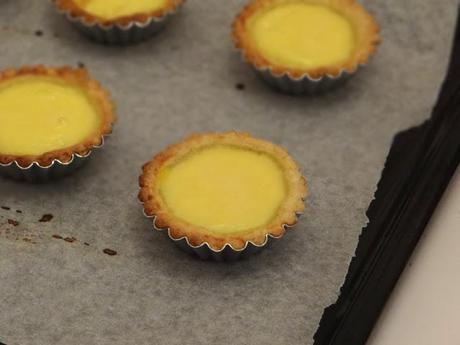 Good tarts have a flaky pastry - either plain butter or puff - and a smooth creamy filling, and will make you do a little dance of happiness when you eat it.  Bad ones have lost their crispiness in the crust, and the filling seems hard and dry.  The recipe I'm posting here today is from a Chinese book (shocker, for those who know me), which, in English, is called The Birth of an Egg Tart [一個蛋撻的誕生], written by one of the most experienced egg tart bakers in HK, and these tarts are definitely good. The book has, among a whole heap of tart flavors and types, recipes for different types of crusts as well as other traditional Asian desserts.  And there's even a sneaky little English translated index of all the recipes at the back.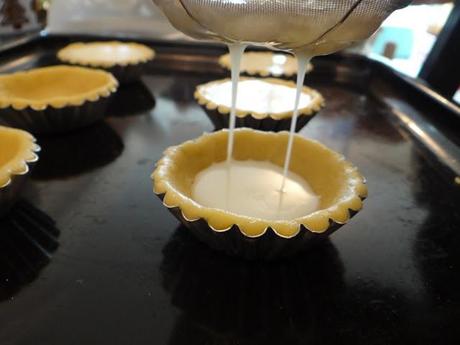 Bakeries have long gone beyond the traditional eggy custard filling.  Aside from the classic, another staple found at bakeries are these Milk Egg White Tarts, essentially the egg tart without the yolk which arguably makes it somewhat healthier.  Other flavors include Chestnut Egg Tarts, Cocoa Egg Tarts, Coconut Egg Tarts and the well-known Portuguese Egg Tarts.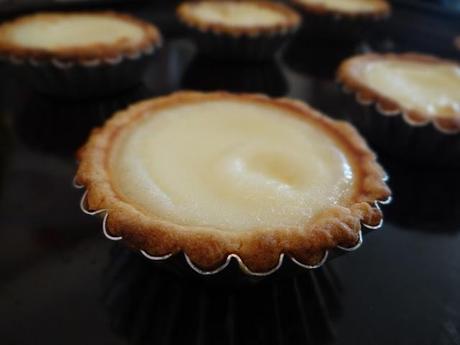 I have to say I prefer the milk tarts. The snowy white counterparts to their sunny yellow cousins are a lighter, less-rich version. The taste is actually quite similar, considering the ingredients are largely the same, so the differences are quite subtle, but nevertheless I like the milk tarts more if only because I can fool myself into thinking it's better for me.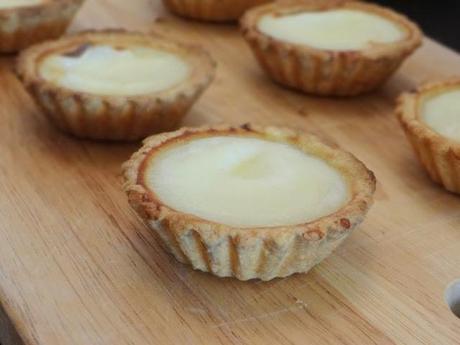 The best thing, I think, about these egg tarts is that they're a local treat here that almost everyone likes. Many of my friends who've come from overseas love these tarts (while other things - say, like, snake soup - are a lot more debatable). I don't know anyone who would refuse to eat one.  So even if you've never been to HK, I hope you'll try these, because their universal likability are a part of their charm.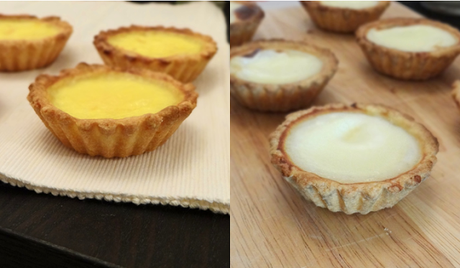 Egg Tarts
Barely adapted from The Birth of an Egg Tart

Butter Crust

Notes: Can I just say, this crust surprised me in the best possible way.  It was really, really good - crispy and flaky and buttery, and so incredibly easy and quick to make. This recipe makes enough for about two dozen tarts, so keep any leftover in the freezer to use later.

225g unsalted butter, softened and cut into pieces
340g cake flour (plain flour also works)
60g caster sugar
30g milk powder (I didn't have any, so I skipped this - worked out fine)
1 egg
Pinch of salt
Dash of milk
Whisk together flour, sugar, milk powder (if using) and salt in a bowl.  Make a well in the center.
Add the butter and egg into the well and work it into the dry mixture with your hands, kneading and rubbing it in.  Add a little bit of milk, gradually, until the mixture just comes together - don't add too much or it will be too sticky.  Once the mixture looks a cohesive color and there are no butter pieces visible.
Divide into 30g balls of dough and press each dough into 8cm round tart molds, working from the bottom up the sides.  Alternatively, use smaller molds - I used about 5cm round ones without changing the weight needed, since I like a higher crust-to-filling ratio, but feel free to use less if your tart molds are smaller.  Once the dough is in the mold, it's ready to be filled and baked.

Classic Egg Tarts
Makes 6 8cm tarts. (Or a dozen 4cm tarts.)

6 tart crusts
2 eggs
30g caster sugar
60g milk
280ml water
Preheat oven to 230C/445F.
Stir together the sugar and water until the sugar has dissolved.
Whisk the eggs in another small bowl.  Add the egg and milk to the sugar and water mixture and mix well.
Strain the filling into each unbaked tart mold, filling it near to the brim.
Bake for 18 minutes or until golden, let cool slightly before turning out of their molds and serving.

Milk Egg White Tarts
Makes 6 8cm tarts.

6 tart crusts
170g egg whites (about 4 egg whites)
60g caster sugar
140g milk
60g water
Preheat oven to 230C/445F.
Stir together sugar and water until the sugar has disolved.
Whisk the egg whites lightly in a separate bowl.  Add milk and whisked egg whites to the sugar and water mixture, and mix well.
Strain the filling into each unbaked tart mold, filling it near to the brim.
Bake for 18 minutes or until the filling has bubbled and set.  Let cool slightly before turning out of molds and serving.