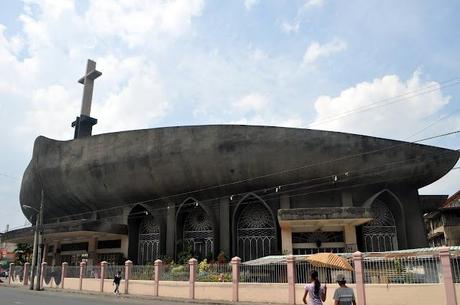 Patches and notes on our first day in Davao.
Compare to the past trips we had, there wasn't anything plan for Davao.  A superb itinerary in would be composed of a white water rafting in the Davao River, a visit to the Crocodile Park, and  zipline or zorb experience in one of Davao's extreme park. Sad to say  none of those activities were part of our trip. Yeah it's boring for some but we still get to enjoy Davao.
Our flight was scheduled around 4 in the morning. Meaning we had to be there  before the clock strikes 3. It was quite  hard to wake up when  the 02:15AM alarm started to buzz the entire room.Thank goodness since we're living in the south,  a drive to the airport was a breeze.  
<<Skipping stories about check-in/boarding  at NAIA Terminal 3 and the flight itself>>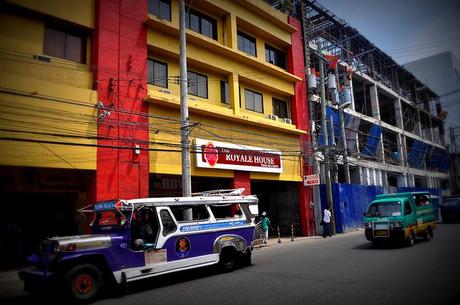 C.M. Recto is love
A s soon as we landed in Davao – I was quite impressed. The airport was huge and well maintained.  With all the men in uniform scattered in almost all corners, I can say that the security was very tight in this airport. One thing that I regret not doing is snapping a photo of myself in that gigantic durian outside the airport. #angbabawlang
We boarded on a taxi that took us to Royal House in C.M.  Recto which is one of the main thoroughfares in Davao City.  The innocent sweet smile of the inn's receptionist greeted us and told us that there were no vacant rooms for us. I guess my unpreparedness caught up on me.  The lady was kind enough to inform us that a guest will checkout at around 2PM and she gladly reserve us that room.  She also allowed us to leave our backpack so that we can roam around the city while waiting for our checked in.
And guess where we went?!
SM
As if there's no mall in Manila, we rode another taxi to get us to SM Lanang Premier.  When we arrived at the mall it was a like a scene from the Walking Dead. There were no  people around and most of the shops are close. I can't even fathom why in the hell would we go to a newly-open mall early in the morning.  And so we searched for some place to eat and our tired feet lead us to Damosa.   Looks like we're so early that time and the only open resto is McDonalds.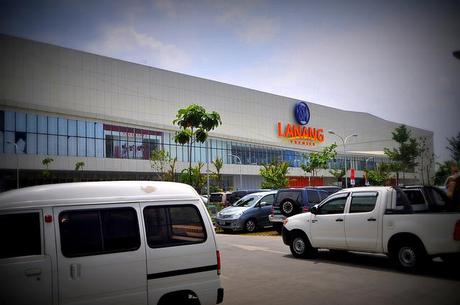 parang hindi ata uso ang kotse dito  #lahatnakaSUV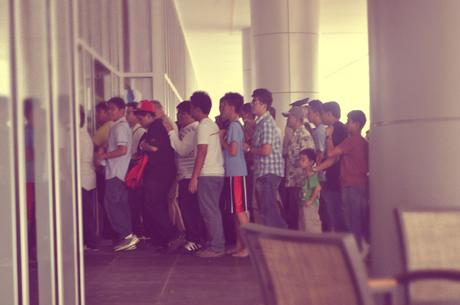 SM Lanang Premier opening - everyone's excited
After the very much needed breakfast we preceded back to SM and spent the whole time in CBTL while waiting for the mall to open.  The tranquil  vibes at the coffee shop shifted into  cheers and jeers as people flock the entrance of the mall.  We  waited a little while for things to settle down before we went inside the SM.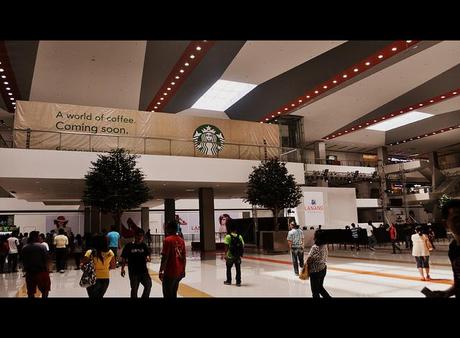 The Atrium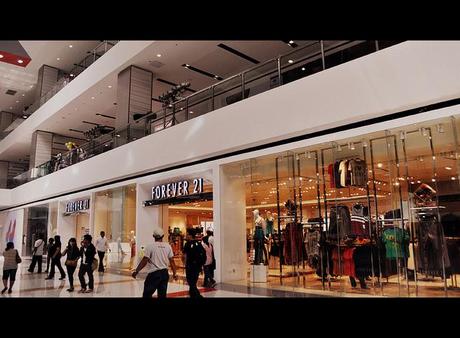 First Forever 21 in Mindanao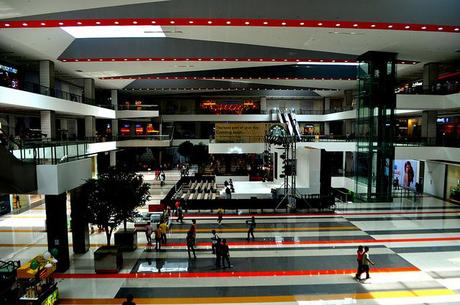 SM Lanang - So Much More
And what do you know the place is huge. Most of the stores are still close yet you can sense that this is a premiere mall – it has a 5 cinemas, an IMax Theater, a Science Discovery Center, an SMX (convention center), a bowling center and a Sky Garden (just like North Edsa).   Integrated with the design and construction of the mall is an environmentally sustainable technology. It uses an LED lighting for sufficient energy consumption.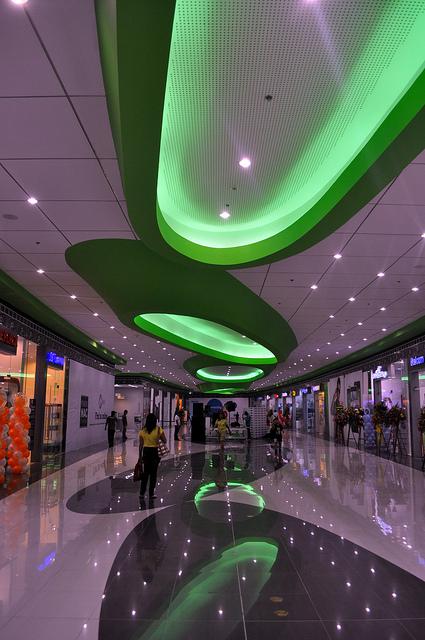 Cyberzone
We did a little round up on the entire floors of the mall before making a pit stop in Mandarin Tea Garden for our lunch.  As I checked in on my foursquare I notice that  this Chinese restaurants has branches everywhere in Davao.  They can actually compete with other Chinese restaurants in Manila because of their affordable prices and delicious meal.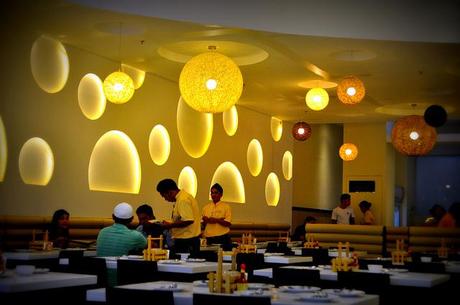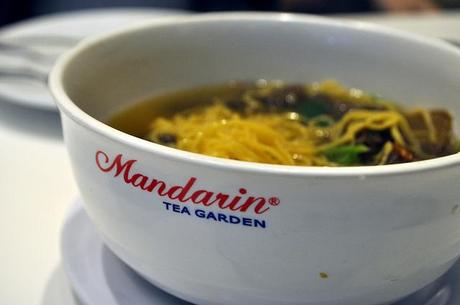 Mandarin Tea Garden
Tired and sleepy we went back to Royal House to doze off a little bit.  We're supposed to go to Eagle Center but we're pretty much stuck up on the bed in the entire afternoon because of the UAAP Final Four.  I can't remember how many times the wife has been bugging me to watch the rivalry between the Arneow-Lazauhl game.  Since the wife is from La Salle I just love to take sides on the Ateneo just to pissed her. It was an exciting game and most of you knew what happened.  La Salle riding on a momentum  win against FEU to get the No.4 slot lead Ateneo 49-38 early the final period before Kiefer Ravena put on a show. And the 4-time champion returns to the Finals to face the UST Growling Tigers.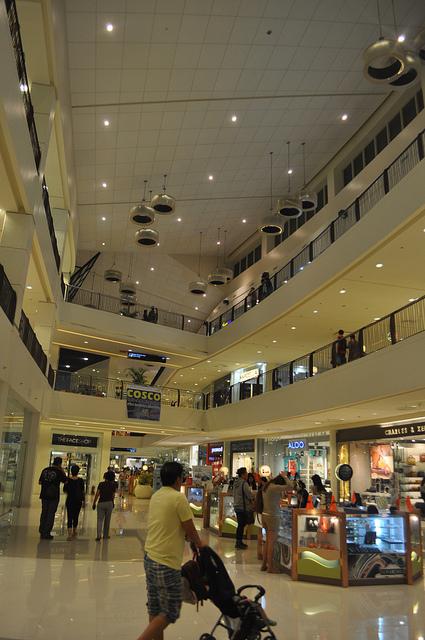 Abreeza Mall
Our first day ended on a dinner at the Abreeza Mall. Something has changed in my perspective of traveling. I don't want pressure myself  to cover the entire city in one day, otherwise I  won't have reason to go back again. Sometimes it's better to just go with the flow.While we could have gone to different places around Davao if we just plan accordingly. If it's any consolation I got my self a jet-setter, hot tamale and fresh brew badge in foursquare.