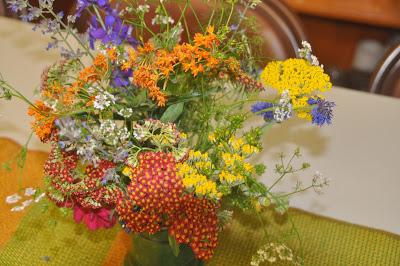 An unexpected treat during my week at J.C. Campbell was an invitation to  the Indian Cooking class's feast.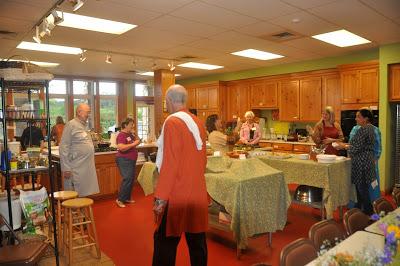 The class had prepared samosas for our instructors' get-together earlier in the week and I had carried on about how good they were to anyone who would listen. Including Miki, the lady in the picture below. We were seated next to each other at one meal and I'd asked her, as one does at JCC, which class she was taking. 
 When she said Indian Cooking, I'd raved a bit and  then we'd gone on to other topics -- including C.S. Lewis.  She was a charming table mate and I swear, I had no idea that there was to be a feast, much less that class members were allowed to invite guests.
Had I known, I'd proba
bly resorted to bribery. But I didn't and it was a lovely surprise on Thursday morning when I saw Miki at breakfast and she told me of the feast AND invited me.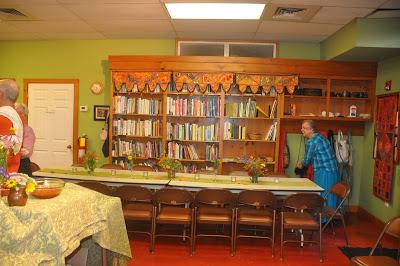 Wonderful smells were coming from the kitchen/classroom when I showed up, unfashionably early.  The space was decorated with flowers and Indian fabrics and the class members were in Indian garb (or an approximation, thereof.)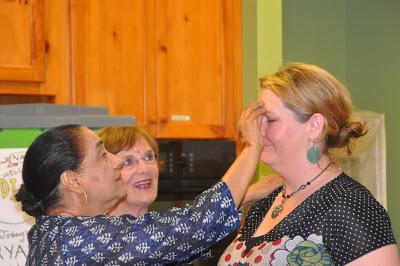 Gulshan Singh, t
he charming instructor , greeted us and affixed tiny jeweled bindis to the foreheads of all the women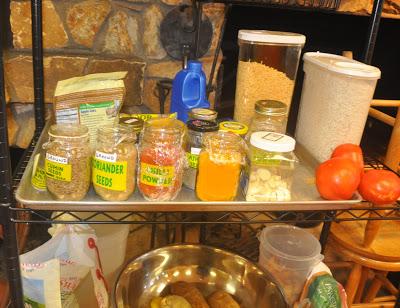 Spices and other ingredients on display.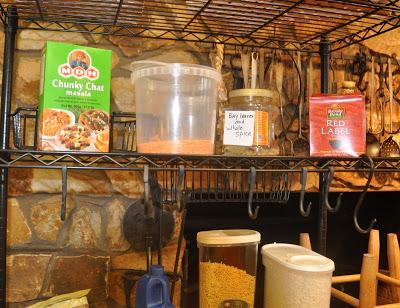 This is a first class teaching kitchen -- five range tops, acres of counter space . . .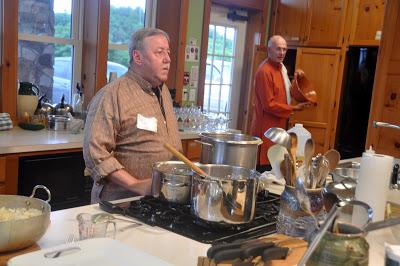 What looked like every implement known to man . . .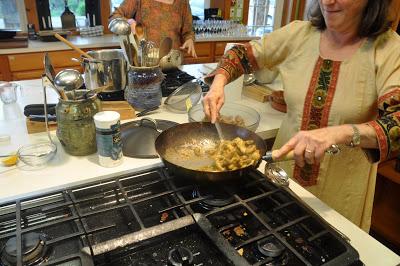 The students were putting the finishing touches on the meal.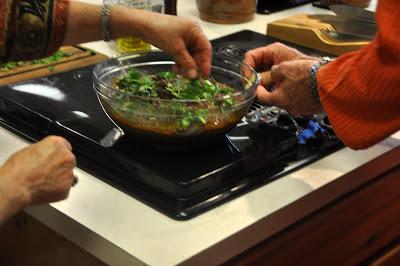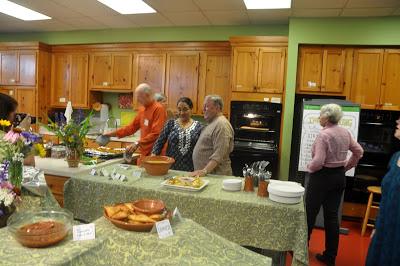 Displaying each dish just so . . .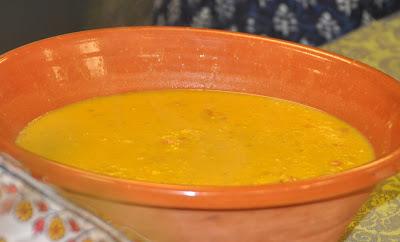 The aromas and the colors were tantalizing . . .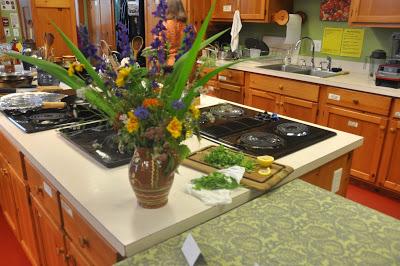 There was a menu . . .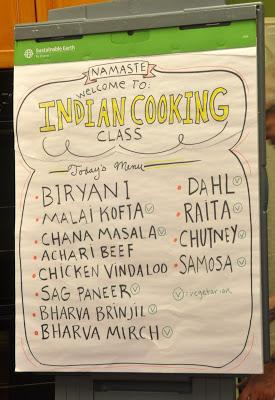 And the individual dishes were labeled -- and marked with a V if they were vegetarian.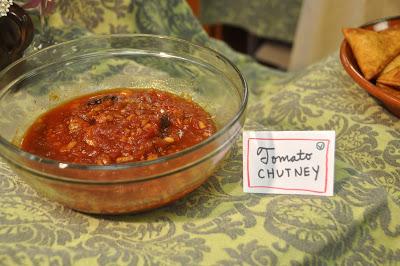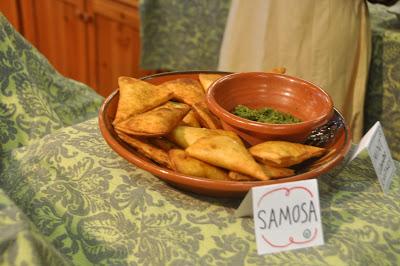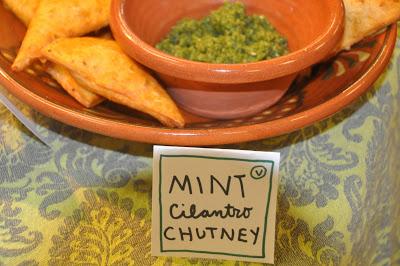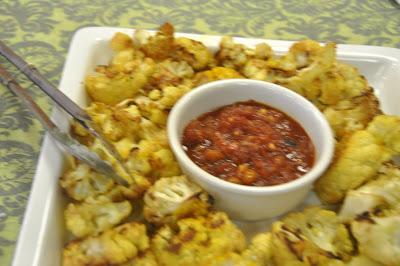 Roasted cauliflower, as I recall.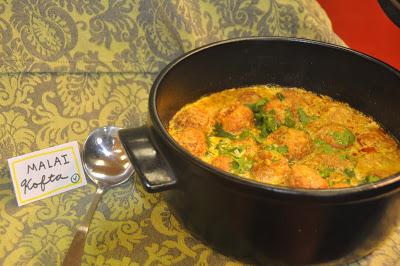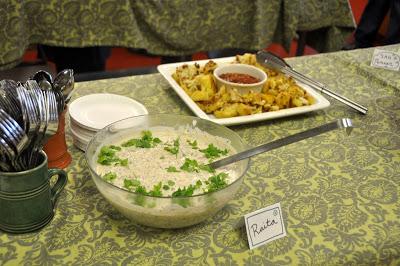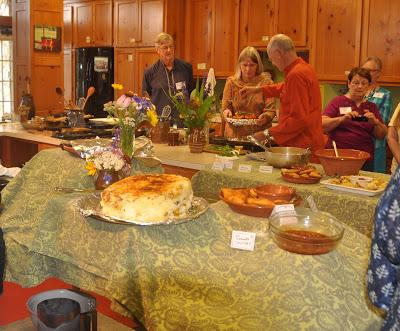 The big cake-like thing is biryani -- rice with chicken and vegetables inside, all baked in a mold.
We were encouraged to try everything and waste  nothing -- and come back for seconds -- (which I did.)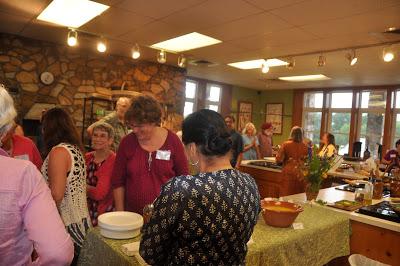 Incredible food, proud cooks . . .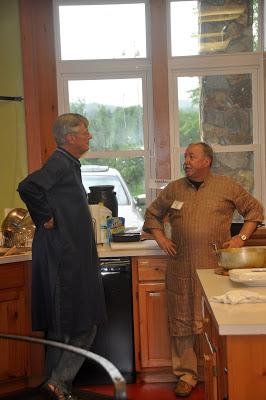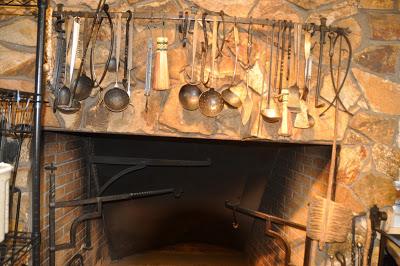 This teaching kitchen also boasts a fireplace and all the implements for old time fire place cookery.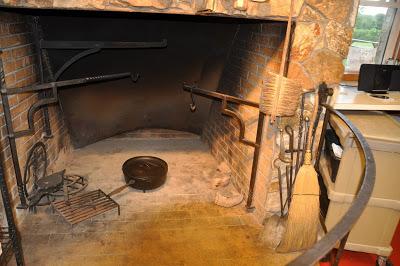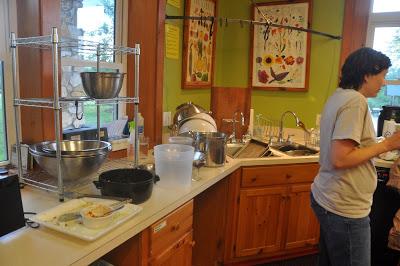 It was an amazing evening . . . all the better for being unexpected. 
Thanks to my benefactor Miki and all those hardworking cooks!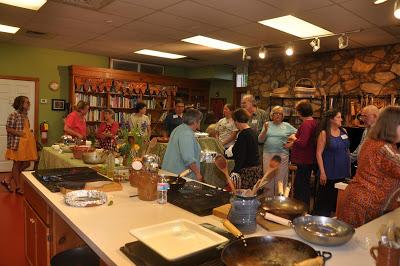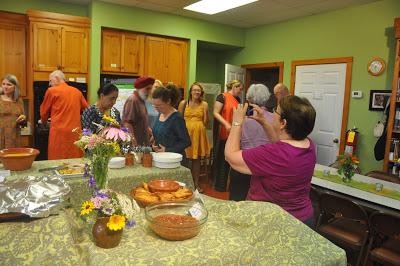 Gulshan and her husband posed for pictures . . .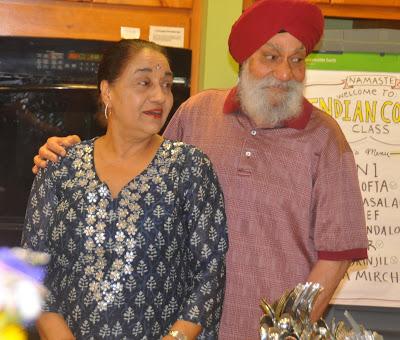 There's a terrific article about Gulshan and cooking and her cookbook HERE.
(Of course I bought a copy of her cookbook. It has recipes for all the dishes at the feast plus many more.  They all look quite do-able and not especially time consuming. )