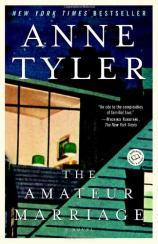 Anne Tyler never disappoints me. Her books are quiet, closely observed depictions of
ordinary people living ordinary lives -- even boring lives -- but just as closeup photography 
reveals new facets of everyday objects, Tyler's precise characterizations reveal the unexpected complexities in the most mundane of humans.
The Amateur Marriage (and aren't they all?) follows Michael and Pauline from their whirlwind infatuation with one another, just after the bombing of Pearl Harbor, through the years of their marriage and beyond.  Two mismatched souls, struggling for happiness in the confines of their ill-fitting partnership, these characters come alive on the page.
I'm baffled to explain just why I was so entranced by this book-- but I will say that when I crawled into bed last night, I had every intention of beginning a thriller by Lee Child. I'd picked it up at the library along with the Tyler book.  The thriller was on the bed beside me but before I turned to it, I picked up The Amateur Marriage, just to have a look.
Around a hundred and fifty pages later, it was past midnight and I reluctantly put the book down and turned off the light.  Lee Child would have to wait.