Back in June, I was standing in line at Starbucks (in the quest to satisfy a Chai Latte with Soy Milk craving) when the person in front of me commented on my necklace. I was taken aback when the woman (also ordering a Chai Latte, I might add) identified the jewelry designer. Since I have a less than commercial collection of jewelry (I prefer independent artisans and jewelry with meaning as opposed to well-known brand names and expensive pieces), I was impressed by the woman's eye. Then I learned that she, too, was a jewelry designer.
Now I've been around the yoga block enough times to hear the sentiment, all one, but it always tickles me when I see what a small world it truly is. Turns out, I'm living in the same town as the ever-talented Mary Jo Peritore, the jewelry designer behind MerCurios. An exhange of business cards (and a few sips of Chai Latte), later, I've ordered a few of the unique pieces on her Web site. As I said, I love jewelry with meaning, so I was delighted by the number of options for personalized engraving. 
Not only did I get to indulge in my desire to purchase a two-finger ring, but I got to select my very own inspirational message. And for all of my yoga-loving blog readers, MerCurios offers a lovely Namaste Two Finger Banner Ring: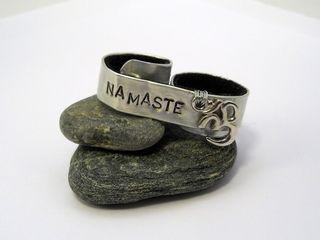 I can attest to the fact that this ring, although spanning two fingers, is seriously comfortable. The material is extremely lightweight, so you'll hardly notice that it's on your fingers. But others will notice. The ring is bold and makes a statement. I absolutely love mine and I receive compliments whenever I wear it.
If two finger rings aren't your style, but you want to let your yoga flag fly, check out the Aum Om Chic Charm Bracelet Wrist Wrap. It's inexpensive, stylish, and comfy enough to wear during yoga practice or anytime. The lightweight material makes this a perfect summertime bracelet.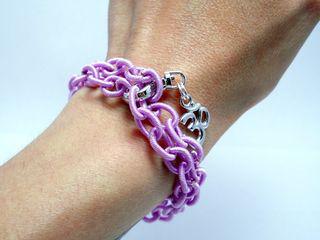 I sure am glad that I decided to stop by Starbucks that day. And I'm glad that I have a blog so that I can share my favorite things with people who share my interests. I tend to buy things on recommendation (or after random meetings such as this one in Starbucks), so I believe in paying it forward. That said, I highly recommend checking out MerCurios, whether you're looking for some chic yoga jewelry or simply a piece that's stylish, unique, and reasonably-priced.
You can find MerCurios on the Web here, on Etsy and on Facebook.
And the personalized MerCurios creation that I ordered...viola, here it is: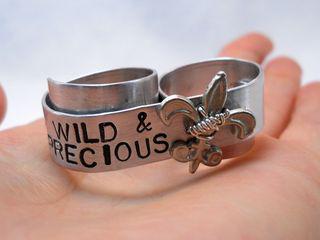 Namaste!