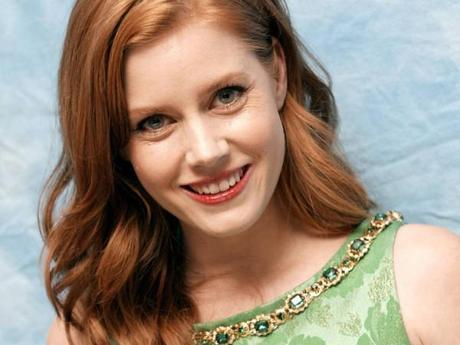 Amy Adams has a lot on her plate these days. Her upcoming films are no slouches and include; Man of Steel, The Master and Trouble with the Curve. Now comes word that she has added another project to her busy schedule. According to Variety, Amy Adams is in negotiations to star in an adaptation of the Gillian Flynn novel "Dark Places" that Gilles Paquet-Brenner ("Sarah Keys") will direct from his own script.
Dark Places story revolves around a woman (Libby) who, at the age of 7, survived the massacre of her family and testified against her brother as the murderer. Twenty-five years later, a group obsessed with solving notorious crimes confronts her with questions about the crime.
Amy Adams hasn't really appeared in a film that gave her chances to win an elusive Oscar since 2010′s The Fighter. While some of her upcoming films have the prestige to get her there, Dark Places sounds like a fantastic starring vehicle for her.
Here's a look at the Book's summary to get a better idea of the film:
"Libby Day was seven when her mother and two sisters were murdered in 'The Satan Sacrifice of Kinnakee, Kansas.' As her family lay dying, little Libby fled their tiny farmhouse into the freezing January snow. She lost some fingers and toes, but she survived–and famously testified that her fifteen-year-old brother, Ben, was the killer. Twenty-five years later, Ben sits in prison, and troubled Libby lives off the dregs of a trust created by well-wishers who've long forgotten her.

The Kill Club is a macabre secret society obsessed with notorious crimes. When they locate Libby and pump her for details–proof they hope may free Ben–Libby hatches a plan to profit off her tragic history. For a fee, she'll reconnect with the players from that night and report her findings to the club…and maybe she'll admit her testimony wasn't so solid after all.

As Libby's search takes her from shabby Missouri strip clubs to abandoned Oklahoma tourist towns, the narrative flashes back to January 2, 1985. The events of that day are relayed through the eyes of Libby's doomed family members–including Ben, a loner whose rage over his shiftless father and their failing farm have driven him into a disturbing friendship with the new girl in town. Piece by piece, the unimaginable truth emerges, and Libby finds herself right back where she started–on the run from a killer."
Like what you see here? Well there are other fantastic blogs part of the LAMB network! If you'd like to learn more about becoming a LAMB, visit [http://largeassmovieblogs.blogspot.com/]. Please feel free to sign up for email updates from us.