NUTRILITE® Salmon Omega -3 contains a unique blend of omega -3 oils sourced from salmon raised in the cold, pure waters of Norway & a proprietary blend of 3 additional omega-3 sources - Anchovy, Mackerel, Sardines from the Atlantic and Pacific oceans. -
its about a health Supplement from +Amway.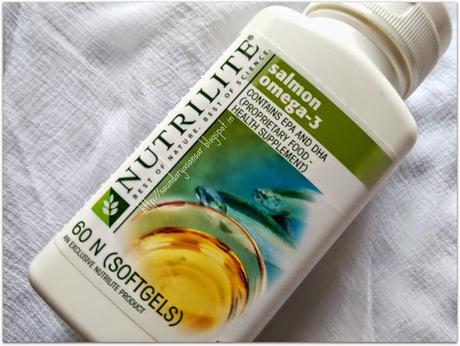 This is Salmon Omega3 which is considered as potent source of one of the essential fatty acids (EFA's), usually derived from a species of Fish-Salmon. Human body cannot make these on their own hence need an outer source.
Key omega-3 fatty acids include eicosapentaenoic acid (EPA), docosahexanoic acid (DHA), and alpha-lineolenic acid (ALA). EPAs and DHAs are found in oily cold-water fish such as tuna, salmon, and mackerel, as well as fresh seaweed. ALAs are found primarily in dark green leafy vegetables, flaxseed oils, and certain vegetable oils.
Although you can find ample of information about benefits of Salmon Omega3 from Amway site here. But lets just chalk out major health benefits of Salmon Omega3 for our information and relevance of this post.
1. Omega3 Fatty Acid is beneficial in the treatment of osteoarthritis and other inflammatory joint conditions.
2. Omega3 Fatty Acid makes you smarter and happier. The brain is 60 percent fat and most of that is the omega-3 fatty acid DHA. Thirty percent of the grey matter in the brain is DHA showing how critical it is to brain function and a healthy nervous system. Eating salmon regularly has been shown to reduce the risk and incidence of depression, hostility in young adults and cognitive decline in the elderly.
3. Omega3 Fatty Acid increases your cardiovascular health.
4. Omega3 Fatty Acid protects your eyes.
5. Omega3 Fatty Acid helps build children's brains.
6. Omega3 Fatty Acid is an excellent source of vitamin D.
7. Omega3 Fatty Acid helps you sleep.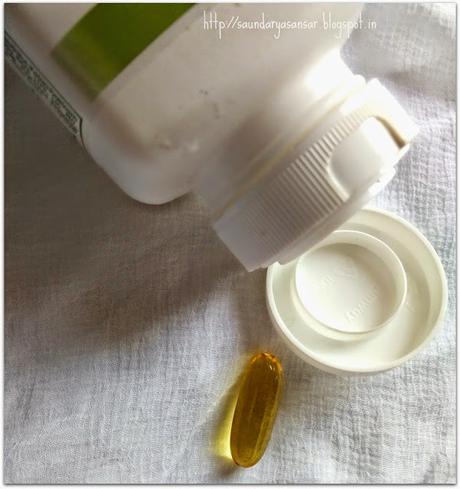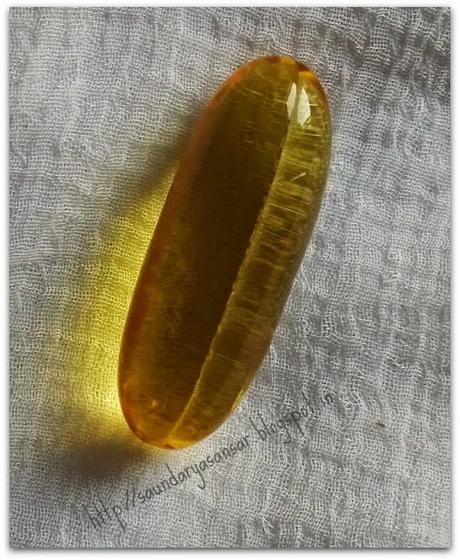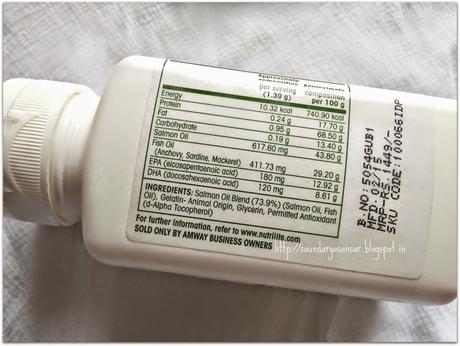 Now lets see how Amway Nutrilite Salmon Omega3 is better-
it comes in plastic rectangular bottle with a flip cap. Bottle is sturdy to carry while travelling.
There are 60 softgel capsules in a bottle which is priced at 1449 INR from Amway. You can buy them from their site (where the price details are little misleading) or through their SA's. It is an animal derivative, also specifically mentioned on the bottle.
Each softgel has a balance of 180EPA:120DHA, with a total of 300mg of omega-3 fatty acids in most active form which can be easily used by the body.
You will find that these gelatin capsules are transparent filled with a yellow oily liquid, little bigger than usual capsules but easier to gulp for an adult (not advised for children). I started taking these during my convalescence after my surgery (as prescribed by my family doctor). I was taking this every morning after my breakfast with water.
Now i am about to finish this and found that it has helped me recover fast from my convalescence. I am little more energetic than before (you can feel when you are happy & healthy, Right?). Moreover it solved some of my skin troubles like my nails-they are stronger & brittleness is reduced. they do not chip now. My hairs are little more shinier.
I used to have knee joint pain occasionally(trait inherited from my family)- I have not experienced the pain since last two months. At the end of the day while at work, i do not feel tired or drained out.
Till now i have not seen any side-effects except that 'burp' a fishy-oily aftertaste at times, which is little unpleasant but for a little while.
I am continuing this to explore further long term health benefits.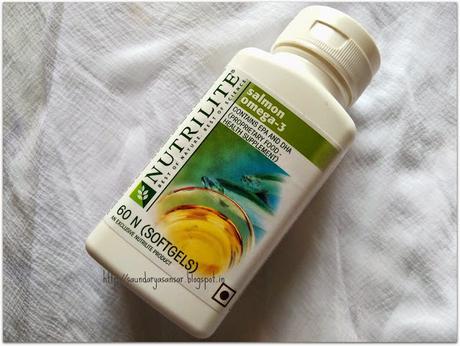 Overall I would Highly Recommend Amway Nutrilite Salmon Omega3 (but only after consulting your doctor) to all as it surely compensates for that deficit of EFA's and helps you maintain wellness in long run. You can also resort to plant derivatives but Salmon Omega gives you faster results.
Disclaimer- This post is about my experience with the Amway Nutrilite Salmon Omega3 & i am not paid or this. I would strongly advise to consult doctor before taking this.