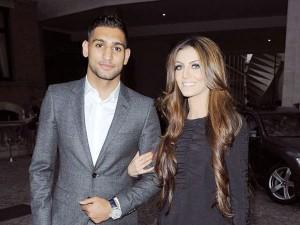 British Boxer Amir Khan with fiancée Faryal Makhdoom.
Boxing veteran Amir Khan's fiancée demands a face-off with his ex to find out if he has cheated on her.
Faryal Makhdoom asked for the meeting with model Natalie Fox after growing suspect of the ex- unified WBA (Super) and IBF Light Welterweight champion.
According to the reports, 20-year-old Faryal, to whom Bolton Ace engaged earlier this year, found text messages between her fiancée and Miss Fox alluding to a fling.
The 28-year-old model claims that she bedded 2004 Olympic silver medallist just two weeks before his official engagement to New York based student Faryal on Jan. 29th 2012.
Amir Khan, on the other hand, insists that he just romped with Natalie a year earlier in January 2011, when they both were single and met through mutual friends.
Now, American brunette Faryal wants to know the truth before tying the knot with Amir Khan… and she is even ready to fly to the UK to have a face-to-face encounter with Natalie.
While Miss Makhdoom currently believes her fiancée, she wants meeting with Natalie just to see the evidence she has of the alleged-affair, as she believes: "I have every right to know."
Speaking to the source, Natalie said: "I'm happy to meet Faryal and tell her everything that happened. As his bride-to-be she does have a right to know.
"It's her prerogative as to whether she believes me or not."
Faryal previously brazened out Natalie through a series of text messages earlier this month.