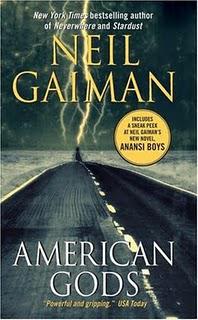 Did you know that the 10th anniversary edition of American Gods by Neil Gaiman was released Tuesday? Have you ever read this book? No? Get thee to a book store...or download it posthaste! 
A good friend recommended this book to me a few years ago. A number of my friends had been reading books by Neil Gaiman for some time before caved in and decided to give him a try. American Gods is my second favorite book by Gaiman. He creates an incredible new American mythology and joins it with ancient myths to create a truly masterful story. The characters are neither perfectly good nor perfectly bad and just the way I like them…very human…even when they are not. Shadow Moon is the main character and you will follow him on his journey should you choose to delve into American Gods.
This book is worth your time. 
To learn more about the book and about Neil Giaman check out Neil's Journal or his Website!
If you have read this book what did you think? What is your favorite Giaman book?
Enjoy!