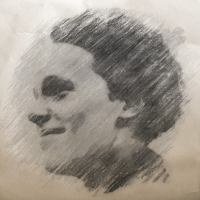 It's no secret that today is the 11th of January.  What you may not know, is that today is also 
Amelia
 Earhart Day.  On 
January 11, 1935, Amelia became the first person, man or woman, to fly solo across the pacific.  Hooray for her.  She's been an inspirational person for me since I was young, and I thank you Amelia for having the
 courage to break barriers; to enter the male-dominated world of exploration; to find your fulfillment far from home; to continue to live-large in the minds of those of us who dream big.
Long, long ago, before I wanted to be a mom or an 
Architect
, I wanted to fly.  Not flap-your-wings kind of flying, or put on a cape and jump off the roof flying either, but strap yourself in, and take off for the clouds... or the moon... but being an astronaut's another story.  
At the risk of showing my age, I was in high school when "Top Gun" first aired at the local movie 
theater.  
(For movie buffs, I mean the 1986 release of the movie, not the 1955 movie of the same name!)  I remember clearly all the girls swooning over Tom and his volley-ball playing mates on the beach, while I sighed and ohhed and ahed over the F14-TomCats and MiGs as they swooshed past.  I napped while the blokes sang "I've lost that loving feeling" but sat bolt upright when they "felt the need for speed."
I'm a different person now.  I'm older, and a mother, and for both reasons, I see the world through 'risk-assessment' eyes, and suddenly the idea of flying has lost some of it's 
luster
.  I don't mind the idea of jetting off on a holiday, but there's no 
adrenaline
-rush any more... 
So then, no post about parties or craft today, but there is a tentative link back to yesterday's post and the idea of rejuvinilia, and I confess that even writing about youthful ambitions, long-ago movie moments, and inspirational women who went further than mere dreaming, has made me sit a little straighter, and put a smile on my face.  Thanks again Amelia; enjoy your big day, from whatever cloud you're flying!
[PS - to make this image I photographed her page from my book of "Legends", (the original photo was from Superstock), and then I uploaded it to www.funny.pho.to and applied the 'charcoal' filter.]