As we all know Taj Mahal is considered as the symbol of Love . I had a chance to visit Taj Mahal on Dec 1 2011 ,I had No word to express on seeing that Magnificent Monument . As soon as when we hear the word " Taj Mahal " we used to think about it but one need to visit this beauty after seeing this, i m sure that one can feel the love of Shah Jahan on Mumtaz such an amazing building . For the token of love Shah Jahan erected this huge monument . I simply sat at a corner and saw the monument for more than 2 hours.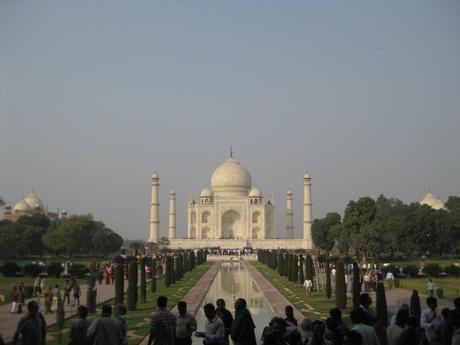 View of Taj Mahal From Gate ...
The whole incident took place in 16 th century at Agra . Shah Jahan comes from Mughal Empire Son of Jahangir and he had a great grandfather Akbar who is famous for its military forces. History says that he had lot of wife's , Mumtaz was one among them .He loved her like anything more than 1000 times when compared to others wife's . She died during the birth of their 14 th child . After her death Shah Jahan Started to construct Taj Mahal in 1632 and completed by 1654.Right beside the place one can see yamuna river It took 22 years to complete this Monument .
What's unique in Taj Mahal ??
Every side and every parts of the Taj Mahal are equal or identical . First it was built on red sandstone and then built on white marble . At the entrance one can find the calligraphy art . A pillar which gives a illusion look the lines which runs upward and downward  gives a different look and if one comes near  the pillar he/she can feel its semi circle shaped pillar .The gems on taj mahal glows when sunlight falls on it .On full moon day tourists are allowed to see Taj Mahal on night time . Another thing is when a light source is shown near the marble it penetrates inside and glows ..these things where explained by my guide .Taj Mahal is surrounded by a garden called moon light garden , Mosque and at the entrance the great gate.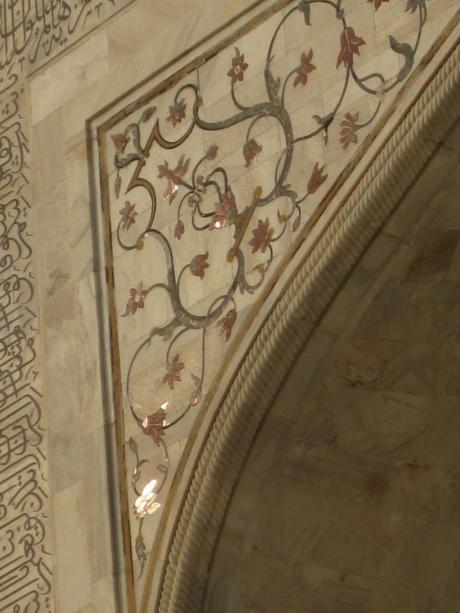 See how the gem glows ..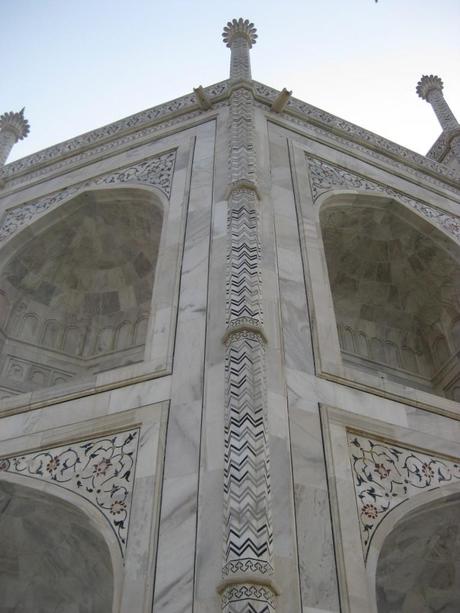 Pillar with illusion art ..
Mumtaz was buried in the center on Taj Mahal .And soon after Shah Jahan feel ill and his own son Aurangzeb imprisoned him at Agra fort where Shah Jahan used to see Taj Mahal from one side of the fort .At last he died in 1666 , Two persons took this body through the banks of yamuna and buried him right beside of Mumtaz . And thus the love story comes to an end.I recommend my friends to visit this beautiful place at-least once in life time …..