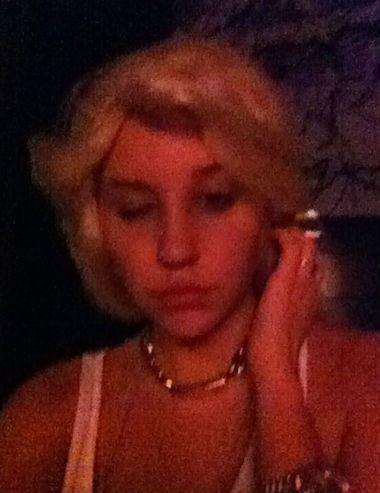 Twitter.com
-Amanda Bynes went on another weird and disturbing Twitter rant, saying that she has an eating disorder and asking people who write about her to use the selfies she posts on Twitter. Request granted!
-Halle Berry's rep just confirmed that she's pregnant with her second child, which may explain why Olivier Martinez was so pissed at that paparazzi swarm the other day. (Or maybe he was just pissed because paparazzi swarms are gross.)
-Well, this is amazing. Ray J used a pixelated photo of ex-girlfriend Kim Kardashian for the cover art for his new single, "I Hit It First."
-James Franco wrote a movie review on The Place Beyond the Pines for some reason (just go with it), in which he spilled a lot of ink drooling over Ryan Gosling. Welcome to the club, buddy!
-If it were anyone else, I'd assume Beyoncé and Jay-Z staged this photo because they both look soo good. But I'm pretty sure this is their natural state.
-Michael Jackson's son Prince is living up to his name by dating an actual Kuwaiti princess.
-Lindy West's recap of everything that happens in Jurassic Park in chronological order might be the best piece of movie writing I've read recently. It's almost as good as her Sex and the City 2 review (which I still reread whenever I need a pick-me-up).
-HBO is working on a Nora Ephron documentary. Yup, I'll watch every millisecond of that.
-Robert Pattinson and Kristen Stewart were photographed in public! Together! And actually touching!
-Kevin Zegers (who I once talked to at the Transamerica premiere and kept losing my train of thought because he was so disturbingly pretty) is engaged to Jaime Feld.
-It's cute that exes Carey Mulligan and Eddie Redmayne are still nice to each other in public.
-New Girl's Jake Johnson is submitting himself in the Emmy's lead comedy actor race after competing in the supporting category last year. (Speaking of New Girl, my stupid DVR cut off the final moment of last night's episode, right after he said "I'll walk with you." Did they kiss? I need to know!)
-Joss Whedon just cast the guy who played Gunn on Angel in his new ABC pilot.
-Wesley Snipes has been released from prison. Let's hope someone reminds him that his tax return is still due this month.
-This video of Kid President meeting the real president is all kinds of great.
-Jamie Lynn Spears just tweeted an old photo of Britney with Justin Timberlake. Is it my birthday?!
-Need more proof that Parks and Recreation is the smartest show on TV? There were a bunch of Infinite Jest references in last night's episode. (Not that I've actually read that novel. It's the only book I ever gave up on after getting through 900 pages. But still, yay for P&R's smarty-pants writers!)
-Cate Blanchett looks fantastic the cover of Australia's Harper's Bazaar.
-Angelina Jolie just donated $200k to the Malala Fund to send five girls to school, which is great and admirable. I just wish she wasn't dressed like Yoda at the time.
-Jason Segel has written a YA trilogy? Yes times one million!
-For some reason, Nicole Richie and Jessica Alba are vacationing together.
-The trailer for Ethan Hawke's new movie The Purge is scary as hell.