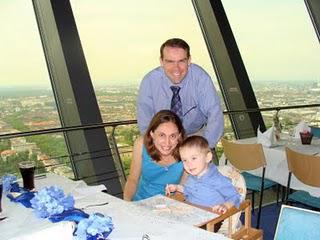 Am I really 29?  I can't believe how fast my 20s have gone.  I just turned 29 a few days ago and had a wonderful birthday.  I know many people who stay 29 year after year.  As for me I think I'll just be 29 one year then join my friends in their 30s.  I have never really had issues with my age.  I am what I am. =)
This year's birthday was very nice.  Husband spoiled with me lots of gifts and a nice lunch out to one of my favorite restaurants in Mannheim.  It's called Skyline.  This was our third time to eat there.  We went for the first time last year on my birthday and again for our anniversary.  It costs 4,50 Euros per adult to go up the tower plus the cost of food.  So it's a nice place to go if you are celebrating a special day.  And the food is actually really good.
When I think of birthdays I think about spending time with family and those I am closest to. One of the hardest things about being in Germany is not having extended family around. Thankfully we have some great friends in Germany and I have the best immediate family living in my house so that makes up for a lot. It doesn't replace my family and friends in Texas but it makes life in Germany fun. My husband wanted to have a small party for me this year but I really just wanted to keep things simple.  Maybe on my dirty 30 we'll do something big.  We ate lunch out because lunch is a little quicker than dinner which is easier when you have a toddler.  We ate tacos for dinner followed by a triple chocolate cake.  Then we played Don't Break the Ice with my son before getting him ready for bed.  I like playing games and this is one of a few that we can all play.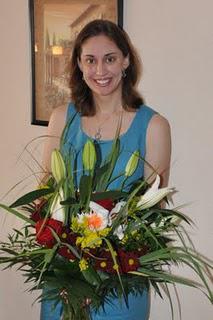 Check out the beautiful flowers from my husband!
The night did not end how we had hoped.  My son ended up throwing up all of the cake, ice-cream, and dinner.  Yuck!  After giving him another bath, er shower, my husband sat with him until he fell asleep.  That put my husband to sleep.  Which I understand, my husband gets up early and if you're in a dark room with a child it makes you tired.  I ended up going to bed around 10:30pm after putting the clothes that were vomited on in the dryer.  I remember staying up super late in my teens and early twenties.  Boy have times changed!  I think it just goes to say that we have grown up and realized the importance of sleep.
Overall it was a very nice birthday.  I'm looking forward to this next year and seeing what God has in store for me.