aloo rasedar recipe - aloo masala for pooris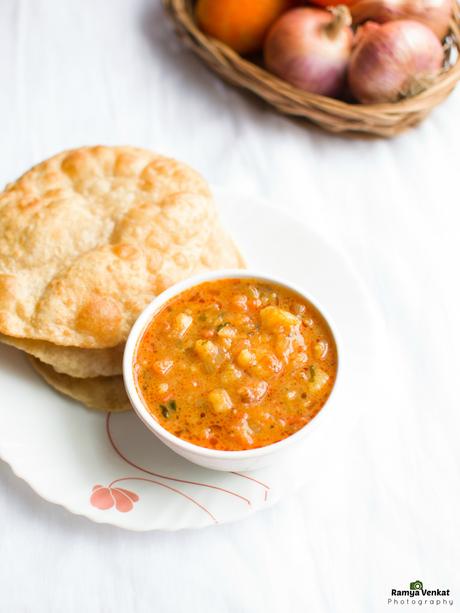 aloo rasedar recipe - curry or semi gravy made with tomatoes,onions and potatoes.one interesting recipe made with potato and the color is provided by the red chilli powder by roasting it in the oil in low flame.The recipe originated from Uttar Pradesh and the recipe is so simple to make and it is full of flavors.
i saw this recipe and made this recipe according to my taste.I did not added methi seeds or fenugreek seeds in the recipe and also i did not used any powders and i added them as whole in oil.This is the wonderful recipe to go with any flat breads but this one tastes perfectly with fried breads like poori,luchi,bature.For the monsoon,you definitely crave something spicy but you have less ingredients to cook,this is the one which saves you that time.I have no options to cook on that day for breakfast and that week we have no veggies except few potatoes and must veggies in kitchen.So planned to do poori masala in South Indian style but being bored of making same for pooris every time.I already bookmarked this recipe and thought of making it when i have potatoes in hand and made that one on that super rainy day.Imagine,hot pooris with piping hot rasedar curry,wow:)interesting ,isn't it?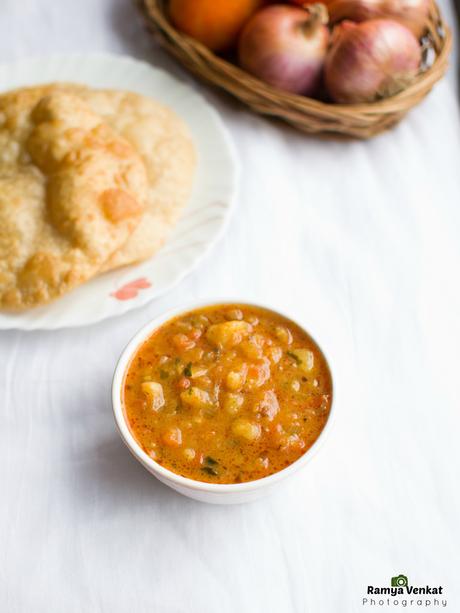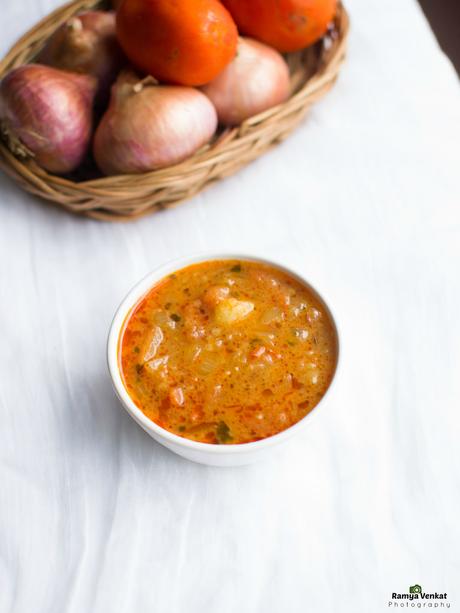 To get the perfect color for this recipe,you have to roast the red chilli powder in hot oil in very low flame without burning it.Otherwise your recipe doesn't tastes good and the color changed to brown.I added cumin seeds and fennel seeds along with turmeric powder,red chilli powder,hing and corinader powder in oil and then added the onion and tomato.You have to cook the onions well and then add the tomatoes,otherwise it will give you a crunchy half cooked onions which does not tastes good.This curry is so simple and you did not need ginger garlic paste or any other spicy ingredients in the recipe.And you did not need any thickening ingredients like cashews or cream in the recipe.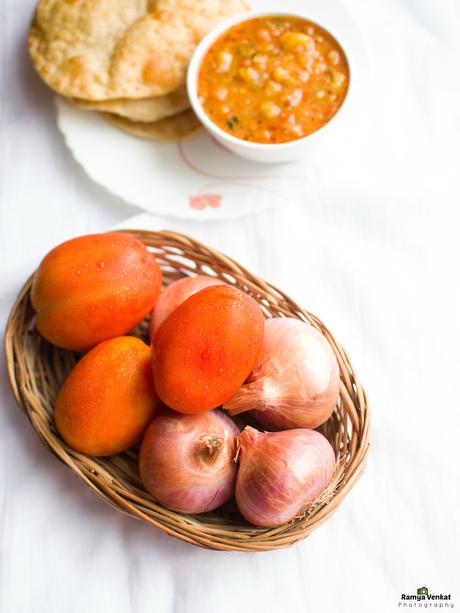 If you have any recipe ideas or recipe requests to post it here and trying my recipes in home,please send feedback to [email protected] or simply tag me in facebook with the hastag lemonkurry.More queries regarding recipes or techniques,please ping me through mail or through my facebook page.I will be on travel from today and will be scheduling recipes for next one month and see you all in facebook and instagram and will be blog hopping for sure in between days.lets move on making the recipe.,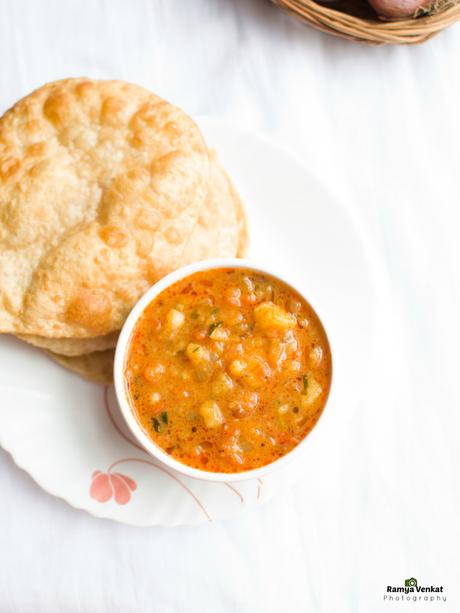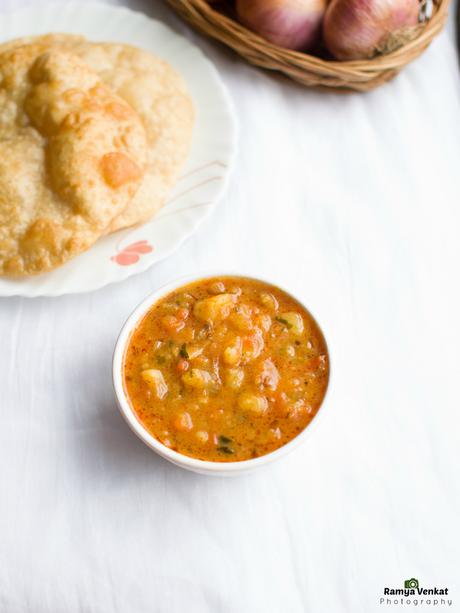 aloo rasedar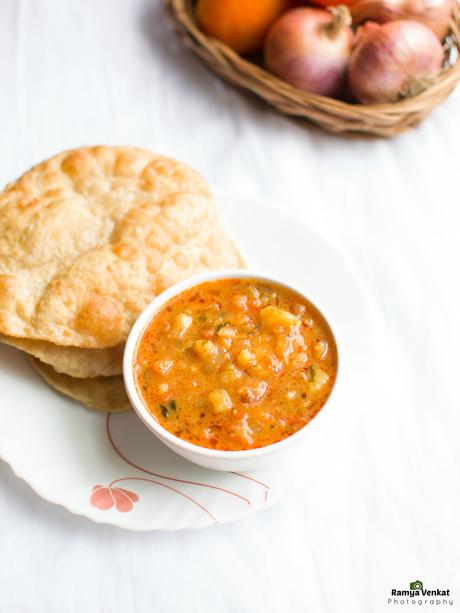 potato curry made with onion,potato and tangy tomatoes

Ingredients
boiled potato - 200 gm,peeled
onion - 2 nos finely chopped
tomato - 2 nos finely chopped
ginger ,chopped - 1 teaspoon
turmeric powder - 1/4 teaspoon
red chilli powder - 1 teaspoon
coriander powder - 1 teaspoon
chat masala - 1/4 teaspoon
asafoetida - as needed
cumin seeds - 1 teaspoon
fennel seeds - 1 teaspoon
oil - as needed
salt - to taste
kasuri methi - as needed(optional)
coriander leaves - chopped , as needed
Instructions
Mash the boiled potatoes with the fork and make sure the potatoes were warm enough when we are adding it in the recipe.You will easily mash it and add it in the recipe,it will absorb more flavors than adding early boiled potatoes.

Heat oil in the kadai and in low flame,add cumin seeds,fennel seeds,turmeric powder,red chilli powder,asafoetida and roast it well.

Add finely chopped onions to it and saute it well it it get soft in medium flame.Do not burn the masalas while sauteing the onions.Add chopped ginger and mix it well.
Now add tomatoes and saute till it combines with everything and it should like a masala.\
Add mashed potatoes with enough salt and chat masala to it.Mix it and add enough water for the gravy.The gravy should be little watery and it will thicken once it cools down.
Cook this for 5 minutes in medium flame till it starts to thicken.at that time switch off the flame and add kasuri methi for some extra flavor.
Then add chopped coriander leaves and serve.