Today I'm posting a dish which can be called the soul-food of Bengal. 'Aloo Posto' or Potatoes in Khuskhus/Poppy Seeds Paste is some thing with which I'm sure every Bong can connect with. Whichever part of the world may a Bong live in, he/she is bound to have a soft corner for 'Aloo Posto'. A Bengali platter is never complete without it. It's one of the easiest and simplest of dishes that I know of but the taste …can any vegetarian dish beat it in taste? It's without onion and garlic, requires the minimum of ingredients but those who haven't tasted it must make it today to fall in love with the quintessentially Bong 'Aloo Posto'.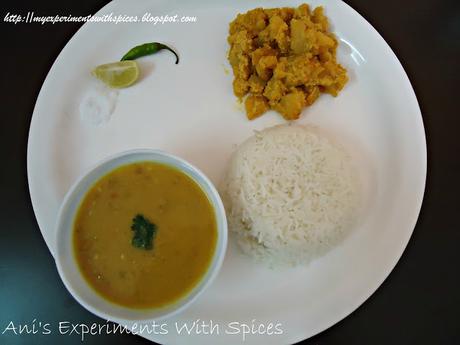 ATypical Bong Platter of Aloo Posto, Masoor Dal(Lentils), Plain Rice
Every time I cook 'Aloo Posto' a kind of nostalgia works at the back of my mind. Though this dish is authentically made without the use of any powder masalas/spices like turmeric or red chilli, I remember my mother always used to add a pinch of turmeric and red chilli powder saying that it will enhance the flavor. Here I have followed her recipe but if you don't want you can make it without turmeric and red chilli. Believe me I can survive on 'Aloo Posto', dal and steamed rice day after day even without non-veg, I love it so much!!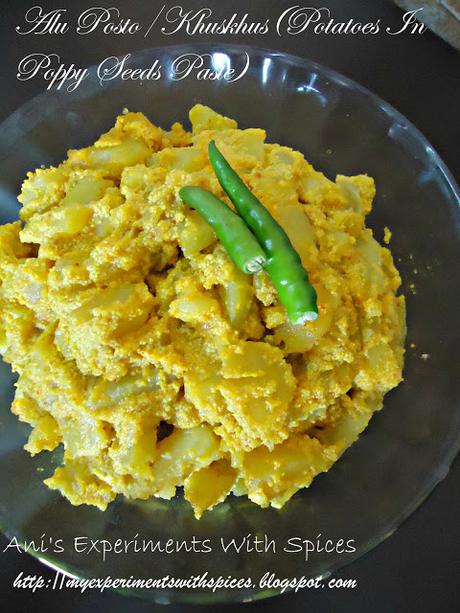 The way I made it:
Ingredients:
6 potatoes peeled and cubed
4 tablespoons of posto/khuskhus/poppy seeds
4-5 green chillies
a pinch of turmeric powder
1/3 tsp red chilli powder
Salt and sugar to taste
Mustard oil as per requirement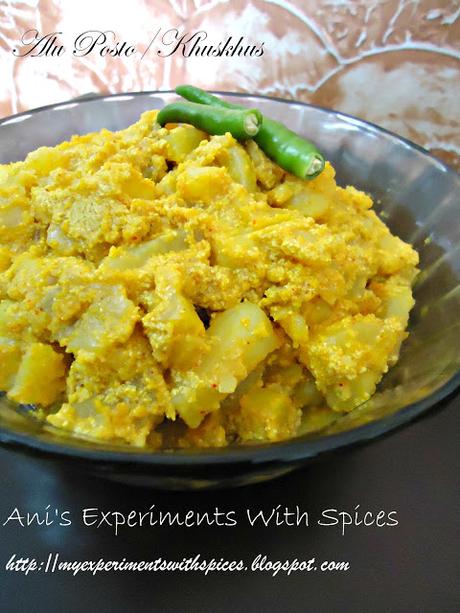 Procedure:
Step 1:
In the container of your mixer grinder soak poppy seeds with two green chillies and a little water for half an hour. Grind it to a coarse paste.
Step 2:
Heat oil in a wok/karai and add the cubed potatoes. Add a pinch of turmeric powder, salt and fry till they are almost done.
Step 3:
Add the posto/poppy seeds paste, red chilli powder, 1 tsp sugar and half a cup of water. Cover with a lid and cook on low flame for 5 minutes. Remove the lid, increase the flame and dry up the excess water stirring frequently to prevent it from sticking to the base of the wok. 'Aloo posto' is ready to be savoured. Garnish with green chillies and serve.