Aloo paratha-this dish takes me 4 years back the memory lane,the time when I was newly married.Like any other typical 80's kid (mostly) even I never entered kitchen before marriage (not even to take my cup of coffee,it was served where I was :) ) and I was so afraid of gas stove.Seriously my younger sister was never afraid to handle the stove but I always feared.With this kind of experience (!!!) in kitchen I was all set to cooking after marriage.Immediately after after a month are something,I wanted to try my hands at paratha(I never realized I cannot even make proper chapathis by then) and do I need to say that experiment was disatrous :P.Well then slowly I started learning,even now my husband teases me for that paratha :P.Though I love aloo paratha very much make a simple version of that.But few days back I was really tempted and wanted to try my hands again.I gathered ourage and tried it using the same recipe and this time I was more careful and patient,it worked!Perseverance indeed pays :). Over to recipe.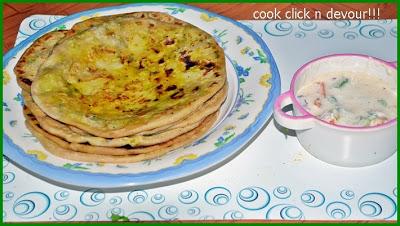 Aloo paratha recipe
Star ingredient:whole wheat flour,potatoes
Time:10 minutes+30 minutes+20 minutes
Yield:10
Ingredients:
Dough:
2 cups (heaped) whole wheat flour
3 tablespoon curd
1/2 cup water
2 teaspoons oil
Salt
Stuffing:
3 large potatoes boiled,peeled and mashed
3 green chillies
A small piece of ginger
1/2 teaspoon asafoetida
2 tablespoons cilantro leaves
1 teaspoon cumin seeds
A pinch of amchur powder
Salt
Butter to fry parathas
Method:
Dough:
Mix all the ingredients for dough except water and rub with your fingers.Once the mixture resembles dough,slowly add water and knead to a uniform dough.Once the mixture comes
together,start kneading,knead for at least 7-10 minutes to form a smooth elastic dough.The dough should be soft,firm and smooth.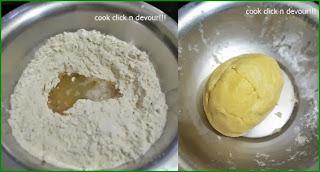 Stuffing:
Grind cilantro,green chillis,ginger and cumin seeds to a coarse paste.Take all the other ingredients in a mixing bowl and add the ground paste to it.Mix well bu mashing the potatoes very well.Do not add any water while grinding or mixing.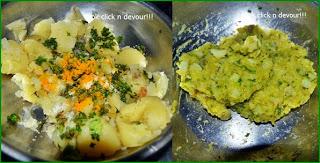 Making parathas:
1.Pinch a big lemon sized portion of dough and place on floured surface.Take a portion of filling little smaller than the dough (see picture).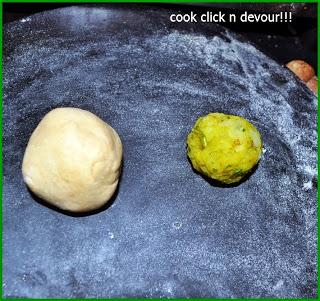 2.Roll the dough into a small thick circle and place the stuffing ball in the center.Close the stuffing from all the sides and make a smooth ball.


3.Next slowly roll into a circle of 1/4 inch thickness.Do not apply pressure while rolling and always roll outwards.Dust the surface and rolling pin whenever needed.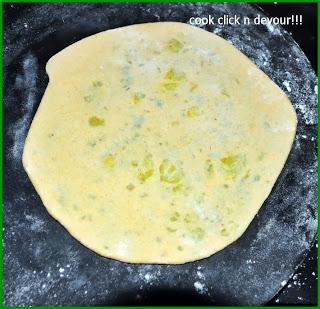 4.Heat a cast iron tava and fry the paratha from both sides with butter.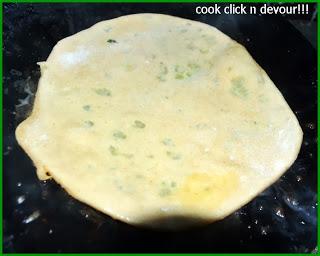 5.Serve hot with pickle,raita.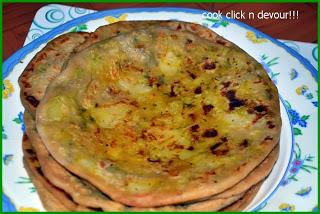 Notes:
1.Mash the potatoes very well as big pieces will tear the paratha while rolling.
2.Roll the parathas with very little presuure.
3.Do not use a nonstick tava for frying,heavy cast iron provides the uniform heat.
4.Fry with butter as it gives a great aroma else use ghee(clarified butter). Oil is not a great choice for frying parathas.