When I was growing up, I wanted to be an Olympic gymnast.  Every 4 years, I would be glued to the telly, watching these girls in their sparkly leotards performing the most amazing contortions and I wanted to be just like them.
Of course it was just a pipe dream.  As hard as I tried to master the moves, I had to face up to the reality that my body was simply not cut out for it.  I ended up being rather good at the javelin and shotput – but I didn't really have the same passion for it (or the strength required to truly compete).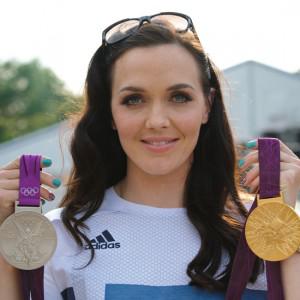 In spite of my own sporting shortcomings, I loved every minute of the 2012 Olympics. Every day, I was glued to the telly, watching everything from the swimming, to beach volleyball to dressage.  And didn't team GB do us proud?  The female athletes in particular have been a true inspiration.  I just hope that the media gives them the exposure that they need, positioning them as role models for our future generations.  We need to see much more of these amazing women: strong, confident and dedicated athletes like Jessica Ennis and Victoria Pendleton who have healthy body shapes and a great attitude.
Watching these women competing in the Olympics made me realize that I really don't want to hear about Jordan's love life or the latest supermodel fad diet anymore.  Please, let's see more of our female sporting heroes getting the attention they so clearly deserve in the media, so that girls doing their games at school have something very real – and appropriate – to aspire to.