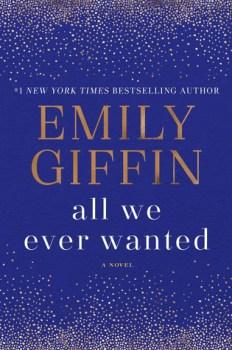 All We Ever Wanted by Emily Giffin
Published by Random House LCC US on September 11, 2018
Genres: Literature & Fiction, Women's Fiction
Pages: 400
Format: ARC
Goodreads
Buy on Amazon



In the riveting new novel from the #1 New York Times bestselling author of First Comes Love and Something Borrowed, three very different people must choose between their family and their values.

Nina Browning is living the good life after marrying into Nashville's elite. More recently, her husband made a fortune selling his tech business, and their adored son has been accepted to Princeton. Yet sometimes the middle-class small-town girl in Nina wonders if she's strayed from the person she once was.

Tom Volpe is a single dad working multiple jobs while struggling to raise his headstrong daughter, Lyla. His road has been lonely, long, and hard, but he finally starts to relax after Lyla earns a scholarship to Windsor Academy, Nashville's most prestigious private school.

Amid so much wealth and privilege, Lyla doesn't always fit in—and her overprotective father doesn't help—but in most ways, she's a typical teenaged girl, happy and thriving.

Then, one photograph, snapped in a drunken moment at a party, changes everything. As the image spreads like wildfire, the Windsor community is instantly polarized, buzzing with controversy and assigning blame.

At the heart of the lies and scandal, Tom, Nina, and Lyla are forced together—all questioning their closest relationships, asking themselves who they really are, and searching for the courage to live a life of true meaning.
I have probably read most everything written by Emily Giffin, although I've only reviewed a couple for this blog.  When I saw her book, All We Ever Wanted available through my book blogging relationship with NetGalley, I jumped at the chance!
All We Ever Wanted isn't what you would consider chick lit or women's fiction – in fact, it's not one of those lighthearted love stories either.  This is legit real stuff, people.  The story itself is told from three perspectives – those of Nina, Tom, and Lyla. The crux of the problem in this story revolves around a Snapchat photo scandal that is created when Nina's son, Finch, sends his friends a scandalous photo of a passed out Lyla.  Finch is from an upper white class family and Lyla is half Brazilian and from a lower middle class home. The photo quickly spreads through the community at large which forces both the families and the school to figure out how to move forward and handle the problematic situation.
I liked that the story was told through the different characters' perspectives so readers received the benefit of different points of view.  I also felt that the story was very timely given what we see reported on the news these days. We hear of teens (and adults) making horrible social media mistakes that have caused lasting impacts on those people, their families, and even their communities.   
The author presents issues of race and class biases, and she provided readers with unexpected twists to the story providing a powerful journey through a "real life" situation. As is usual with Ms. Giffin's books, the story is well written and the characters are authentic.  Kudos to Ms. Giffin for another amazing book!
Buy it at: Amazon // Barnes & Noble  //  iBooks  //  Kobo
---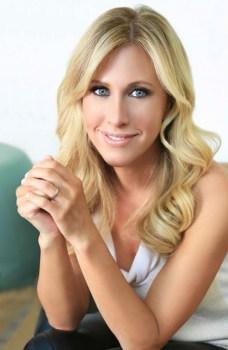 Emily Giffin, a Chicago native, graduated summa cum laude from Wake Forest University and the University of Virginia School of Law. After law school, she moved to Manhattan and practiced litigation at a large firm for several years while she paid back her school loans, wrote a novel in her very limited spare time, and dreamed of becoming a writer. 
Despite the rejection of her first manuscript, Giffin persisted, retiring from the legal profession and moving to London to pursue her dreams full time. It was there that she began writing Something Borrowed (2004), a story of a young woman who, upon turning thirty, finally learned to take a risk and follow her heart. One year later, Giffin's own gamble paid off, as she completed her manuscript, landed an agent and signed a two-book deal on both sides of the Atlantic. The following summer, Something Borrowed, hailed as a "heartbreakingly honest debut" with "dead-on dialogue, real-life complexity and genuine warmth," became a surprise sensation, and Giffin vowed never to practice law again.
Dubbed a "modern day Jane Austen" (Vanity Fair) and a "dependably down-to-earth storyteller" (New York Times), Giffin has since penned six more New York Times bestsellers, Something Blue (2005), Baby Proof (2006), Love the One You're With (2008), Heart of the Matter (2010), Where We Belong (2012), The One & Only (2014) and First Comes Love (2016). Her nine novels, all filled with endearingly flawed characters and emotional complexity, have resonated deeply with both critics and readers around the world, achieving bestseller status in a number of countries, including the United States (#1), Canada (#1), United Kingdom, France, Brazil and Poland (#1). The books have been translated into thirty-one languages, with over eleven million copies sold worldwide. In addition, five of her novels have been optioned for the big screen and are in various stages of development. The first, Something Borrowed, hit theaters in May 2011, starring Kate Hudson, Ginnifer Goodwin and John Krasinski.
Giffin now resides with her husband and three children in Atlanta. All We Ever Wanted is her ninth novel and was released on June 26, 2018.  You can connect with Ms. Giffin via social media ~~
Website  //  Facebook  //  Twitter  //  Instagram  //  YouTube
---
I was provided with a complimentary electronic advanced reader copy through Net Galley in exchange for my post.  I was not required to post a positive review, but have chosen to do so because this book was great! Thank you!

~ ~ ~ ~ ~ ~ ~ ~ ~ ~ ~ ~ ~ ~ ~ ~ ~ ~

It would be great if you would stay connected with me!! You can follow me on Twitter @DebiL1611, like me on Facebook at 2014 and Beyond, circle me on Google+, follow me on Tumblr, Instagram and Bloglovin', subscribe on YouTube, or connect with me on LinkedIn and Pinterest.

Please make sure to visit my homepage and subscribe to my blog for more great posts on running, fitness and lifestyle topics as well as food, product, music and book reviews, and more!