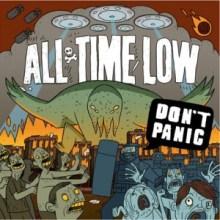 My Name Is Matt, I'm 23, and I Still Love Pop-Punk.
By Matt Jones
Fair warning: this is a review of a All Time Low album.
I am confident that, although I feel compelled to justify them, I am still justified to write these kinds of things, as long as there are major coming-of-age milestones still in my future. So, let's see: driving age – check; voting age – check; buying lotto tickets age – check; drinking age – check.
Um…
I think my insurance rates will go down when I turn 25. Yeah, I'm pretty sure that's a thing. And I guess I'm not old enough to run for president either. Alright, count it – let's analyze some pop-punk!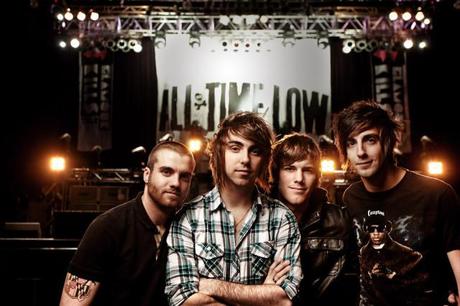 Just a year after the worst thing to happen to pop-punk since people started graduating from high school, we find the boys from Baltimore returning to the formula that made them a cult hit among fans in the first place. Which is not to say that Don't Panic feels formulaic by any means; on the contrary, while it still has the same unmistakable ATL energy that previous albums carried, it's fresh and conveys a vision for the band's future. That said, you'll forgive the boys for actively attempting to recreate the aura of those previous albums; after all, those albums (Put Up Or Shut Up, So Wrong It's Right, Nothing Personal) were good, and Dirty Work was not.
But I'm being unfair to Dirty Work. A year removed, I see its value. For in the light of Dirty Work, Don't Panic is an unprecedented magnum opus. Like anything to follow "What's New Pussycat" looped seven times in a row, Don't Panic is pretty much the best thing ever, and it makes me weep for joy.

None of this, of course, means that Don't Panic only measures up when it stands next to crap. It's actually a really good album. No, really! It's the sound of four guys who have finally realized stardom but still acknowledge their roots and know where they belong. And that's not a half bad place to be. Lead singer Alex Gaskarth, one of the best in the genre, explains that the goal of Don't Panic was "to make an album that we felt reflected the best aspects of our previous releases." And, credit given where due, that's exactly what ATL has accomplished.
The context for the album is established by anthemic lead singles "The Reckless and the Brave" and "For Baltimore," both of which are sure to be easy hits with the band's core base. And while they're both good songs – "Reckless" is as carefree as anything the band has ever released – the meat of Don't Panic exists between the anthems.
Herein, Gaskarth & co. take us on a pretty impressive journey. "Backseat Serenade" is less an All Time Low original than a testosterone-injected Hey Monday song, appropriately featuring the adorable Cassadee Pope of Hey Monday. But true to Gaskarth's words, the rest of the catalogue is well represented across the album, from "If These Sheets Were States" – which would in no way be out of place on So Wrong It's Right - to "The Irony of Choking on a Lifesaver" (Nothing Personal) and the runaway superstar of the album, the Put Up Or Shut Up-like "Somewhere in Neverland".
Gaskarth's songwriting is most impressive when he's reaching for something fantastical, and really early ATL output seems to encapsulate this best. "Neverland" could truthfully fit on a few albums, but its snark-less passion and vulnerability reminds me the most of the early days when ATL was just trying to make a name for itself. The band can be fun when they're snarky, but they reach another level when they dig deep enough to tear away the goofy facade. "Neverland" is a near perfect pop-punk song.
If there's a problem with Don't Panic, it's that it starts losing steam about halfway through – somewhat of a surprise, since previous albums managed to avoid any semblance of topheaviness. There are a couple more gems with "So Long Soldier," the best Yellowcard song All Time Low has ever made, and "To Live and Let Go," a crusher with one of the best choruses on the album. But, for the most part, Don't Panic's strengths lie in the first seven tracks.
Fortunately for us, the strengths on Don't Panic are monstrous and easily outweigh any minor missteps. This is an album that's more about setting a clear course than just treading water, and it does so respectably. Buy it for the immediacy of "Somewhere in Neverland". Buy it for the past-and-future role it plays in the ATL discography. Buy it for nostalgia. Buy it for Baltimore.
Matt's picks:
(1) The Reckless and the Brave
(2) Backseat Serenade
(3) If These Sheets Were States
(4) Somewhere in Neverland
(5) So Long Soldier
(6) The Irony of Choking on a Lifesaver
(7) To Live and Let Go