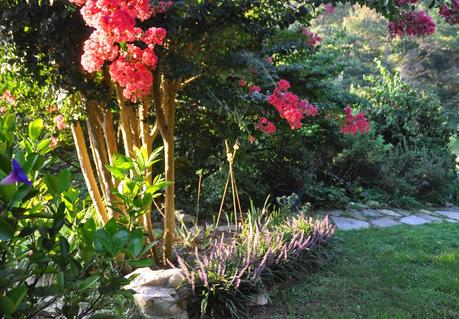 One of the joys of August  (when the picture above and the last picture were taken) is the lavish blooming of the crepe myrtles in my entry garden. Last year, alas, they had grown so tall that the blooms were almost out of sight so I asked John to perform a chain saw massacre and top the crepe myrtles.
I've avoided showing the extent of the pruning -- not a pretty sight -- while I waited in hopeful anticipation for some new growth. The hard winter and two late freezes have probably delayed things, I told myself, while feeling of the trunks for the coolness of living wood.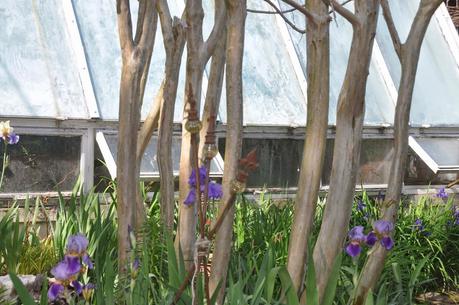 They look awful, as you can see below -- and I finally came to terms with the loss of the crepe myrtles.  Oh, there's new growth coming from the roots but it will be years before those shoots turn into the beautiful smoothly mottled trunks that make these trees attractive at any time of the year.
Perhaps a huge bottle tree, I thought. Or cut down the dead trunks and do something with them . . . I don't know . . .
And then, yesterday afternoon, when I'd gone out to take a picture of yet another iris, I looked again at the bare trunks . . .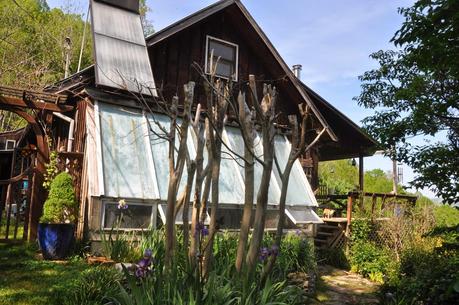 And to my very great joy, there was new growth! Tiny leaves breaking out everywhere!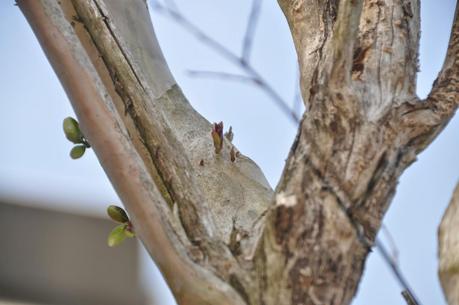 As it says in the Book of Job (one of my favorites -- not for the theology but for the poetry):
For there is hope of a tree,
If it be cut down, that it will sprout again,
And that the tender branch thereof will not cease.
Though the root thereof wax old in the earth,
yet through the scent of water it will bud,
and bring forth boughs like a plant.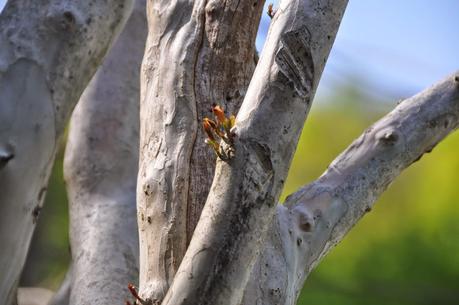 Amen and may it be thus. Though I may have to wait a  year or so for the blooms

.