The Wines of Maison Alex Gambal
By Lou Marmon
Gazette Newspapers  May 27, 2015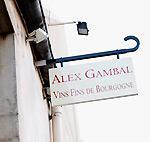 Alex Gambal has been able to fulfill the dream of living abroad better than most. An ex-Washingtonian who "got the bug" by hanging out in wine stores, (primarily Mayflower Wines and Spirits) in the 1980s, he left his family's parking lot and real estate business in 1993 to move with his wife and children to Burgundy.
 
Gambal initially worked for Becky Wasserman-Hone at her export firm, Le Serbet, for a few years but eventually decided to make his own wines.
 
First he had to complete the rigorous curriculum at Lycee Viticole, the venerable wine school in Beaune. By then, it was time for the family to move back to the U.S. so the children could prepare for college. Undaunted by the long commute between continents, Gambal established his eponymous Maison Alex Gambal in 1997 by purchasing young wines and aging them in an old, unheated building he rented to use as a winery. The next year he made his wines from pressed grape juice and eventually was able to actually buy unpressed grapes.
 
Burgundy has an insular reputation as region not friendly to strangers. Gambal claims that, "Actually it was fairly easy for me but remember I did not come here to 'make wine.' I came here to live with my family and because we were here as a family, in the local schools, the kids on the local sports teams, etc., we were not seen as interlopers or carpetbaggers."
 
He currently lives full-time in Burgundy, has moved into a new winery in Beaune (with a tasting room) and has been slowly increasing his holdings. In 2003, he became one of the few "outsiders" able to purchase Burgundian property and in 2011 he became the first foreigner to own a portion of the Grand Cru Bâtard-Montrachet vineyard.
 
Gambal now owns 30 acres of vineyards via several recent acquisitions including a merger with Domaine Christophe Buisson. His wines are now 80 percent domaine produced with the remaining grapes coming via long-term contracts with small suppliers. The vineyards are all organic and biodynamically farmed. He expects his total 2015 production to be 6,000 cases (75,000 bottles).
 
There is an underlying precision to Gambal's wines. Each demonstrates a respect for the specific Burgundian terroir with clarity and grace. The team at Maison Gambal is clearly focused solely on creating the best wines possible from some of the world's finest sites. As Gambal says, "If I wanted to be making money, I would be parking cars."
 
Here is a look at a few examples within Gambal's splendid portfolio:
 
As a longtime fan of this vineyard, it is especially pleasing to taste the Alex Gambal Chambolle-Musigny Les Charmes 2012 that shows a lovely, feminine character beginning with red cherry and dark fruit aromas which progress into complex layers of soft, spice accented blackberry, raspberry and earthy flavors with a prolonged, balanced finish. The 2011 version has a notable smokiness and the flavors are a bit sharper, but it still remains an exquisite wine.
 
More affordable is the very tasty Alex Gambal Chorey-lès-Beaune 2012 with raspberry and cherry flavors in a medium frame and good balance while the 2011 from the same vineyard demonstrates a bit more depth and more noticeable oakiness during the finish.
 
When considering Gambal's wines, do not ignore the whites, including the Alex Gambal Puligny-Montrachet 2012 with a notable minerality intermingled within the toasty peach, lime, apple and hazelnut notes. Also delightful is the honey and floral scented Alex Gambal Chassagne-Montrachet 2012 whose aromas extend into the brioche, peach, grapefruit and spiced apple flavors during the persistent, spice infused finish.